While all the headlines paint a really rosy picture for the real estate market where sellers are cashing in mega gains, the average takeaway isn't all that great.
A recent analysis from Zillow revealed that the typical home seller in 2017 earned just $38,856, which was actually slightly below the figure seen a year earlier.
And while the past two years have been the best since 2007, when the median gain was $47,500, it's not all that fantastic.
A $15k Gain for Home Sellers After Inflation?
You can look at the before and after sales price and think Wow!
But once you factor in inflation
And other costs like staging, moving, and other fees
The actual return on investment could be quite poor
Adjusted for inflation, the number falls to just $15,000 for the average home seller. And if you look at it as an annualized return, it's just 2.94%.
For the record, those who sold their homes last year owned them for a median 8.5 years.
So before you think you're missing out, ask yourself exactly what you expect to miss.
Some Sellers Are Cashing In Big Time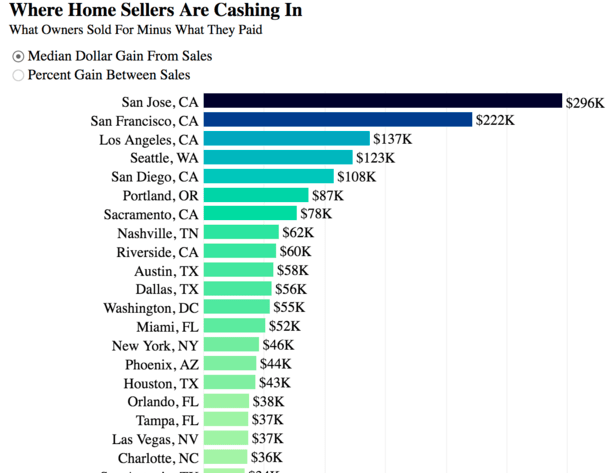 There will always be big winners in real estate
Just like there are with any other investments
Like the stock market where individual names skyrocket
But understand returns will vary tremendously
Sure, other areas saw much bigger returns. For example, San Jose home sellers led the nation with a staggering $296,000 median dollar gain, which adjusted for inflation was still $222,000.
That's a 34.4% return on investment, which clearly worked out in their favor.
The same went for San Francisco home sellers, who chalked $222,000 gains ($156,000 inflation-adjusted).
In both of those metros, home sellers had kept the properties longer than the national median, though it's unclear how long.
The best gainer for a metro outside the West Coast was Nashville, where 2017 sellers snagged $62,000 before inflation for 4.7% annualized rate of return.
If you want to get hyperlocal, the city of Mountain View saw a 100% return in nominal dollars, broken down as a 9.3% annualized gain. Home sellers there basically hit the jackpot.
Nearby Redwood City, CA home sellers gained a massive $535,000 on their home sales since purchase, and that's after owning for less than six years on average.
Amazingly, only one of the top 100 neighborhoods in terms of gains was located outside Los Angeles, San Francisco, San Jose, or Seattle.
That honor belongs to La Gorce in Miami, where home sellers gained a massive $573,000 in under seven years of homeownership.
Home Sellers Lost Money in 8 of 35 Top Metros
Even though the real estate market is surging
Home sellers in many large metros are still losing money
Or at least not making any when they sell
Which might tell you just how expensive homes were a decade ago
Again, despite real estate being hot, hot, hot, some home sellers managed to book a loss last year.
In fact, in eight of the top 35 metros, sellers lost money on an inflation-adjusted basis.
The worst offender was Chicago, where sellers made $19,900 on a nominal basis, but once adjusted for inflation, became a $20,000 loss on their investment thanks to a 14-year holding period.
The same trend was apparent in the cities of Cincinnati, Cleveland, Philadelphia, and even New York.
Now it's not to say that real estate is a bad investment, but as you can see, potential returns can and do vary tremendously by region. And obviously by purchase date and sale date.
Not everybody wins, assuming that's what they're trying to do, win.
Ultimately, if you're not a real estate investor, a home provides shelter, forced savings, a sense of accomplishment, and many other intangibles.
But it's not always the best place for your money, even if the real estate market is firing on all cylinders.