As reported earlier this week, some important pieces of the home loan process have been disrupted by the ongoing and seemingly intensifying coronavirus epidemic.
One issue has been home appraisals, which are required for most mortgages and often require a human being to enter the subject property to take photos and inspect the condition of the home.
Due to social distancing measures and shelter in place mandates in many cities and states nationwide, this has become increasingly difficult in certain areas the country.
Even if business is permitted, it might make either party uncomfortable, rightfully so.
And while the FHFA has already directed Fannie Mae and Freddie Mac to make temporary alternatives available, such as desktop appraisals and exterior-only appraisals, Clear Capital has gone a step further.
Clear Capital's OwnerInsight Asks Homeowners to Be the Photographers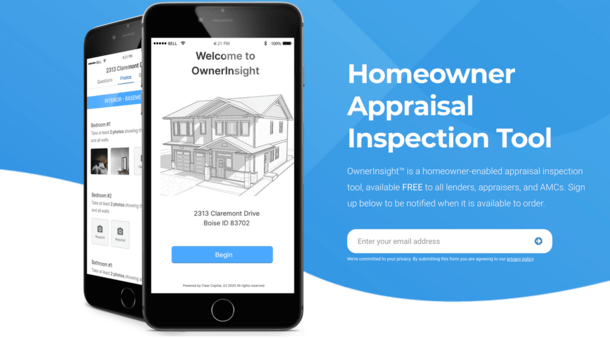 The company, which is focused on appraisal modernization, has released a new product called OwnerInsight (being offered for free in response to COVID-19) that puts homeowners in the driving seat.
Instead of someone entering your home, or the property you wish to purchase, the existing homeowner takes the interior photos and answers related questions using an easy-to-follow guide.
This ensures appraisers have the information required to complete accurate appraisals, while also giving homeowners and appraisers space that allows them to comply with social distancing guidelines.
OwnerInsight doesn't require the user to download an app, and it works seamlessly on camera-enabled mobile devices, such as our everyday smartphones.
Additionally, the photo metadata (time/location/etc.) is captured when the images are taken to ensure there aren't any fraud-related issues.
This sounds a lot better than asking appraisers to use information found on the MLS, or relying on outdated satellite imagery and street views to obtain vital property information.
It Could Change the Way Appraisals Are Done in the Future
One thing I mentioned the other day is how this epidemic might force change in the mortgage industry, which is often slow moving and dare I say stuck in its ways.
One pain point in the mortgage process happens to be appraisals, because they can take a lot of time to complete (or book) and slow down the rest of the show.
If this becomes a permanent solution, whereby homeowners and real estate agents can help out to expedite things, the time it takes to get a mortgage could be reduced tremendously.
So while the industry is facing headwinds and a lot of uncertainty at the moment, there are good things that could come out of this too.
The old saying "necessity is the mother of innovation" comes to mind.
The product will launch the week of March 30th, and also be available to mortgage lenders who are on the Ellie Mae Digital Lending Platform via Encompass Partner Connect.
(photo: Marco Verch)