To further complicate the complicated mortgage relief picture surrounding the coronavirus outbreak, Fannie Mae and Freddie Mac have released their new "payment deferral" option early.
Originally slated to roll out on January 1st, 2021, the pair are encouraging loan servicers to begin evaluating eligible borrowers on or after July 1st, 2020.
Note that this relief option isn't directly related to COVID-19, but can be a practical solution.
What Is Fannie/Freddie's Payment Deferral Option?
A loss mitigation option that sets aside 1-2 missed mortgage payments
Missed payments are placed in a non-interest bearing unpaid balance (UPB)
The UPB is paid back once the loan reaches maturity, or if mortgage refinanced/home sold before then
You have to be delinquent but back to making regular mortgage payments to take part
In short, it's a new loss mitigation solution that Fannie Mae and Freddie Mac can offer to borrowers who missed one or two mortgage payments, but are now able to pay their mortgage each month.
If utilized, the past-due principal and interest (P&I) payments are set aside as a non-interest bearing unpaid balance (UPB).
So imagine your monthly mortgage payment is $2,000 per month and you missed two payments due to unemployment related to the coronavirus epidemic.
That $4,000 would be deferred and would only be due at the end of the mortgage term, or earlier if you sold your home or refinanced your mortgage.
Importantly, you'd have to already be delinquent in order to receive this type of relief, which is obviously a huge negative for a lot of homeowners.
There doesn't seem to be any credit score protection here, so you might be better off looking into a solution that doesn't result in a credit score hit.
When offering the Payment Deferral, the loan servicer must ensure all other terms of the home loan remain unchanged, such as the amortization schedule, monthly payment, mortgage rate, due dates for remaining payments, and maturity date.
Eligibility for Fannie/Freddie Payment Deferral
Borrower must be either 30- or 60-days delinquent as of evaluation date
Loan must have been originated at least 12 months prior to the evaluation date
Borrower must have made at least 2 consecutive monthly payments resulting in delinquency status remaining unchanged for at least 3 consecutive months
Must be a conventional first-lien mortgage currently owned or guaranteed by Fannie Mae or Freddie Mac
Can be a fixed-rate mortgage, ARM, or a step-rate mortgage
Property can be a primary residence, second home, investment property, vacant, or condemned
You must have had a resolved hardship, e.g. being unemployed or having some loss of income briefly due to coronavirus.
But you must now be capable of continuing to make your monthly mortgage payments, yet unable to afford a repayment plan or full reinstatement of the mortgage.
In other words, using our example from above, you're now able to pay $2,000 a month to cover your mortgage because the hardship is over, but you can't manage to repay the $4,000 you missed a few months back.
Additionally, you must have made at least two consecutive monthly payments resulting in delinquency status remaining unchanged for at least 3 consecutive months.
See these charts for an explanation of how that works. Simply put, you need to be back to making mortgage payments to get relief for the missed ones.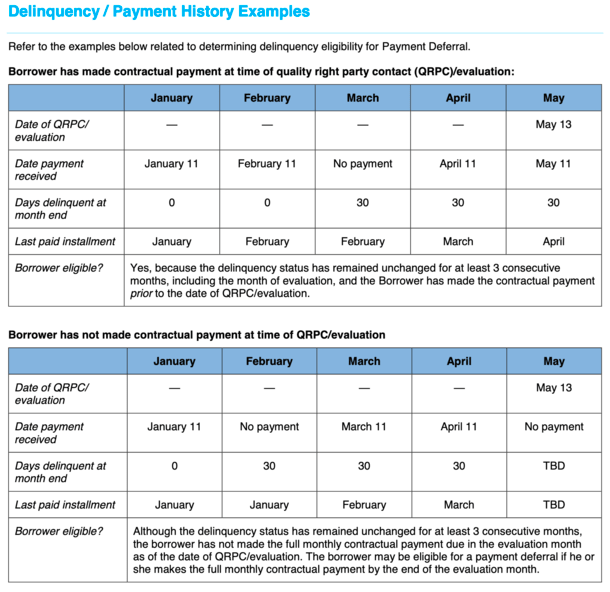 Loans Ineligible for Payment Deferral
FHA, VA and USDA home loans
Mortgages subject to recourse
Mortgages that have already received a Payment Deferral
Borrowers who failed a non-disaster related modification Trial Period Plan (Flex Mod) within the 12 months prior to the evaluation date
Mortgages previously modified under the Flex Mod, or other non-disaster related modification, whose effective date is within 12 months of the evaluation date
Mortgages approved for a short sale or deed-in-lieu of foreclosure
Mortgages currently subject to an unexpired offer for a mortgage modification or other foreclosure alternative
Borrowers currently performing under a modification Trial Period Plan, forbearance plan or repayment plan
As noted, you're probably better off trying to take advantage of one of the coronavirus-specific mortgage relief options first.
For one, this new Payment Deferral option won't be live until this summer, and secondly, it doesn't appear to offer any credit score protection.
Going forward, it will simply be a part of Fannie Mae and Freddie Mac's suite of loss mitigation options, which is great news for borrowers in general.