Back in 2009, the government launched the Home Affordable Modification Program (HAMP) to help struggling homeowners keep up with their out-of-control mortgage payments.
The program offered all types of solutions to reduce borrowers' monthly mortgage payments to 31% of their gross monthly income, including interest rate reductions (to as low as 2%), loan term extensions, and principal balance reductions.
But there was a caveat. Five years after the modification, homeowners who received reduced interest rates would face rate resets.
And seeing that it's 2014, the very first batch of these rate resets is soon to go live.
Of the 894,302 homeowners with active HAMP permanent modifications, an overwhelming 88% are scheduled to have mortgage rate increases, according to a new report from the Office of the Special Inspector General for the Troubled Asset Relief Program (SIGTARP).
The increases will take place between 2014 and 2021, and will rise incrementally by up to 1% each year until reaching the national average rate for a conforming 30-year fixed-rate mortgage on the date of the original modification.
The average 30-year fixed rate over the past five years has hovered between 4% and 5.4%, so those enjoying 2% mortgage rates will be in for quite a surprise.
Someone's Monthly Mortgage Payment Will Go Up $1,724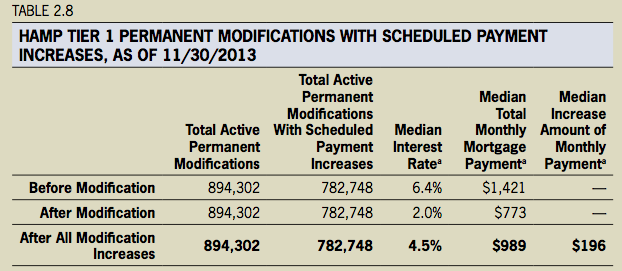 While HAMP was created to make monthly mortgage payments affordable
The loan modifications came with rates that weren't set in stone
The good news is that the median payment increase is just $196
Which when coupled with the savings the first several years should still be a net benefit to the homeowner
In fact, the maximum monthly payment increase after all the incremental increases will be $1,724 for an unlucky California homeowner.
But Hawaii boasts the highest monthly median payment increase after all rate adjustments at $356. California came in a close second at $297.
While that sounds pretty bad, the median payment increase after all adjustments will only be $196, which will typically take several years to achieve.
So it shouldn't be a major payment shock for most homeowners, though it could lessen their incentive to stick around.
My guess is that some homeowners facing higher monthly payments will think about selling their properties, assuming they've appreciated enough.
And others will probably look to refinance their modified loans, though the modified rate should still be pretty favorable compared to the going market rate.
Apparently lenders are okay with refinancing modified loans so long as the borrower kept up with payments for the past two years. My guess is leniency will prevail in the face of lower mortgage application volume…
Four States Account for Half of HAMP Payment Increases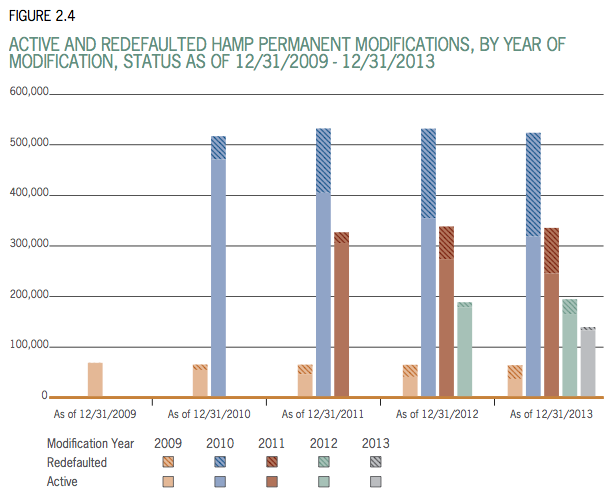 Most of the homeowners affected by payment increases
Reside in the states of California, Florida, Illinois, and New York
This could dampen the housing recovery in those areas
Especially for those seeing monthly payments jump $1,000+, though it could prompt more refinancing too
It won't be much of a nationwide epidemic though. Just four states account for half of the homeowners with permanent HAMP modifications scheduled for interest rate increases.
They include California, Florida, Illinois, and New York.
This could dampen the recovery that has taken place in these states, especially with so many HAMP modifications performing poorly.
As of December 31, 2013, 359,072 homeowners, or 28% of all participants who received a permanent HMAP modification, fell three months behind on payments and thus redefaulted out of the program.
And the older HAMP modifications appear to be doing even worse. For HAMP modifications received in 2009, the redefault rate ranged from 43% to 49.6%.
For 2010 HAMP modifications, 32.4% to 41.9% had redefaulted as of November 30, 2013.
The largest HAMP payment increases will affect homeowners in California, Hawaii, Maryland, Massachusetts, Nevada, New Jersey, New York, Virginia, Utah, Washington, and Washington, DC.
And the highest mortgage payment any HAMP borrower will pay after all the interest rate increases will be a whopping $9,966.