Yet another disruptor, known as Divvy Homes, is out to change the rent-to-own space so more renters can become homeowners.
Divvy says it's like a lease, but unlike a typical lease, it's designed to help you inch your way to homeownership with every lease payment you make.
That way you're not "throwing away money on rent," the common argument people make against renting.
While it's not that cut and dry, as renting actually has lots of advantages over homeownership, this setup might work for someone not quite ready to own.
How Divvy Works
Divvy is a new rent-to-own company
Currently available in select markets nationwide
Allows you to buy a home with just 2% down payment
Without having to qualify for a mortgage
At the moment, Divvy is available in the metros of Atlanta, Cleveland, Dallas, and Memphis, St. Louis, and Tampa. Here's how it works.
First, you select a home that's available for sale on the market, just as you would if you were purchasing it.
But instead of buying it yourself, Divvy purchases it on your behalf. They do require that you put down 2% of the purchase price at closing, with the company covering the rest.
The rest includes closing costs typically associated with a mortgage, along with the remaining 98% of the purchase price.
Interestingly, you are required to take a quiz as part of the closing process, and attend a webinar to ensure you understand what you're getting into.
The property must also pass inspection, and of course you'll need to sign your lease and send initial payment with sufficient time to clear before closing.
Once it closes, you'll be locked into a three-year lease, with no obligation to buy at the end of the 36-month term.
However, if you do stop making payments during that time, Divvy will consider the lease broken, and will only refund half of the total dollars accumulated via monthly payments.
How Divvy Payments Work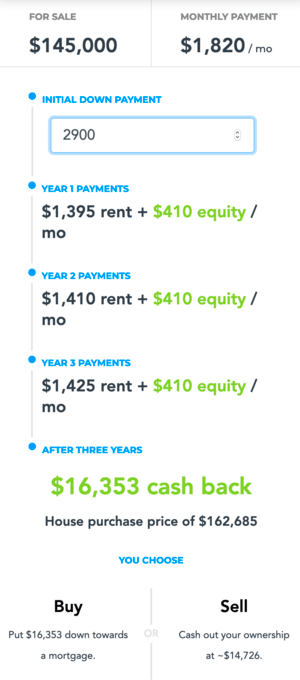 Each month, you make a payment just like you would if you rented/owned, but the Divvy payment consists of one part rent (about 75%) and one part "home savings" (about 25%).
Divvy sets the rent based on the neighborhood's fair market rent for location, size, etc.
Over time, you earn "equity credits," which the company likens to a home savings account.
As noted, you begin with at least 2% in equity credits, and build toward 5% to 10% over the course of a three-year lease.
At any time, you can convert those equity credits into a down payment to purchase the property.
You can also choose not to buy the home after your three-year lease ends, at which point Divvy will sell the home and cash out your equity credits.
If you go that route, Divvy will only share 8.5% of the home's final sale value, as they need to deduct 1.5% to cover selling costs.
At any time, you can see how much you've accrued via the Divvy portal, assuming you plan to apply for a mortgage and purchase the place.
Which Homes Are Eligible for Divvy?
Single-family homes and townhomes (condos only if fee simple)
Purchase price must be between $60,000 to $300,000
Cannot be a bank-owned property or foreclosure
Must be in good condition
Like a normal home purchase, you use a real estate agent to look for a suitable home that fits within your budget, once you are fully approved with Divvy.
Divvy says nearly all listed homes fit their fairly wide criteria, including single-family homes and townhomes. Condos don't qualify unless title is "fee simple."
However, the price must fall between $60,000 and $300,000, and the acreage cannot exceed two acres. Additionally, the deed must be "fee simple."
They also don't allow for the purchase of foreclosures, pre-foreclosures, short sales, bank-owned, county-owned, and Fannie/Freddie-owned properties.
How to Qualify for Divvy
Must document income (make at least $2,400 per month)
Must have a credit score of 550 and higher
Have to pass a background check including rental history
Down payment of 2% required before closing
Like a traditional home purchase and/or mortgage, there are qualifying requirements to ensure you can make payments going forward.
This includes a credit check, an income check, proof of down payment, and a background check, since you'll be a renter.
With regard to income, you must be currently employed and provide income documentation for the past six months, with average monthly income of at least $2,400.
For credit, you (and your co-applicant's) credit score(s) must be at least 550, which is pretty low.
A background check will also be performed to determine your rental history and any criminal background, including things like eviction, bankruptcy, criminal convictions, etc.
You'll also need to provide proof of down payment, generally deemed to be the greater of $1,250 or 2% of purchase price.
Once fully-approved, you can shop with a real estate agent to find a home. The purchase price must work within your approved budget.
Assuming everything checks out, you'll receive a proposal that breaks down payments and your commitment to Divvy, along with a deposit request toward your down-payment (kind of like earnest money).
Then Divvy will work with the home seller to purchase the property on your behalf.
Divvy Covers Maintenance
One nice thing about Divvy is the hybrid set of responsibilities involved.
As a homeowner, you deal with anything that happens to your home, such as equipment breakdown or unexpected damage.
With Divvy, they'll cover the cost of any maintenance/repairs required to ensure the home is safe and habitable.
This may include roof repairs, HVAC, foundation, electrical systems, and so on.
You are just responsible for identifying these types of issues, and arranging for a contractor to complete the repairs.
Before a contractor begins their work, you must provide their information and cost estimate to Divvy for approval.
Divvy does not cover cosmetic repairs, such as painting, carpeting, landscaping, or appliances. And will not pay for repairs arising out of intentional or negligent damage.
Who Is Divvy Good For?
If you want to live in a particular home
Or simply like the idea of homeownership over renting
But are unable to qualify for a mortgage for whatever reason
Divvy might be a solution and a middle-ground to test out owning a home
In a nutshell, Divvy is probably geared toward an individual who doesn't qualify for a mortgage, but wants to buy a specific property.
For example, if you happened to come across your dream home, but a mortgage lender turned you down, Divvy might be able to make it work.
Or if you just like the idea of homeownership over renting, and want to get in on it without delay, Divvy could again be a good option.
Conversely, there are lots of zero down and low-down payment mortgage options available these days that don't require much more than 2% down.
You may also think you don't qualify for a home loan, but if you take the time to consult with a mortgage broker or do your own research, you might discover that you do.
The one nice thing about Divvy is that you get the option to buy the place, but can also walk away after three years. And you'll get most of your money back.
In other words, you could look at it as a three-year test drive to see if the home and homeownership is for you.
Just note that Divvy has a qualification process like a traditional home purchase, so it's still going to take some work on your behalf.
And after those three years are up, it's up to you to qualify for a mortgage in order to buy the place. That means you need to be ready or risk losing the house you may have grown to love.