These days, it's a lot harder to find "mortgages with no money down," though not entirely impossible.
Thanks to the devastating financial crisis that took place several years ago, much of which could be blamed on the housing market, banks and mortgage lenders toughened up.
They began requiring larger down payments because home prices weren't appreciating like they once were.
In fact, property values were dropping steadily, shifting more risk to the lenders that issued low-down payment loans and no down payment mortgages.
Simply put, if homeowners don't have any skin in the game, otherwise known as home equity, there's a better chance they'll walk away from their mortgages if they fall behind on payments, leading to costly foreclosures.
Conversely, if a homeowner is required to put down say 10% of the purchase price, the lender has a safety buffer, and the homeowner is more likely to continue making payments, as they won't want to lose that initial investment.
Jump to zero down mortgage topics:
– How to Get 100% Mortgage Financing Today
– FHA Financing with Zero Down
– Freddie Mac Zero Down Option
– Fannie Mae Zero Down Financing
– VA Loans and USDA Loans Offer Zero Down
– Check Credit Unions and State Housing Agencies
– Qualifying for Zero Down Home Loans
– Credit Score Needed to Buy a House with No Money Down
– Use Gift Funds to Get 100% Financing
– Pros and Cons of Zero Down Home Loans
No Money Down Mortgages Used to Be the Norm
It used to be common to buy a home with nothing down
But the mortgage crisis changed that
Now many borrowers are required to bring in a minimum of 3% or 3.5% down
Though no down payment mortgages still exist
Back in 2006 and 2007, you could easily obtain 100 percent financing from nearly any bank or lender in town.
The most common structure was the 80/20 combo loan, which is a first mortgage for 80% of the purchase price and a second mortgage for the remaining 20%.
This allowed a home buyer to put nothing down and avoid mortgage insurance because the first mortgage remained at the key 80% loan-to-value (LTV) threshold.
These high-risk financing deals were rampant, and most homeowners took the bait and chose not to put any money down, assuming their property would appreciate endlessly.
This explains why millions of American homeowners became underwater on their mortgages and/or faced foreclosure.
And that's pretty much why the days of no money down mortgages came to an end, with lenders quickly upping credit score and documentation requirements, while slashing maximum loan-to-value ratios.
So what options do potential homeowners have nowadays when it comes to no down payment mortgages? Amazingly, it's still pretty easy to get a mortgage with zero down or close to no money down.

How to Get 100% Mortgage Financing Today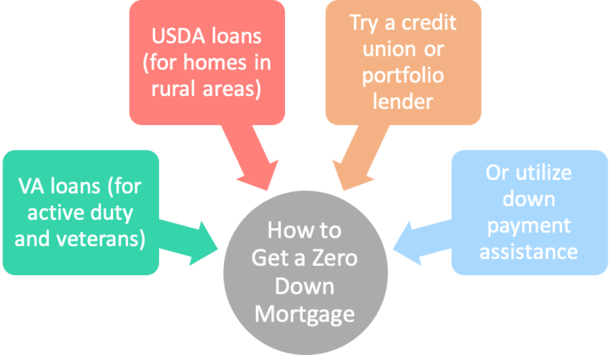 FHA's $100 down payment loan program
HUD Good Neighbor Next Door program
Various state housing finance agency programs
Fannie Mae with a Community Second
Freddie Mac with an Affordable Second
I provided a little background above about the rise and fall of zero down home loan financing. Now let's look at what's left.

FHA Financing with Zero Down
While a 3.5% down payment is required
It's possible to get down payment assistance (DPA)
To cover this small amount
And effectively get a home loan with nothing down
Let's start with FHA loans, which have coincidentally skyrocketed in popularity since the mortgage crisis got underway, available with just a 3.5% down payment.
There was a time, not long ago, when you could actually get an FHA loan with no money down at all thanks to seller paid downpayment assistance, which has since been outlawed.
Today, you can still get an FHA with zero down thanks to HUD's Secondary Financing program, which allows certain HUD-approved non-profit organizations and governmental entities to provide secondary financing to borrowers in need of financial assistance.
But as you might suspect, these programs are limited and geared toward providing access to homeownership for those unable to qualify on their own.
You can also buy a HUD home (properties previously foreclosed) for as little as $100 down if you use FHA financing, which is pretty much zero down when we're talking about the purchase of a home. However, you must be an owner-occupant and the homes are located primarily in Southeastern states.
Nationwide, if you are a law enforcement officer, teacher, firefighter or emergency medical technician, you may also qualify for "The Good Neighbor Next Door" initiative, which offers HUD-owned single-family homes (one-unit) to eligible buyers at a 50% discount AND with as little as $100 down.

Freddie Mac Zero Down Option
Freddie Mac requires a minimum of 3% down
But if you combine the first mortgage
With an Affordable Second
It's possible to get a home loan with nothing down and even cover closing costs!
Mortgage financier Freddie Mac offers its Home Possible Advantage Mortgage, which requires as little as three percent for down payment.
And if you tack on an Affordable Second, which is a second mortgage option for low- and moderate-income borrowers, you can get a combined LTV (CLTV) as high as 105%. That means no down payment required and additional funds to cover closing costs, and even property renovations!
Like the FHA, these second mortgages need to come from an authorized government agency, a non-profit community or religious organization other than a credit union, the borrower's employer, or from an affordable housing programs via a regional Federal Home Loan Bank.
The good news is the Affordable Second can't be more than 2% higher than the mortgage rate on the accompanying first mortgage.

Fannie Mae Zero Down Financing
Fannie Mae also has a zero down option
If you combine their 97% LTV first mortgage
With a Community Second
Which allows a CLTV as high as 105%!
Sister Fannie Mae offers a similar loan program called via its HomeReady loan program, which calls for just three percent down as well and allows gift funds for the down payment.
Both Freddie Mac and Fannie Mae briefly stopped offering LTV ratios above 95% in 2013, meaning their 3% down loan programs were no longer offered for a period of time.
But in late 2014, the pair reintroduced a 97% LTV option that the masses could take advantage of with even more flexible underwriting guidelines.
Additionally, you can subordinate a Community Second behind the first mortgage and get a CLTV as high as 105%, which again means no down payment required to purchase a home.
Again, this second mortgage must come from an approved federal agency, a state or local housing finance agency, a non-profit organization, the borrower's employer, or a regional Federal Home Loan Bank.

VA Loans and USDA Loans Offer Zero Down with Less Hoops
These government home loans offer a more straightforward approach
You can take out a loan at 100% LTV aka zero down
But there are far more restrictions in terms of allowable borrowers and property types
So they won't work for all prospective home buyers
Today, the most widely used zero down mortgage programs are offered by the USDA (only in rural areas) and the VA (military and their families).
What's nice about these loan programs is that you get 100% financing in a single home loan. No seconds required. And the max LTV of 100% comes standard.
Unfortunately, these programs are only available to those who purchase properties outside the city or to those who serve(d) this country, respectively.
If you don't fall into either of those categories, it might be harder to secure a mortgage with nothing down.

Check Credit Unions and State Housing Agencies
Be sure to check out your local credit union
And/or state housing finance agency
Both may offer a zero down mortgage solution
Often times these special loan programs aren't widely publicized
However, that doesn't mean it's impossible to score a no down payment mortgage. For example, NASA (astronauts) and other government agencies offer so-called "high loan-to-value mortgages" to select customers.
Additionally, there are so-called doctor mortgages for physicians that provide 100% financing in some cases when ordinary folk must come in with a down payment.
And some private lenders even exceed 100 percent financing (125% second mortgages) despite the recent housing bust!
Also be sure to look into what's being offered by your state housing finance agency.
The California Housing Finance Agency (CalHFA) offers "silent seconds" that go behind first mortgages, which can be conventional (Fannie/Freddie) or government mortgages (FHA/USDA/VA).
They feature deferred payments, meaning you don't need to pay a dime until the property is sold, the loan refinanced, or otherwise paid in full.
For example, California home buyers can take advantage of the MyHome Assistance Program, which offers up to 3.5% of the purchase price to cover the down payment and/or closing costs.
Combined with a first mortgage, this could give buyers the opportunity to purchase a home with nothing out of pocket.
Some of these silent seconds are even forgivable after a certain period of time, meaning they don't ever need to be paid back if you stay in the home long enough.
They also recently launched the California Dream For All Shared Appreciation Loan that requires no down payment in exchange for a portion of your home's appreciation when you sell.
If down payment is an issue, check out what's being offered in your state by visiting your state housing finance agency website. There are some really great deals out there.
Just note that these mortgage programs are offered by mortgage companies that have been approved and trained by corresponding housing agencies, so rates/fees/service may vary.
The latest offering I've come across from a large company is the Bank of America zero down mortgage, which relies upon a grant and a 3% down home loan.
And recently, TD Bank launched a 3% down mortgage as well that carries no mortgage insurance, so be sure to check all banks and lenders, big and small.

Qualifying for Zero Down Home Loans
Only available on one-unit primary residences
Purchases only, no refinance transactions in most cases
Loan amounts often limited to conforming or lower
Must provide full documentation
Often must have two months of asset reserves
Often must be a fixed-rate mortgage
Often must be a first-time buyer
Must setup an impound account to pay taxes and insurance
May be subject to higher fees
Of course, not everyone qualifies for these types of loans because they're reserved for certain types of buyers. I've provided a general list of requirements above that apply to many of these programs.
Typically, a zero down home loan will only be available to those purchasing a one-unit primary residence. This may include condos along with single-family homes.
However, multi-unit properties and secondary and investment properties will likely not qualify for maximum financing.
Don't expect a 100% refinance these days, especially if you want cash out.
Often, you'll need to be a first-time buyer and/or earn an income that is at or below the median in the county you wish to purchase the home. And you'll need to document your income, employment, and assets.
This is to ensure that these types of programs foster safe, responsible, and affordable lending for those who need it most. In other words, if you're a real estate investor you probably won't be able to take advantage of these programs.
They are intended to help those most in need, who want to realize the dream of owning a home, but don't necessarily have the means.

What credit score is needed to buy a house with no money down?

While the VA and USDA may allow very low credit scores for 100% financing
Most other zero down loan programs will require excellent credit scores in order to qualify
So make sure your credit is in great shape prior to your property search
To ensure you're eligible for the widest array of loan programs
Outside the VA and USDA, which are pretty liberal when it comes to credit scores, you might be required to have good or excellent credit to qualify for zero down financing.
Some brave lenders are willing to allow 500 FICO scores on VA and 550 FICOs on USDA, which is surely quite lenient. It's basically zero down for those with terrible credit.
For Fannie and Freddie, you'll need at least a 620 FICO, possibly even 640, to tack on a Community Second or Affordable Second depending on the state housing finance agency in question.
The same credit score requirement tends to apply to FHA loans with subordinate financing from a state agency or non-profit.
Meanwhile, I've seen credit unions require 720+ FICO scores. So if you want more options, work on your credit beforehand!
It may also be a requirement to take out a fixed-rate loan, as opposed to an ARM, to ensure you can keep up with monthly payments. Lenders know it's riskier to give you a loan without a down payment, so they may limit you to a 30-year fixed only.
Loan amounts are typically capped at or below the conforming loan limit as well, unless it's a specialty product, such as the POPPYLOAN in the Bay area, which is reserved for high-earners who lack down payment funds.
Lastly, expect to have to open an impound account to pay your taxes and insurance monthly with your mortgage payment. This is generally a requirement for anyone who puts less than 20% down on a home purchase.
As a rule of the thumb, the weaker the borrower credit profile and the more complicated the loan scenario, the lower the maximum loan-to-value.
For example, if you've got a bad credit score or an investment property you want financed, you won't be able to get anywhere near a no money down mortgage.
But if you've got great credit and a steady job, 100% financing may be well within reach. So take the time to shop around to discover all the options available to you. It's always surprising to see what's out there…
The majority of banks and credit unions these days are offering mortgages with just five percent down, but only for conforming loan amounts.
Generally, jumbo loan amounts require higher down payments, so don't expect to get 100% financing. The closest I've seen recently is 95% LTV, which is actually pretty aggressive and not something most lenders offer.
[3 Ways a Low Down Payment Can Raise Your Mortgage Payment]

Use Gift Funds to Get 100% Financing
Even if zero down isn't an option
It might be possible to get a gift
For the down payment and closing costs
So you don't have to provide anything out-of-pocket
One last note. While many 100% financing programs have come and gone, there are still quite a few loan programs that require just three percent down or less.
In order to obtain a zero down loan, you can ask an eligible donor to provide you with a gift for the difference. So if it's an FHA loan that requires 3.5% down, get that 3.5% in the form of a gift from a family member.
Likewise, if it's a conventional loan that calls for three percent down, ask a relative or your spouse for the three percent in the form of a gift. That way you can buy a home with nothing out of your own pocket.
In many cases, a minimum contribution from the borrower's own funds is not required, so it's effectively zero down despite the LTV coming in below 100%.
While it's not traditional zero-down financing, the end result will be the same. In fact, your mortgage payment will be lower because the amount financed will only be somewhere between 96.5%-97% of the purchase price.
However, keep in mind that 2-4 unit primary residences, second homes, and high-balance loans typically require a five percent minimum contribution from the borrower's own funds. So this trick won't work on all transactions.

Pros of Zero Down Home Loans
Requires you to save less money
Can buy a home sooner
Can potentially buy a more expensive house
Less money tied up in an illiquid asset
Put fewer dollars at risk if things go south
Might be able to invest money elsewhere for better return
Can eventually refinance to better terms if home prices rise
Cons of Zero Down Home Loans
Harder to find financing
Mortgage payment will be higher every month with larger loan amount
Mortgage rate will likely be higher
You will pay mortgage insurance, even if not explicitly via higher closing costs or rate
Could fall into an underwater position more easily
Might be difficult to refinance if you want to change your loan terms
Read more: Primer on mortgage down payment requirements.