If you're currently in the market to purchase a home, you're probably pretty frustrated. After all, it has become increasingly difficult to find a property thanks to ongoing inventory constraints.
Factor in investors you have to compete with and renting starts to sound a lot more realistic.
Over the past few years, investors have been leading the recovery, namely the big gun hedge funds buying up thousands and thousands of distressed properties.
But they've been going with the buy and rent strategy, as opposed to the classic buy and flip approach.
Still, classic flippers have been able to get back in the game thanks to the rebounding real estate market, though after a steady increase in business, numbers are on the decline again, according to RealtyTrac's Q1 2014 U.S. Home Flipping Report released yesterday.
During the first quarter, single-family home flips, which RealtyTrac defines as two sales that occur within six months, accounted for 3.7% of all home sales.  That number is down from 4.1% in the fourth quarter and 6.5% a year earlier.
However, flippers have gotten better at what they do because the average sales price of a flipped home during the first three months of the year was $55,574 higher than the average original purchase price, up from $51,805 a year ago.
And the unadjusted return on investment was 30% of the average original purchase price, up from an unadjusted ROI of 28% a year earlier.
House flippers appear to be benefiting by purchasing more expensive homes, which increases their margins, according to some real estate brokers referenced in the report.
However, that means flips are turning over more slowly, with flips completed in the first quarter taking an average of 101 days to complete, up from 92 days in the fourth quarter and 79 days in the first quarter of 2013.
New York Is the Flippiest Metro in the Nation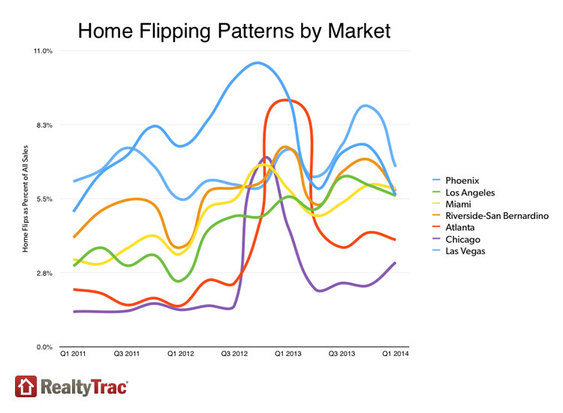 Wondering where the most flips are taking place? Well, New York led the large metros with a 10.2% share, followed by Jacksonville (10%), San Diego (7.1%), Las Vegas (6.7%) and Miami (5.9%).
New York was also the volume leader with 1,791 flips completed in the first quarter, followed by Phoenix (894), Los Angeles (828), Miami (749), and Riverside-San Bernardino (627).
Metros that saw the biggest year-over-year increases in flips included San Antonio (up 52%), Nashville (up 50%), Indianapolis (up 47%), Austin (up 35%), and Providence (up 33%).
Conversely, flips as a share of home sales were down big from a year earlier in New Orleans (-83%), Baltimore (-81%), Minneapolis (-80%), Richmond, VA (-80%), and Detroit (-76%).
They also took a dive in New York (-37%), Phoenix (-39%), Riverside-San Bernardino (-22%), Atlanta (-57%), and Chicago (-29%).
Are Flips Worth Buying or Simply a Ripoff?
Unsurprisingly, an overwhelming 82% of flipped properties went to owner-occupants, seeing that investors don't typically flip homes to sell to other investors.
But 18% did go to a buyer with a different mailing address than the subject property, and 43% were all-cash sales.
Flipped homes are clearly very appealing to home buyers, namely because they're designed to be exactly that.
Flippers know precisely what to upgrade/update/fix/renovate to make the home extremely attractive in today's market.  They also know how to list homes properly.  If you browse through listings, you'll probably be drawn to the flipped homes for that reason.
But if you scroll down to the transaction history of the home, you may be a little perturbed to see the list price 50-100% higher than the last sales price that occurred just months before.
Sadly, this market is so constrained that people don't even care and will bid full price regardless of the huge markup.
At the end of the day, plenty of buyers want a move-in ready home, so paying a premium to get something all ready to go makes sense.
The downside to flips, other than the ridiculous price tags, is the quality of the work. When you walk into some flips, it's immediately obvious that the flipper used the cheapest materials they could find to get the job done.
Often going as far as to mix and match materials to make things work, even if they don't actually go together. So flips aren't necessarily in better shape, they could just be hiding a lot of the bad with superficial upgrades.
As always, do lots of homework, ask a ton of questions, and inspect homes thoroughly before making an offer.