Housing supply was bad before the coronavirus epidemic reared its ugly head, and now it has gotten even worse, per new data from real estate brokerage Redfin.
Homes Flying Off the Market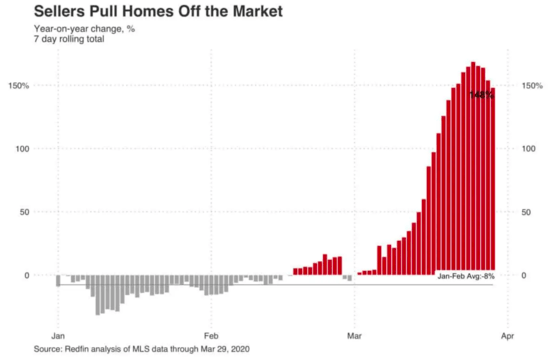 28,140 homes were taken off the market before selling in the past week
That represents a 148% year-over-year increase in delistings
Even worse in cities of Chicago, Los Angeles, and Philadelphia
Some cities not yet impacted as stay at home orders finally go into effect this Friday
The company noted that home delistings, where home sellers pull their properties off the market, increased 148% during the week of March 29th, compared to a year earlier.
And during that seven-day period, nearly 4% of active listings were taken off the market, which is roughly twice the typical rate.
It was even worse in the cities of Chicago, Los Angeles, and Philadelphia, where 6% of listings were pulled.
All of those hard-hit cities have a shelter in place mandate, so it's clearly not the best time to sell a home.
Conversely, Atlanta only saw 2% of active homes delisted, which might be related to their lack of stay at home orders until this Friday.
Once implemented, the delisting trend will likely catch up to homes in Georgia as well.
New Real Estate Listings Have Also Declined
Just 58,366 new for-sale listings nationwide last week
Down 33% from the same week in 2019
Comes as traditional spring home buying season kicks into gear
Detroit and Philadelphia saw worst of it with new listings in both cities down 63%
New listings are also taking a hit, with home sellers reluctant to get the ball rolling, for obvious reasons.
There were just 58,366 new listings during the week of March 29th, a big 33% decline from the same week in 2019.
And it seemed to hit just as the traditional spring home buying season was beginning to heat up. Talk about bad timing.
Detroit and Philadelphia saw the worst impact, with new listings in both cities down 63% year-over-year last week.
Similar declines were seen in Chicago (-47%), Dallas (-36%), and Los Angeles (-49%), and it happened across all home price levels.
Inventory Down and So Are Prices…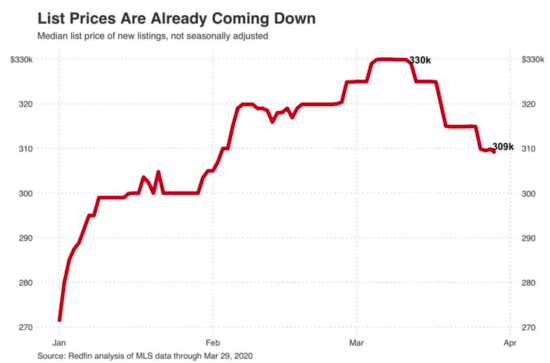 Usually we see prices go up when supply goes down
At the moment both supply and list prices are falling in tandem
Median list price fell from $330k two weeks ago $309k
Will likely continue to drop as prospective buyers put purchases on hold
Now here's the scary part. Usually when inventory, or supply goes down, prices go up. That's not the case in this unique pandemic-impacted real estate market.
Redfin has also seen the median list price fall after steadily rising moving into spring.
It was as high as $330,000 two weeks ago, but has since fallen to $309,000, a $21,000 decline. And it's a sign prices will continue to fall, either via price cuts or lowball offers, or perhaps both.
Meanwhile, pending home sales plummeted 42% from the same period a year earlier, with the biggest declines seen in Dallas (-66%), Atlanta (-57%), and Detroit (-55%).
Similar losses were seen in Los Angeles (-49%), Chicago (-45%), Philadelphia (-42%), Phoenix (-38%), and Denver (-35%).
Those stories you heard last week that real estate agents were still closing homes probably reflected the time lag related to the epidemic, and the relatively long escrow period that likely began well before things took a turn.
But now that most states are in a veritable lockdown, we're going to see the true impact of coronavirus on the housing market.
To make matters worse, a lot of prospective home buyers are likely going to lose interest in buying a home this year, even if things improve health-wise.
And those that are still interested might fall out simply because they no longer qualify for a mortgage, due to unemployment, loss of income, loss of assets, and so on.
The question is how bad will it get, and when will things turn around?
Read more: CARES Act grants 12 months mortgage forbearance to homeowners.