You may (or may not) have heard that the CARES Act is allowing a huge chunk of homeowners to request forbearance for six to 12 months of mortgage payments.
If you haven't heard, you can review the details here, but the takeaway is that anyone with a federally-backed mortgage who has been economically affected by COVID-19 is eligible.
And like other mortgage relief programs that have been rolled out by various private banks and state governors, the forbearance won't hurt your credit score/history, nor will you pay penalties or fees.
It's still somewhat unclear what happens after the forbearance period ends, but the CARES Act did stipulate that you can't be charged interest beyond what would have been due had you remained current on your loan.
For me, that means the missed mortgage payments get added to the end of the loan term, effectively putting the mortgage on hold.
But that's just my opinion, and the whole thing is still a bit fluid and confusing. Even the experts are trying to make sense of it all.
Another key point is that you don't need to provide any documentation of hardship to receive the forbearance.
You simply need to attest to your loan servicer that you're experiencing a financial hardship due to the COVID-19, and request relief.
[How long will you have to wait to get a mortgage after forbearance?]
Hello Lender Generates Free Mortgage Forbearance Request Letters
Free tool generates a letter to send your loan servicer for mortgage assistance
Simply answer a handful of questions and it does the rest
You will receive an email with the letter in Microsoft Word format
That letter can then be sent on to your loan servicer to request forbearance
To make that piece a little easier than it already appears to be, the tech arm of law firm Wilson Sonsini Goodrich & Rosati, SixFifty, has launched a new free tool called "Hello Lender."
It generates a letter (in Microsoft Word format) to your loan servicer by asking you a series of simple questions.
You can then use that letter to send to your loan servicer, who in turn should provide you with the desired relief outlined in the letter, without further proof of hardship.
Just note that your loan must be federally-backed, and you must send it to your loan servicer, which may not be the bank that originally funded your loan.
Assuming you get those details right and qualify based on loan type, you should be good to go.
I generated a test letter and it look about a minute to complete it.
[What's the Last Day to Apply for Mortgage Forbearance?]
Sample Mortgage Forbearance Letter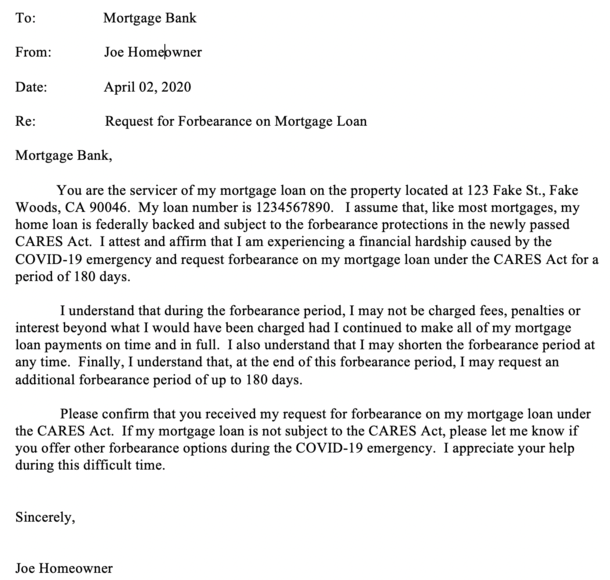 It asks a few basic questions, such as your name, your bank/loan servicer's name, your loan number (if you have it handy), your property address, and the amount of forbearance you'd like to receive.
You can pick anywhere from 30 to 180 days, and it automatically adds a line about the ability to request an additional 180 days of forbearance, or the ability to shorten the forbearance period at your request.
Additionally, it includes language from the CARES Act that you "attest and affirm" that you've experienced a financial hardship related to COVID-19, and fees, penalties, and interest won't be charged beyond what had been if on-time payments were made.
It's pretty straightforward, but might be helpful to some folks who are totally confused by all this.
I don't blame anyone, considering the many mortgage relief efforts being touted by individual banks and states, which has probably done more harm than good.
CARES Act Mortgage Relief Might Be Best Path for Most Homeowners
CARES Act mortgage relief provides the longest amount of forbearance
(12 months)
With the least amount of documentation necessary (basically a letter)
Applies to most loans, including Fannie/Freddie/FHA/USDA/VA
Those with jumbo loans or portfolio loans must speak to their bank or loan servicer directly
The CARES Act mortgage relief is probably the main and go-to program at this point for most individuals, since the majority of homeowners with a mortgage have a federally-backed one.
To reiterate, federally-backed includes loans backed by Fannie Mae and Freddie Mac, along with the FHA, USDA, and VA, which should cover roughly two-thirds of the market.
The rest are jumbo loans or portfolio loans, both of which might be on individual bank's books. In those cases, you'd need to inquire about relief with those entities directly.
Lastly, remember that if you can pay your mortgage, you should pay it. In other words, if you haven't been affected financially, you shouldn't just take advantage of the "free mortgage payments" because you can.
That's the message from FHFA director Mark Calabria and Treasury Secretary Steven Mnuchin.
Read more: How is mortgage forbearance paid back?