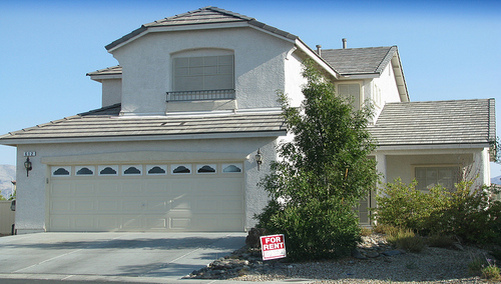 Quick mortgage tip: "How do I know if Fannie Mae or Freddie Mac owns my mortgage?"
One of the key requirements to getting approved under the Home Affordable Refinance Program (HARP) is ensuring that your loan is indeed owned or guaranteed by Fannie Mae or Freddie Mac.
If it isn't, you aren't eligible for a HARP loan, which is one of the most popular loan programs available at the moment for homeowners with underwater mortgages.
Knowing this can also be helpful to determine if you're eligible for a certain loan modification, or if you can pursue certain foreclosure prevention options via the company.
Fortunately, the pair has made it very simple to find out if your mortgage is owned or backed by either.
Fill Out the Short Form
To find out if Fannie or Freddie own your mortgage
All you have to do is fill out a short form
You will be notified immediately
And then given options for assistance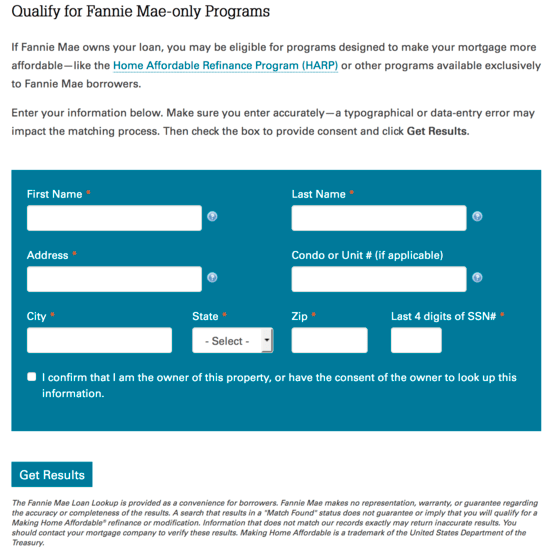 All you have to do is fill out a short form with your name, last four of your social, and property address, and they'll let you know immediately.
You will receive one of two status messages. Either that no matches were found, or that a match was indeed found. If it's the latter, you may be eligible for help.
No Matches?

Match Found!

Assuming a match is found, it will list the mortgage company that owns your loan and the mortgage loan closing date, which I believe is the day it funded.
You will also see some questions at the bottom of the page, including if you've been delinquent on your mortgage in the past 12 months, and if you anticipate being late in the near future (next 2-3 months).
These are basically next steps if you're looking up loan ownership in order to apply for assistance.
Watch Out for Errors
Note: If you own a condo or townhome, the search feature will often say there is no match if you put your street address and unit number in the separate boxes.
Instead, try putting it all in the street address box if you're pretty certain Fannie/Freddie owns your loan, but it's not showing up as a match.
For example, put in 123 Fake St. Apt. A all in the "address" box as opposed to broken up in the "condo or unit #" box.
Also notice that your are required to check a box that says you are the owner of the property or you have the consent of the property owner to look up the information.
For Freddie Mac inquiries, click here, and for Fannie Mae inquiries, click here.
Keep in mind that the property must also be one-to-four unit, owner occupied property, and you must be current on mortgage payments to qualify.
The mortgage balance must also not exceed 125 percent loan-to-value (now there is no limit!); if you don't meet any of these requirements, you may be eligible under the Home Affordable Modification Program (HAMP) instead.
However, to receive a loan modification through HAMP, you must have trouble making your mortgage payments.
Additionally, FHA loan borrowers are able to receive similar assistance via the FHA-Home Affordable Modification Program.
Keep in mind that there are also loss mitigation programs available with individual banks and mortgage lenders if you don't qualify for government assistance.