179,778 Properties Flipped in 2015
Is it time to worry? Home prices are surging, affordability is becoming a concern, and home flippers are back out in droves. Surely that's a recipe for disaster, right?
A new report from RealtyTrac revealed that the number of "active home flippers" in 2015 was the highest it has been since 2007, around the time things came crashing down, partly due to those very flippers.
Last year, some 179,778 single-family homes and condos were flipped by flippers, with flips accounting for 5.5% of total U.S. home sales.
That was up marginally from the 5.3% share in 2014, but it marked the first annual increase in the share of house flips after four consecutive yearly declines.
And in 83 of 110 metros nationwide (75%) flipped homes increased from a year earlier. So it's not just some markets seeing increased flip activity. California is the only noticeably cold state.
For the record, RealtyTrac defines a "home flip" as a property sold a second time within a 12-month period. But if I had it my way, I'd expand that definition slightly seeing that some folks wait just over a year due to tax purposes.
So the number of flips could be even higher if you move the definition to say 13 months, which is still clearly a fast turnaround intended to make a quick profit.
110,008 Flippers Flipped in 2015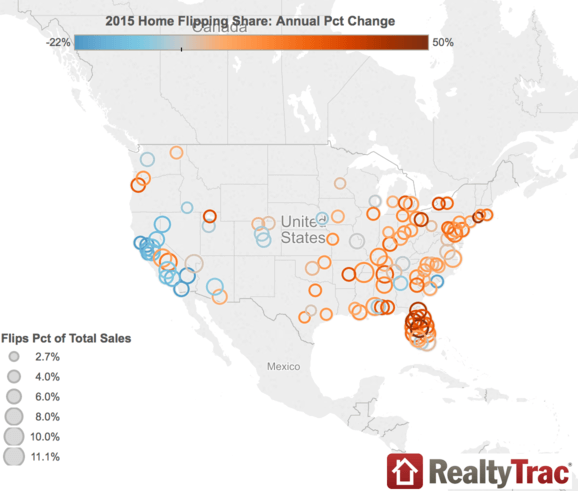 Sorry for having fun with the word flipper. I can't help myself. I think we need a new word for it, personally. Anyway, a total of 110,008 investors/entities flipped at least one property last year.
That was the highest number since 2007 when a slightly higher 130,603 home flippers existed. Still, it's nowhere close to the peak seen in 2005 when 259,192 flippers were out doing their thing. Back then flips made up 8.2% of total home sales.
The share of flipped homes was actually above 2005 levels in 12 metros, including Pittsburgh, Memphis, Buffalo, San Diego, and Seattle.
The states with the highest share of flips included Nevada (8.8%), Florida (8.0%), Alabama (7.4%), Arizona (7.1%) and Tennessee (6.9%).
As far as metros go, Memphis (11.1%) Fresno (9.2%), and Las Vegas (9.2%) led the way.
Interestingly, despite the numbers inching up again, the number of home flips per investor (1.63) was the lowest since 2008.
So it appears as if today's flipper is a bit more discerning, possibly because they have no choice. We know inventory is limited, and it's already more difficult to obtain financing for several properties at once.
That could limit some of the bad things surrounding house flipping, but it doesn't mean noobs aren't still buying homes for double the price the previous buyer purchased them for.
Tip: Look at the property history at the bottom of Redfin/Zillow listing pages to see what the previous buyer paid to determine if you should pay double that!
Flipped Homes Purchased at 26% Discount
RealtyTrac said flipped homes were on average purchased for 26% below market value and later resold for a five percent premium above the estimated market value.
The average gross flipping profit, defined as the difference in purchase price and sale price, hit a 10-year high in 2015 of $55,000, not far from the $58,750 seen in 2015.
This figure doesn't include the costs of rehabbing the property, which is typically anywhere from 20-33% of the property's after repair value.
The best return on investment (ROI) was in the $100,000 to $200,000 home price range, with Pittsburgh (129.5%), New Orleans (99.2%), and Philadelphia (98.4%) the leaders nationwide.
Unfortunately, this return to flipping means less opportunity for traditional home buyers who rely on mortgage financing to get the deal done.
This competition, coupled with a continued lack of housing inventory, will make it increasingly difficult for first-timers and others with limited cash reserves to buy homes. Additionally, it could be yet another sign of the formation of another bubble.