March was a rough month for home prices.
The median U.S. home price fell a sizable 3.3% in March to $400,528, the largest year-over-year decrease in more than a decade.
That was on top of the 1.2% decline in February, which was the first annual decline in prices since 2012, per Redfin.
At the same time, pending home sales fell to their lowest level since the beginning of the COVID-19 pandemic.
And while supply continues to be an issue, there is also a lack of buyers too thanks to much higher mortgage rates.
Home Price Drop Worst Since Mortgage Crisis Bottom
The 3.3% drop in home prices from March 2022 to March 2023 was the worst annual performance since 2012, according to Redfin.
The median price also experienced a 3.6% month-to-month drop from February.
If you recall, home prices bottomed in 2012 after the Global Financial Crisis (GFC) ravaged property values in preceding years.
Back then, the decline in home prices was led by subprime mortgages and stated income underwriting.
Today, the decline might simply be a symptom of eroded affordability. It's an important distinction because it could dictate what happens next.
Most pundits have blamed the recent reversal in home prices on affordability, with the average rate on the popular 30-year fixed the main culprit.
It has risen from the high-2% range to nearly 7% in the span of 12 months, wreaking havoc on prospective buyers' pocketbooks.
But if you ignore that piece, there is still strong demand from buyers. And even too much demand in certain markets.
This makes today's housing market a lot different than the climate back in 2006-2008.
Home Prices Remain 32% Above Pre-Pandemic Levels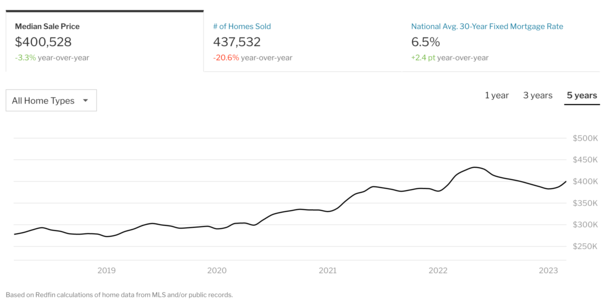 Despite this worst-in-a-decade 3.3% decline, home prices remain well above recent levels.
The median sale price of a U.S. home was $303,059 back in March 2020, per Redfin data. This was just around the time we were all locking down due to the pandemic.
Fast forward to today and the median price is $400,528, an increase of about 32%. So while the headline might be startling, you've got to put it all in perspective.
The caveat is so-called "pandemic boomtowns" and the Bay Area, which have seen fairly sizable declines.
Prices were off a whopping 15.4% in once-hot Boise, Idaho from a year earlier, the worst performer in Redfin's analysis.
Other big losers included Austin, TX (-13.7%), Sacramento, CA (-11.9%), San Jose, CA (-10.5%), and Oakland, CA (-9.7%).
However, national home prices have already turned back higher, as you can see from the chart above.
So some of the data coming in might be more indicative of the strong start in 2022 before mortgage rates surged.
New Listings Are Down 23.3% From a Year Ago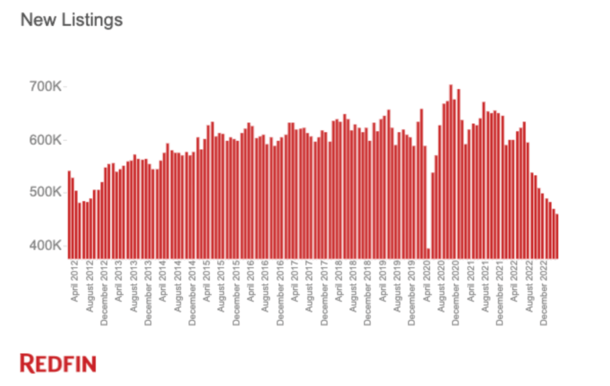 What makes today's housing market a lot different than the one seen during the Great Recession is the lack of inventory.
In fact, new listings fell a massive 23.3% in March from a year prior to the lowest level on record (other than at the start of the pandemic).
This lack of available homes for sale has resulted in an even bigger 26.6% decline in pending home sales.
The amount of homes sold in March 2023 was also down 22.3% from a year earlier.
However, active listings are up 5.6% from a year ago thanks to 23 more days on market, pushing the months' supply to 1.9 from 1.2 in March 2022.
In terms of how homes are faring in today's market, 44.3% faced competition (multiple bids) and 28.5% sold above their list price.
Both these metrics are down year-over-year, but given the sharp rise in mortgage rates, things could be a lot worse.
Home Purchases Are Falling Through at a Higher Rate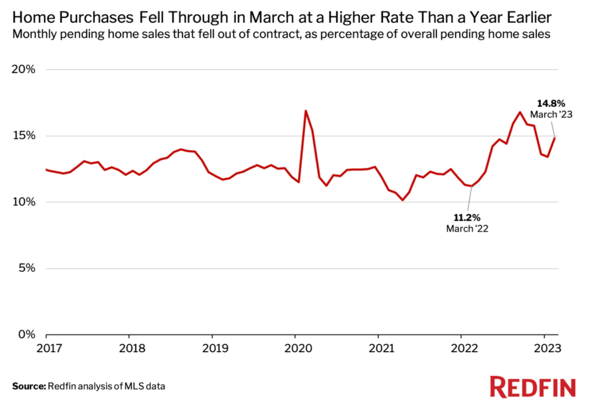 Meanwhile, there have been more home purchases falling through lately.
Some 55,000 home-purchase agreements were canceled in the month of March, accounting for 14.8% of homes that went under contract.
While that number is down from the 2022 peak of 16.8% (when mortgage rates surpassed 7%), it's up from 11.2% a year ago.
Interestingly, it's not just home buyers getting cold feet. Redfin cited a home seller that got multiple bids, but then pulled the listing.
Why? Because their own mortgage rate was going to double when they relocated. This is the mortgage rate lock-in effect you've likely heard about.
Existing owners aren't too into the idea of replacing their low, fixed 2-3% mortgage rate with a new one set at 6%.
And that's probably not going to change anytime soon unless mortgage rates make a meaningful move back down to high-4% levels.
Don't get your hopes up on that.