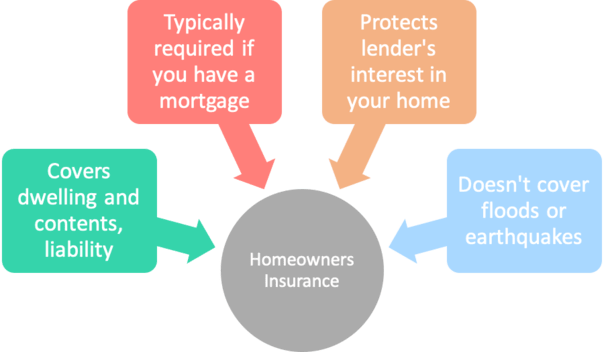 Homeowners insurance provides coverage in the event your home is damaged or destroyed, and also provides liability for injuries incurred by visitors to your property.
In addition, the loss or damage of property in and around the dwelling is covered as well (the contents).
The amount of money your home is insured for is called the dwelling limit coverage.
It is one of the most important and overlooked aspects of the mortgage process, and most homeowners fail to shop around for it.
Mortgage Lenders Typically Require Homeowners Insurance
While homeowners insurance might be optional if you own your home free and clear
Most mortgage lenders require a specific amount of coverage if you carry a home loan
This protects their financial interest in your property
Because remember, they let you finance a large chunk of it
Most banks and lenders require that homeowners buy enough insurance to cover the amount of their mortgage.
And your mortgage broker or loan officer will usually comply with the lender, and ask that you get a policy that simply covers the value of the loan amount.
But you should also ensure that your homeowners insurance policy covers the cost of rebuilding your property in the event of serious damage.
Your home is probably your greatest liability, and for many its also their nest egg, so full coverage is a must.
What is covered by homeowners insurance?
– Dwellings and other structures on your property
– Personal property
– Personal liability
What is not covered by homeowners insurance?
– Earthquake insurance
– Flood insurance
– Personal valuables beyond your coverage limits (think expensive jewelry)
Damages caused by extreme weather such as wind, lightning, hail, and fire are generally covered.
As are claims arising from vandalism, civil unrest, plumbing accidents, explosions, and events where a vehicle or aircraft causes damage to your home.
However, natural events such as earthquakes and floods require separate insurance.
Additionally, know your policy limits because expensive items aren't automatically covered (think jewelry), and may need their own extended coverage.
Knowing the cost to rebuild your home is one of the most important and misunderstood aspects of homeowners insurance.
Many homeowners feel that coverage based on the value of their home is sufficient.
But in reality, the value of your home may be less than (or more than) the actual cost to rebuild it from the ground up.
And construction costs may rise as property values fall, so it's important to gauge the cost of a complete rebuild.
How to estimate the value of your home:
– Style of your home
– Number of rooms
– Square footage
– Local construction costs
– Other structures on your property
– Special features
Do note that if you make any significant improvements to your home, you should also increase your coverage in the event that you need to rebuild.
And if you have expensive valuables such as fine art, jewelry, etc, it's best to insure those separately if your coverage has lower limits.
Make sure they are insured for replacement cost and not ACV, or actual cash value, which is the depreciated value.
Set your policy to update each year based on inflation and rising building costs, and ensure that your policy covers living expenses while your home is being repaired if the damage is too severe to stay in your home during construction.
Make sure you take the time to shop around and understand the homeowners insurance policy you ultimately purchase (types of homeowners insurance).
Most borrowers simply take whatever policy is thrown at them, or worse, purchase the minimum required by their bank or lender.
For many homeowners it's simply a stipulation or requirement to get the deal done, much like car insurance, but failure to insure your biggest asset/liability properly could be the biggest mistake of your life.
Read more: Homeowners insurance vs. mortgage insurance.