Today we'll learn more about Homespire Mortgage, which has made the Inc. 5000's List of America's Fastest-Growing Private Companies for the past three years in a row.
They are a rapidly expanding direct-to-consumer mortgage lender based out of Gaithersburg, Maryland that currently operates in 40 states and DC.
The company was founded in 2006 by Michael Rappaport (no, not the actor), who also currently serves as their president.
Aside from being a retail mortgage lender, they are also an approved Fannie Mae and Freddie Mac seller and loan servicer.
In 2019, roughly 70% of their loan origination volume consisted of purchase loans, with the remainder refinance loans.
About half of their production was conventional, while roughly a third was FHA loans, and about 12% was VA loans. The rest was jumbo or USDA.
They also just launched a special initiative for healthcare workers that waives lender fees for those battling COVID-19.
Homespire Mortgage Fast Facts
Founded in 2006 by Michael Rappaport
Based out of Gaithersburg, Maryland
Currently operate in 40 states and the District of Columbia
Funded roughly $1.2 billion in home loans during 2019
About half of total lending volume was in the state of Maryland
Offer home purchase and mortgage refinance loans
How to Apply with Homespire Mortgage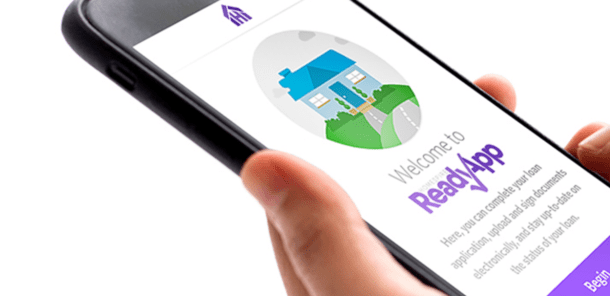 You can request a quick rate quote via their online form
Or apply for a mortgage directly from their website in as little as 15 minutes via ReadyApp
Digital mortgage allows you to import taxes and bank statements electronically
They also have branches in select states across the nation for in-person consultation
One big plus to Homespire Mortgage is the fact that you can apply for a home loan right on their website, with no human interaction.
That seems to be a thing these days, so if you're the type who likes to go it alone, you're in luck.
They've got a digital mortgage application powered by Ellie Mae known as "Homespire Mortgage ReadyApp" that lets you enter in all your vital information and link financial accounts for a fast and accurate experience.
You can sync your tax returns and bank statements and go from application to submission in as little as 15 minutes.
Once submitted, a loan consultant will get you pre-approved quick, handy if you plan on doing some house hunting.
While technology is great, they haven't forgotten the human element either – you're more than welcome to choose a loan officer to work with, or visit a branch if one is located near you.
At the moment, they've got branches in 11 states, and over time that number should grow as they work on their nationwide expansion.
When applying via the website, you can select a loan officer or branch location if you've been referred to someone specific, or if you know the individual you plan to work with.
You can also simply request a rate quote via the website and a loan consultant will call you to discuss your loan scenario.
Homespire Mortgage Loan Options
Offer home purchase loans with zero down
Down payment assistance available
Refinance loans including streamline and cash-out
Renovation loans via Fannie Mae, FHA, or the VA
Jumbo loans
Fixed-rate mortgages and ARMs
When it comes to loan options, Homespire Mortgage has plenty to choose from for both home purchases and mortgage refinances.
You can take out a conforming loan backed by Fannie Mae or Freddie Mac, or a government home loan backed by the FHA, USDA, or VA.
Additionally, they've got renovation loans (including HomeStyle Renovation, FHA 203k, and VA Renovation) for those who are purchasing or refinancing a fixer-upper.
Those in need of some down payment assistance can take advantage of the fact that Homespire Mortgage participates with federal, state, county, and city governments nationwide.
For those in expensive regions of the country, they also offer jumbo mortgages with loan amounts as high as $2.5 million and LTVs up to 95%.
In terms of specific loan programs, you can get a fixed-rate mortgage, such as a 30-year or 15-year, or an adjustable-rate mortgage, such as a 5/1 ARM or 7/1 ARM.
Like most other lenders these days, the lion's share of mortgages originated recently have been 30-year fixed home loans.
So they've got a loan for just about everyone, whether you're a first-time home buyer or looking to tap equity via a cash out refinance.
Homeownership for Healthcare Heroes Program
The company also just launched a special program that recognizes frontline healthcare workers who are currently battling COVID-19 nationwide.
Homespire's Homeownership for Healthcare Heroes Program waives all lender fees for qualified borrowers on home purchase loans.
They say the average estimated savings are $1,520, which gives us a clue about what they normally charge borrowers.
Eligible participants include doctors, nurses, administrative professionals, along with individuals who work in doctor's offices, nursing homes, and at home healthcare professionals.
The minimum loan amount is $100,000, and applications must be received between June 29th – December 31st, 2020.
Homespire Mortgage Rates
One negative to Homespire Mortgage is the lack of mortgage rate disclosure.
Sure, you can request a rate quote, but it's nice to see mortgage rates upfront too.
Without knowing their pricing, or lender fees while we're at it, it's impossible to know how competitive they are until you get a quote.
As such, you should take the time to compare their quote to other mortgage companies to ensure you get a good deal.
While customer service and convenience are great, the mortgage could be with you for the next three decades. You'll want to know you didn't overpay.
Remember to factor in the lender fees, not just the rate, by considering the mortgage APR offered by Homespire Mortgage versus other lenders to accurately compare.
Homespire Mortgage Reviews
In terms of customer satisfaction, they've got a 4.98-star rating out of 5 on Zillow based on nearly 1,000 reviews.
After scanning through many of them, it appears most borrowers said both the interest rate and closing costs were lower than expected.
You can also view individual loan officer reviews on Zillow if you enter the person's name in a web search. Handy if you want to know how someone specific performs as they're a fairly large company.
On SocialSurvey, they have a 4.91-star rating out of 5 based on nearly 7,000 customer reviews. Again, you can filter those reviews by loan officer to learn more about the individual you plan to work with. Or to decide who to work with!
Homespire Mortgage is an accredited business with the BBB, and has been since 2009. They currently have an A+ rating, which is based on the company's transparency and complaint history.
All in all, they seem to be highly regarded by past customers for both service and pricing.
Homespire Mortgage Pros and Cons
The Good
Can apply online via a digital mortgage application
Paperless process allows you to sync tax returns and bank statements
Lots of loan options to choose from
Discounts for healthcare workers
Lots of positive customer reviews
Brick and mortar branches for those who prefer human touch
They also service the loans they originate instead of selling them off
Free mortgage calculators on site
The Potential Bad
Do not advertise their mortgage rates
No word on what lender fees they charge
Not licensed in all states at the moment