Mortgage Q&A: "How to pay the mortgage with a credit card."
First things first; banks and mortgage lenders don't accept credit cards as a form of payment when attempting to repay your home loan. Options for paying are typically limited to ACH or check.
However, back during the housing boom aka meltdown there were various third-party services that allowed homeowners to make their mortgage payments with a credit card.
Paying the mortgage with a credit card topics:
– Why pay the mortgage with a credit card?
– Using Plastiq to pay the mortgage
– Using Tio to pay the mortgage (no longer an option)
– Using American Express Serve to pay the mortgage
– Warnings and drawbacks to paying the mortgage with a credit card
These services charged fees for the convenience, and looking back, they were probably only offered because people couldn't keep up with their mortgage payments, and eventually their credit card payments either.
Chances are these same people had to execute a balance transfer shortly after…
Unsurprisingly, these services seemed to disappear as quickly as they surfaced, but there are still options to pay the mortgage with a credit card each month free of charge, even if mortgage lenders won't let you do it directly.

Reasons to Pay the Mortgage with a Credit Card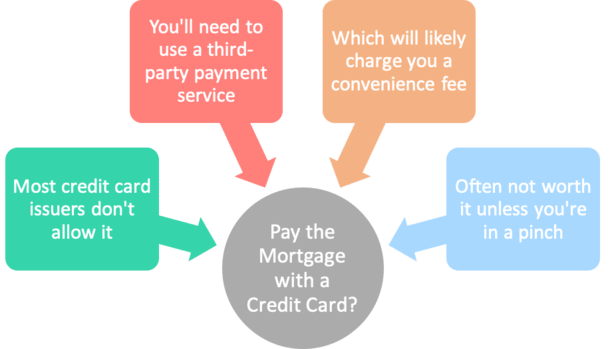 To meet a minimum spending requirement and earn bonus credit card points
To increase everyday spending and earn cash back, points, etc.
To defer payments for a period of time to give yourself some breathing room
This last one isn't a good idea!
The difference today is that this method/idea is more about earning credit card points (or cash back) for paying your mortgage, and not so much about simply paying it.
Let me preface this by saying it makes no sense to pay your mortgage with a credit card if you can't afford to pay it otherwise.
The only purpose of this method is to earn bonus points and/or cash back as you would on other purchases made with a rewards credit card.

Using Plastiq to Pay the Mortgage with a Credit Card

Plastiq allows mortgage payments via credit card
But only with a MasterCard or Discover card
They no longer accept Visa or American Express cards
You must also pay a transaction fee of 2.5% or less
There are some companies that allow you to pay rent or the mortgage with a credit card in exchange for a small transaction fee.
By small fee, I mean something in the range of 2-3%. Recently, a company called Plastiq had a special where they charged just 1.75% ($17.50 per $1,000 in payment). They normally charge 2.5%.
Unfortunately, most credit cards don't earn cash back or points at levels this high unless it's in a bonus category. And these companies often aren't in any bonus category whatsoever.
The one exception is the old AT&T Access More credit card, which earns 3X per dollar on all online purchases. That seems to include services like Plastiq. This allows you to come out ahead.
Even if you can't come out ahead dollar for dollar, it might be worth it for some people looking to meet a minimum spending requirement to earn an opening bonus, or just to buy some time on that monthly payment (not recommended).
For example, if you need to spend $5,000 in the first three months to earn a signup bonus, paying the mortgage can probably put a big dent in that requirement. And it's only $125 in fees if you use Plastiq for the entire amount. If the reward points eclipse the cost, you win.
Some other cash back credit cards do earn 2%+ on all spending, either initially as a bonus or all the time, so it's possible to come out slightly ahead or just slightly behind. Aside from making money doing this, some folks are happy just to earn lots of credit card points and miles by charging the pricey mortgage.
Important note: Plastiq currently only accepts MasterCard and Discover. They recently stopped allowing mortgage payments to be paid with a Visa card and American Express cards. That means you're limited to the other two major issuers, which still isn't bad.
Apparently Visa told Plastiq they had to comply with a new directive that banned mortgage payments via Visa credit cards. They're basically closing a loophole because otherwise Visa would just allow it themselves and you wouldn't need to use a third-party payment service.
It's unclear if the others will follow, but it's always a risk. For some reason, the ability to pay the mortgage with a credit card never seems to stick long-term, and perhaps for good reason.
If you do use Plastiq to pay the mortgage, you'll need to enter the business name as it appears on your mortgage statement, along with the mailing address they list for mailed payments.
Assuming they have an electronic option (ACH) available in their system, payment will be sent electronically. If not, they'll send a paper check on your behalf. If that's the case, be sure to give it a week or two to arrive.
In terms of limits, the only payment limits are those associated with the credit card you use for payment. So if your card has a $5,000 credit limit, you won't be able to send a mortgage payment for any more than that. This means even those with a jumbo mortgage will likely be able to use this service, assuming they have decent credit limits.
I've yet to use Plastiq, but I may in the future if I need to meet a spending requirement quickly to earn a signup bonus. I've heard of people successfully paying a Wells Fargo mortgage and a Chase mortgage with this service.

Use Tio to Pay the Mortgage with Discover, MasterCard, or Visa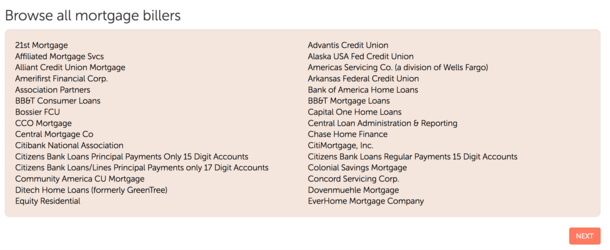 Tio used to allow homeowners to make mortgage payments with any credit card
Other than American Express
With virtually every bank, lender, or loan servicer for a variable fee
But then they got bought out by PayPal and were promptly shut down
There's a similar service called Tio (formerly ChargeSmart) now owned by PayPal that lets you pay a mortgage with a credit card in a matter of seconds. You don't even need to sign up.
All you have to do is select a mortgage company from the handy list on their website (pictured above), then enter your loan number and payment amount.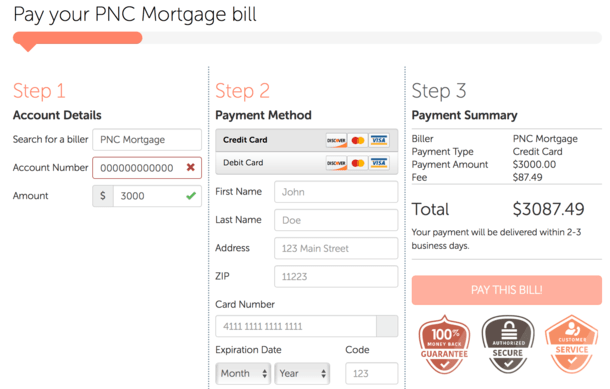 From there, simply click on the credit card icons and enter your credit card information. It will then display the fee, which tends to range between 2.5% and 3%.
Interestingly, they seem to charge varying fees based on payment amount and based on the mortgage company you select. It appears to be more expensive for smaller payments, such as 3% for $1,000 payments, and a bit cheaper as your payments rise.
If you're okay with everything, you simply hit "pay this bill" and Tio will deliver your payment within 2-3 business days they say.
The upside is that Tio is super fast, the downside is it can be more expensive than Plastiq, and they don't accept American Express for mortgage payments. However, they seem to still accept Visa cards.
At first glance, I like Tio more than Plastiq, at least when it comes to paying the mortgage, because they have tons of mortgage companies already listed and ready to go. I don't like the idea of manually entering the wrong company or address when sending a very important payment.
Plus, they list tons of major mortgage companies like Chase, Citi, Ditech, Nationstar, Ocwen, PNC, Quicken, Wells Fargo, and many more.
Update: Tio has also suspended service while its parent company PayPal investigates some so-called security vulnerabilities. So this method may or may not be available in the future once they sort it out.

You Might Be Able to Pay Your Mortgage with American Express Serve
American Express Serve used to work like a charm
Homeowners could load the prepaid card account with a rewards credit card
Then use the bill pay service to make monthly mortgage payments
But most customers' accounts were shut down
Perhaps the easiest method that used to work involved American Express Serve, which is referred to as a reloadable prepaid account.
In reality, it basically works like an online bank account in that you can transfer/load money to it and then pay everyday bills or make purchases with the associated prepaid card.
Let's focus on that paying bills part. Your mortgage is a bill and it must be paid each month until maturity, just like other recurring bills.
But loan servicers don't give homeowners the option to pay with a credit card (for good reason!) unlike most other bills.
The Serve method entails loading the account with a credit card or gift cards (like pin-enabled gift cards), and then using the funds to pay your mortgage via their bill pay service. I suppose you can use a debit card as well if it earns rewards.
The purpose of this is to get credit card rewards on that large amount of money spent, so if the credit/debit card doesn't earn rewards, there's no point in doing this.
Of course, most folks would buy Visa gift cards using a different travel rewards card, hotel credit card, or airline credit cards to hit the minimum spending requirement and earn lots of miles.
Then they would turn around pay off their credit card in full each month to avoid any interest or fees to offset the benefit of doing it to begin with.
A couple warnings/issues with this method:
– You need to make sure your credit card issuer doesn't charge fees to load Serve (American Express warns of this possibility on the website
– They can be treated as cash advances
– The max you can load with a credit or debit card each month is $1,000 ($200 per day)
– The limit increases to $1,500 a month ($500 daily) if you get Serve with Softcard
– You actually need to pay off the credit card charges to avoid interest/fees
– Your credit score can go down if you keep racking up large balances, even if they're paid off
– You could get on the bad side of credit card companies and miss out on future rewards
– If you have bad credit none of these methods will probably work very well
As noted above, you can load your Serve account with a credit card, but even American Express warns that you could be charged fees by your card issuer for doing so.
I've used a Chase credit card and there was no fee or issue. It just showed up as a standard purchase.
But to avoid any mishaps, testing with a small amount or asking your credit card issuer to lower your cash advance limit to zero (or as low as possible) might be a good idea before giving it a whirl.
Once the necessary funds are in the Serve account, you'll be able to see your available balance. Assuming it's sufficient to cover your full mortgage payment, you simply select "Pay Bills" from the dropdown menu then add a payee.
While certain payees are already in Serve's system, you'll likely need to add your loan servicer manually, including their address and your loan number.
It should be the address where you would send a paper check because Serve is basically cutting a physical check on your behalf. It's essentially a bill pay service. This is exactly why it works.
You're not actually paying your mortgage with a credit card – rather, you're funding an account with a credit card then sending those funds to your servicer via check, a much more accepted form of payment.
Once you save the payee information, you can make your mortgage payment via Serve each month. There's even a memo section where you can write your loan number and any other details to ensure the payment is processed properly.
Note that payments can take several business days to process, so it's not as quick as making a payment online. Fortunately, mortgage due dates are fairly flexible. But you'll want to give yourself a cushion to avoid paying late if anything goes wrong.
Update: Serve doesn't work for many people anymore, so take note that the above method properly won't be an option going forward. In fact, they went as far as to just close a lot of people's accounts.

The Downside to These (or Any) Methods
The first thing you have to look at it is the associated fee for using a credit card
You also have to make sure you aren't charged cash advance fees for doing it
Also consider the work involved if employing a creative method
And the potential to accidentally miss a mortgage payment along the way
It may also complicate a future refinance if payment history is shown via credit card
In the end it might not be worth it
While it's kind of cool to pay your mortgage with a credit card, it does require some work, as noted above. And if you have a jumbo mortgage payment, these methods may not work very well if your credit limits are low.
You certainly won't want to send partial payments and find out that your loan servicer paid down your principal or simply returned your check.
It can also get murky if you use different methods to pay the mortgage, and then decide to apply for a refinance because mortgage rates went down. If the new lender asks for mortgage payment history and sees some of the payments made via credit card, they may question your solvency. Even if you do explain yourself, they probably won't be thrilled about it.
At the end of the day, you'll have to ask yourself how much you'll really "earn" by using a credit card once factoring in your time (opportunity cost) going to the store to buy gift cards, not to mention the transaction fees and credit card annual fees.
If your monthly mortgage payment is $1,000 a month, it equates to just 12,000 points or miles annually, which is worth maybe $120 or slightly more if redeemed for travel or something more lucrative.
Those earnings could be used to pay down your mortgage a little bit faster if you put it toward the principal balance. In that sense, it could be worth it as the points would go a lot further via saved interest and faster home equity accrual over time.
Just be careful not to miss a payment or make life harder in the process. Plenty can go wrong here, and at the end of the day, you might be better off just using your bank account to pay the mortgage. Or simply keeping an eye on mortgage rates and refinancing to a lower rate to save potentially hundreds a month.