Mortgage Q&A: "How to pay the mortgage with a credit card."
First things first; banks, mortgage lenders, and loan servicers don't accept credit cards as a form of payment.
Options for paying your home loan are typically limited to ACH or check, and perhaps debit card.
In the past, there were various third-party payment processors that allowed homeowners to make their mortgage payments with a credit card.
For this convenience, they often charged a percentage fee, such as 3%. Some still exist today.
How to Pay the Mortgage with a Credit Card
As noted, payment processors are able to provide workarounds for the long standing policy of not allowing credit card payments for mortgages.
The way it typically works is you pay them first, then they cut a check and send it to your loan servicer.
This way the payment method is deemed acceptable since credit card generally isn't permitted.
However, these companies charge hefty fees for the convenience, often as much as 3%.
If we're talking about a $3,000 mortgage payment, it's $90 per payment.
Looking back, these services were probably only offered because people couldn't keep up with their mortgage payments.
Of course, not everyone was in financial distress. Some simply wanted an easy way to increase spend to earn credit card miles or points.
Unsurprisingly, these services seemed to disappear as quickly as they surfaced.
But there are still options to pay the mortgage with a credit card each month, even if mortgage lenders won't let you do it directly.
Reasons to Pay the Mortgage with a Credit Card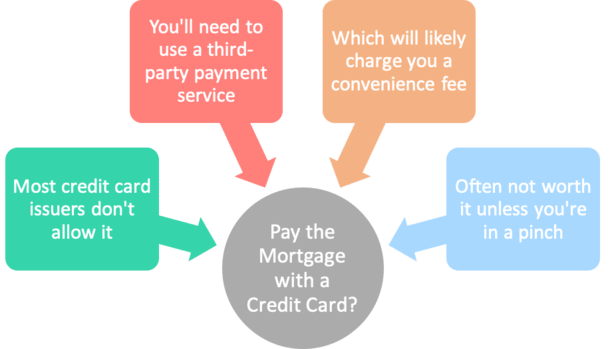 To meet a minimum spending requirement and earn bonus credit card points/miles
To increase everyday spending and earn cash back, points, etc.
To defer payments for a period of time to give yourself some breathing room
The last reason isn't a good idea!
These days, this method/idea is more about earning credit card points (or cash back) for paying your mortgage, and not so much about simply paying it.
Though as the economy begins to cool and job losses rack up, it could be a method of last resort as well.
Let me preface this by saying it makes no sense to pay your mortgage with a credit card if you can't afford to pay it otherwise.
The only purpose of this method is to earn bonus points and/or cash back as you would on other purchases made with a rewards credit card.
Using Plastiq to Pay the Mortgage with a Credit Card

Plastiq allows mortgage payments via credit card
But only with a MasterCard or Discover card
They no longer accept Visa or American Express cards
You must also pay a transaction fee of 2.5% or less
There are some companies that allow you to pay rent or the mortgage with a credit card in exchange for a small transaction fee.
By small fee, I mean something in the range of 2-3%. In the past, a company called Plastiq had a special where they charged just 1.75% ($17.50 per $1,000 in payment). But they normally charge 2.9%.
Unfortunately, most credit cards don't earn cash back or points at levels this high unless it's in a bonus category. And these types of merchants often aren't in any bonus category whatsoever.
Even if you can't come out ahead dollar for dollar, it might be worth it for some people looking to meet a minimum spending requirement to earn an opening bonus, or just to buy some time on that monthly payment (not recommended).
For example, if you need to spend $5,000 in the first three months to earn a signup bonus, paying the mortgage can probably put a big dent in that requirement.
And it's only $150 in fees if you use Plastiq for the entire amount. If the reward points eclipse the cost, you win.
Some other cash back credit cards do earn 2%+ on all spending, either initially as a bonus or all the time, so it's possible to come out just slightly behind.
Aside from making money doing this, some folks are happy just to earn lots of credit card points and miles by charging the pricey mortgage.
Plastiq Only Accepts Discover and MasterCard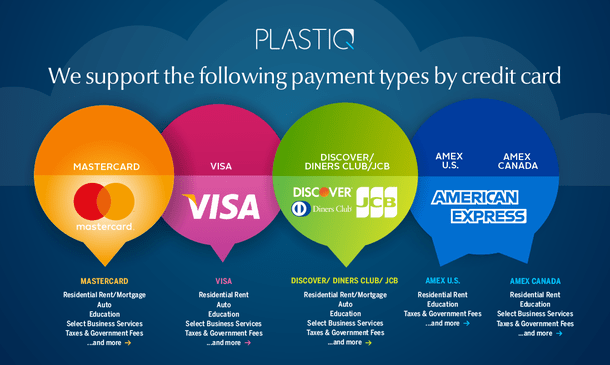 Important note: Plastiq currently only accepts MasterCard and Discover. They recently stopped allowing mortgage payments to be paid with a Visa card and American Express cards.
That means you're limited to the other two major issuers.
Apparently Visa told Plastiq they had to comply with a new directive that banned mortgage payments via Visa credit cards.
They're basically closing a loophole because otherwise Visa would just allow it themselves and you wouldn't need to use a third-party payment service.
The same is true for all U.S. Bank cards and Capital One personal credit cards (Capital One business cards may work).
It's unclear if the others will follow, but it's always a risk. For some reason, the ability to pay the mortgage with a credit card never seems to stick long-term, and perhaps for good reason.
How Plastiq Works to Pay the Mortgage
If you do use Plastiq to pay the mortgage, you'll need to enter the business name as it appears on your mortgage statement, along with the mailing address they list for mailed payments.
Assuming they have an electronic option (ACH) available in their system, payment will be sent electronically.
If not, they'll send a paper check on your behalf. If that's the case, be sure to give it at least a week to arrive, possibly longer.
In terms of limits, the only payment limits are those associated with the credit card you use for payment.
So if your card has a $5,000 credit limit, you won't be able to send a mortgage payment for any more than that.
This means even those with a jumbo mortgage will likely be able to use this service, assuming they have decent credit limits.
However, you could still run into problems when attempting to make a large purchase, so be prepared for the worst. And have a backup plan in place in case your attempt fails.
I've yet to use Plastiq, but I've heard of people successfully paying a Wells Fargo mortgage and a Chase mortgage with this service.
Note that payments can take several business days to process, so it's not as quick as making a payment online. Fortunately, mortgage due dates are fairly flexible.
But you'll want to give yourself a cushion to avoid paying late if anything goes wrong.
Using Debit Cards to Pay the Mortgage
Another method to pay the mortgage with plastic is via a debit card. While this isn't necessarily that novel on the surface, some savvy homeowners use prepaid debit cards or gift cards.
So indirectly, they pay their home loan with a credit card, after buying the prepaid debit cards with their credit card.
And if they can acquire these debit cards from say an office supply store, where they earn 5X for every purchase, it could actually be a moneymaker in the end.
But it's a two-step process that takes time, work, and know-how. And again, you'll likely need to use a third-party service like Plastiq to make it all work.
Assuming you know what you're doing, you could actually accrue more credit card points/miles than the associated fees involved.
Just be sure to get the mortgage payments to the loan servicer on time.
Tio Used to Allow Homeowners to Pay the Mortgage with Discover, MasterCard, or Visa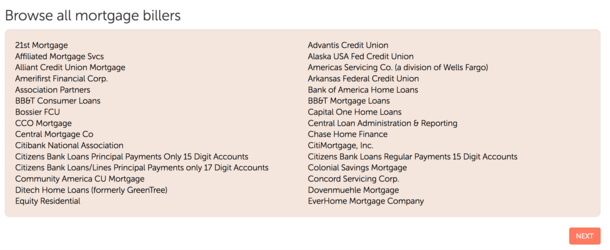 A service called Tio allowed homeowners to make mortgage payments with any credit card (other than American Express)
They even listed many major mortgage companies on their website
But then they got bought out by PayPal and were promptly shut down
There was a similar service in the past called Tio (formerly ChargeSmart) now owned by PayPal that let you pay a mortgage with a credit card in a matter of seconds. You didn't even need to sign up.
All you had to do was select a mortgage company from the handy list on their website (pictured above), then enter your loan number and payment amount.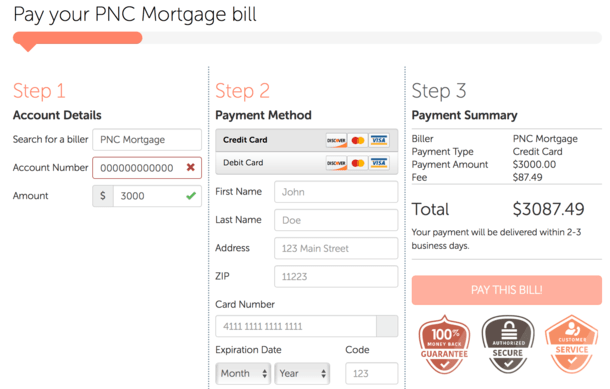 From there, simply click on the credit card icons and enter your credit card information. It would then display the fee, which tended to range between 2.5% and 3%.
Interestingly, they seemed to charge varying fees based on payment amount and based on the mortgage company you select.
It appeared to be more expensive for smaller payments, such as 3% for $1,000 payments, and a bit cheaper as payments rise.
Tio would then deliver your payment within 2-3 business days, they said.
They listed tons of major mortgage companies like Chase, Citi, Ditech, Nationstar, Ocwen, PNC, Quicken, Wells Fargo, and many more.
Update: The Tio service was suspended after being acquired by its parent company PayPal.
The Downside to These (or Any) Methods
The first thing you have to look at it is the associated fee for using a credit card
You also have to make sure you aren't charged cash advance fees for doing it
Also consider the work involved and the potential to accidentally miss a mortgage payment
It may also complicate a future refinance if payment history is shown via credit card
While it might be convenient to pay your mortgage with a credit card, it does require some work, as noted above. And if you have a jumbo mortgage payment, these methods may not work very well if your credit limits are low.
You certainly won't want to send partial payments and find out that your loan servicer paid down your principal or simply returned your check.
It can also get murky if you use different methods to pay the mortgage, and then decide to apply for a refinance because mortgage rates went down.
If the new lender asks for mortgage payment history and sees some of the payments made via credit card, they may question your solvency. Even if you do explain yourself, they probably won't be thrilled about it.
At the end of the day, you'll have to ask yourself how much you'll really "earn" by using a credit card once factoring in your time (opportunity cost), not to mention the transaction fees.
Plenty can go wrong here, and at the end of the day, you might be better off just using your bank account to pay the mortgage.
Read more: An alternative to paying the mortgage with a credit card.