Wouldn't it be nice if your mortgage lender could gather your income, asset, and employment information from a single digital document, similar to a credit report?
And instead of asking you to send over bank statements (all pages, even the blank ones!), recent pay stubs, two years of W-2's, and employment information, simply asked you to verify a single bank account.
That'd probably make it a lot easier to get a mortgage, right? And perhaps a lot less frustrating too.
Single Source Validation Can Make Getting a Mortgage a Lot Easier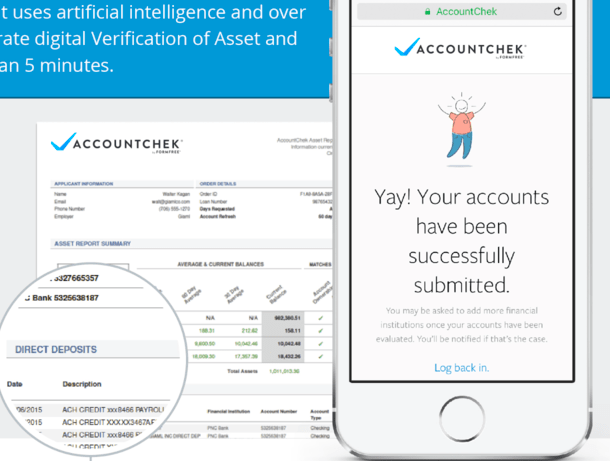 A new technology called Single Source Validation
Makes it faster and easier to verify borrower data
Such as income, assets, and employment
That look and feel similar to credit reports
Well, Fannie Mae has actually rolled out this technology via "Single Source Validation," which as the name suggests, allows lenders to validate a variety of borrower attributes from one data source.
They've partnered up with a vendor called Finicity, a Salt Lake City-based company that can generate asset verification reports within Fannie Mae's Desktop Underwriter (DU).
Another company called FormFree has also linked up with Fannie, and has a similar product called AccountChek, which facilitates the transmission of bank, retirement and investment account data.
These asset reports are then used to automatically verify three important items: income, assets, and employment.
Aside from being a lot easier on borrowers, this single source of data will also increase efficiency for mortgage lenders and speed up the loan process.
One early participant in the pilot program is Quicken Loans, which claims those who import income and asset documents can reduce the average length of the mortgage process by 12 days.
The company already offers the ability to digitally import financial documents, but this goes a step further by using asset data to identify employment and income information.
Put simply, it relies upon direct deposit information found in bank statements to pull income and employer info. And the assets are there too, so all the dots are connected automatically.
Quicken is offering this enhancement to all borrowers, not just those who applied via Rocket Mortgage.
A second participant, United Wholesale Mortgage (UWM), is offering this new capability to mortgage brokers who submit loans to the wholesaler.
This means all shops, whether big or small, will be able to streamline the cumbersome mortgage process going forward.
Source Data Can Reduce Fraud, Mistakes, and Turn Times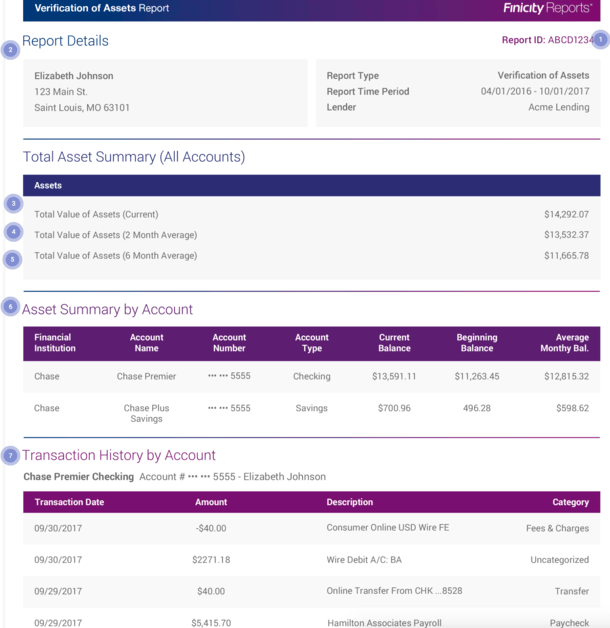 Aside from speeding things up and making it easier for borrowers
Single Source Validation should also reduce fraud and underwriting mistakes
Because borrowers will have a harder time fudging the numbers
Or not disclosing certain things in an effort to fool mortgage lenders
Aside from the convenience factor, the single source of data should eliminate fraud and mistakes, and reduce turn times.
As it stands now, a borrower has to upload bank statements, paystubs, and tax returns separately. Then the lender has to manually verify employment. This can lead to a lot of questions and confusion, and a lot of second and third requests for paperwork.
With a "Verification of Assets Report" from Finicity, which the borrower authorizes by granting access to certain bank account data, all of that information can be merged into a single report.
This should make it harder for borrowers to fudge the numbers and submit false paperwork, and it should reduce any inputting errors made by processors and/or underwriters.
Additionally, it might reduce mortgage delinquencies by ensuring borrowers are truly qualified for the mortgages they apply for.
Take a look at the sample report above, which provides a really detailed snapshot of a hypothetical borrower's financials.
You get their name, address, asset information, 2-month and 6-month average daily balances of assets, asset totals by account, and transaction history in those accounts, broken down by category.
It looks a lot like a credit report, except instead of credit history it documents income, asset, and employment history.
This information can also be integrated into Fannie's automated underwriting system to ensure it is inputted correctly.
That means lenders won't have to worry about loan defects related to income, assets, and employment. And you never know, those cost savings could be passed onto consumers in the form of a lower mortgage rate.
Now imagine applying for a mortgage in the not-too-distant future, whereby you fill out an application online (or on your phone) and simply provide credentials so all your financial data can be accessed, merged, and analyzed.
And when combined with a credit report, could result in a real approval within minutes, assuming nothing mucks up the process.
It probably won't be that easy for all borrowers, but for the plain vanilla W-2 borrower with one or two bank accounts working the same job for several years, these two reports could get them pretty far along in the process.
Throw in an appraisal waiver and you've got a mortgage in a week, if not days.
Assuming the pilot goes well, this new feature should be available to all Fannie Mae customers sometime in 2018.