There have been a lot of unpleasant headlines regarding the state of the real estate market lately.
Earlier this week, Redfin noted that only 1 in 8 offers written by their agents faced competition from other prospective home buyers in January.
That was down 53% from a year earlier, allowing Redfin to proclaim that "bidding wars have nearly vanished."
The End of Bidding Wars?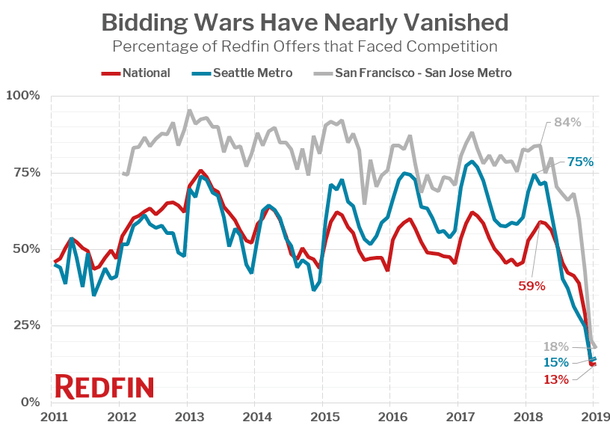 I guess that's somewhat true if only around 13% of homes are getting multiple offers.
A year ago, hot spots like Seattle and San Francisco were getting multiples on about 7 out of 10 and 8 out of 10 homes, respectively.
This January, less than 20% of homes for sale in those cities faced any sort of competition.
Home Prices Are the #1 Barrier to Entry Nowadays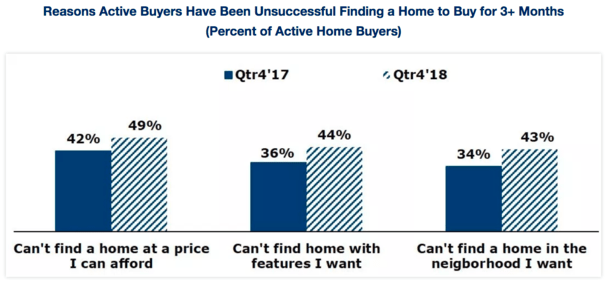 Meanwhile, the National Association of Home Builders (NAHB) noted that home prices are just too high for buyers these days.
When they asked active buyers who hadn't found a home in 3+ months of searching, the most common response (49%) was they couldn't find an affordable home.
Now this isn't to say that there aren't affordable homes out there, just not the homes these particular buyers would purchase.
So nearly half of would-be buyers are struggling with prices, up from 42% a year earlier. This might explain that precipitous decline in bidding wars.
A larger percentage of buyers also indicated that they couldn't find a home with the right features, or in their desired neighborhood.
Still, 63% said they'll continue to look for that "right" home, while 44% will expand their search area.
Another 23% said they'd be willing to go with a smaller or older home, and 18% might just buy a more expensive home to get what they want.
In other words, it sounds like the 2019 home buyer is pickier than the 2018 home buyer, likely because of price.
As home prices climb higher and higher, something has to give, right? And that might be the price. Or it might be buyer expectations if inventory remains limited.
Either way, it doesn't point to some sort of imminent real estate market crash.
Why the Real Estate Market Crashed a Decade Ago
Mortgage underwriting was abysmal in the early 2000s
And massive home price gains were driven by easy financing
Ultimately most home buyers couldn't afford the homes they purchased
So when accommodative financing ran dry, home prices plummeted
It's been nearly a decade since the housing market crashed, shortly after home prices had reached new all-time highs around 2006/2007.
Back then, home prices were unsustainable because people literally couldn't afford them.
In 2006, the average household couldn't afford the median-priced home. They were over $20,000 short in the income department.
Today, the national family median income is around $77,000.
In order to purchase a single-family home at the national median price, buyers would still be generally OK based on a variety of different down payments.
Less Income Required with a Larger Down Payment
5% down payment – requires an income of $62,954
10% down payment – requires an income of $59,640
20% down payment – requires an income of $53,013
As you can see, the more you put down, the more affordable the home purchase becomes. Yet another reason why saving money for a down payment is a good idea.
Regardless, even the individual putting down just 5% can afford a median-priced home, currently going for $257,600, per the National Association of Realtors.
Because home buyers couldn't afford to buy homes a decade ago, they turned to the many toxic loan programs being offered by lenders at the time, including interest-only mortgages and the now infamous option arm.
To make matters worse, they often stated their income (and fudged the numbers) to get into the home, and apparently just assumed it would all work out somehow.
Today's underwriting is not in the same galaxy, so home buyers will have a very tough time pulling the same shenanigans in 2019.
Back then, there was also a supply glut of homes thanks to lots of building, which meant it was very difficult for demand to keep up with supply. That's usually when prices fall.
Why the Real Estate Market Probably Won't Crash in 2019
While affordability is becoming a problem for many prospective buyers, rents are similarly high
It's more a reflection of supply and demand
As opposed to a financially-driven bubble
Home price gains will probably continue to moderate, which could actually make the market more sustainable long-term
As noted, things are a lot different today than they were a decade or so ago. Underwriting can't be compared, affordability, while starting to get tighter, isn't in the red yet.
Additionally, there aren't supply concerns. If anything, new homes need to be built to alleviate affordability woes.
Per NAR, only 9.6 million new housing units were added in the past decade, well short of the apparent 15 to 16 million necessary to meet demand driven by a growing population and workforce.
It's also very hard to use the last few years as a barometer for the housing market long-term.
While the fairly recent housing market crash that took place was pretty unprecedented, the recovery was also extreme.
So if we only look at the past five or so years of data, it'll appear as if things are slowing down tremendously, and potentially gearing up for a big fall.
But there's no real catalyst to make the argument for an impending crash.
Now this isn't to say home prices won't cool and even flatten out in 2019. We're kind of already seeing that.
But moderating home price gains are a far, far cry from a crash, or even a downturn.
As I said in my 2019 prediction post, we might see a rebalancing in the housing market, with buyer and seller expectations aligning more than in prior years.
This is generally good news for everyone, even if home sellers don't receive multiple bids above asking.
It will signify a healthy real estate market, which is good long-term, and much more important than a short-term burst.
I still believe that sellers who have maintained their homes and put thought into their listings will continue to get top dollar for their homes.
Additionally, if these new low mortgage rates hold, the 2019 spring home buying season should be another winner.
So will there be a real estate crash in 2019? Not likely. Will there be competition? It depends.
If you have a nice home for sale in a desirable area, a bidding war is still likely in the cards. Just expect your buyer to be pickier.
Read more: When will the next housing crash take place?