I guess homeownership isn't for everyone, at least if you consider a new study from LendingTree.
When respondents were asked if they would "ever go back to renting," some 28% of Millennials said yes.
Even worse, 10% said they'd go back to renting this year, while 14% said they'd ditch the mortgage for rent in the next 2-5 years.
Another 4% said they'd be renting within 6-10 years, and the numbers are similarly high relative to other generational cohorts in the 10+ year category as well.
Millennials the Least in Love with Homeownership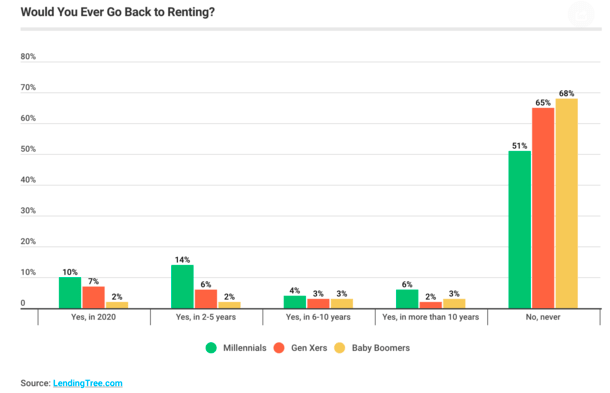 LendingTree uses the following age ranges:
Millennials: ages 23-38
Generation X: ages 39-53
Baby boomers: ages 54-73
While the numbers aren't overwhelmingly high, if you look at other age groups, such as Gen Xers and Baby Boomers, Millennials are clearly the least in love with homeownership.
Just over half of Millennials would never consider going back to renting, which sounds pretty good until you consider that 65% of Gen Xers and 68% of Baby Boomers wouldn't.
As to why Millennials are the most likely to kiss homeownership goodbye to rent again, there was no explanation.
But if you look at the chart above, there seems to be a correlation with age and satisfaction with homeownership.
The older a respondent gets, the less likely they are to go back to renting, which could be a sign of either being more comfortable as a homeowner, or better realizing the positive aspects over time.
Because the Great Recession is only about a decade old, some younger homeowners may not be completely sold on the idea of owning a home, knowing the bottom could fall out at any time.
Additionally, younger folk seem to value their freedom of movement a lot more than older generations. They may also be less interested in what LendingTree calls "residential responsibilities."
Owning a home is hard, despite what you might think.
When making the rent vs. buy argument, opponents of renting always seem to highlight the throwing away money on rent thing without mentioning all the money you spend on maintaining a property.
Of course, it is getting easier to buy and sell real estate thanks to the surge of iBuyers and other disruptors, though there is a cost to these services as well.
But perhaps making both the mortgage and home sale transaction piece simpler could entice more of the youth to buy into real estate.
Overall, one in six existing homeowners plan to go back to renting over the next decade.
45% of Existing Homeowners Plan to Move This Decade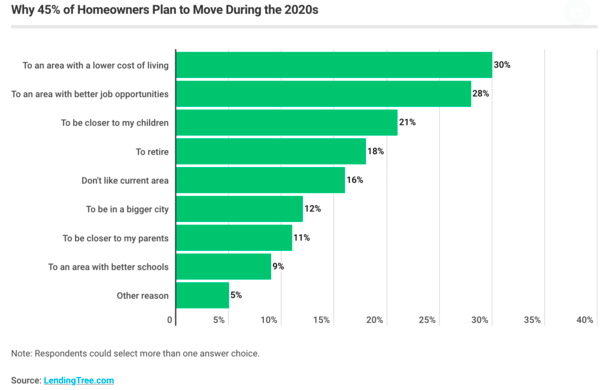 Now some good news for the housing/mortgage market, at least in terms of transactions. Nearly half of existing homeowners plan to move this decade.
The number one reason folks want to move is to enjoy a lower cost of living. Some 30% want to move to cheaper pastures, a trend that has been with us for a while now.
Meanwhile, 28% cited a better job opportunity could sway the them to move. Another 21% want to relocate to be closer to their children.
Some 18% plan to move when they retire, and 16% simply don't like their current neighborhood.
The bad news is it seems more individuals want to live in cheaper parts of the country, which could continue to put pressure on the starter home segment.
As I wrote before, 45 million Americans are expected to hit first-time home buyer age in the next decade. This is going to require a lot more housing inventory in the bottom third of the market to satisfy demand.
Otherwise, these historically cheaper homes are going to be out of reach for prospective home buyers, and throw the whole ecosystem out of whack in the process.
Read more: Buying a Home in 2020? 11 Tips to Get It Done!