If you've been even remotely interested in taking out a home loan, you've undoubtedly heard of LendingTree, which bills itself as the leading online loan marketplace.
Ultimately, they are a lead generator and mortgage broker that is licensed in all 50 states that matches up borrowers with lenders, similar to a company called Credible.
Aside from home loans, they also help customers compare credit cards, auto loans, debt consolidation services, personal loans, student loans, insurance providers, and more.
Let's learn more about the company and why you might want to enlist them in your home loan search.
Table of Contents
– How LendingTree Got Started
– What Does LendingTree Do?
– How LendingTree Works
– How Are LendingTree's Mortgage Rates?
– Should I Use LendingTree to Get a Mortgage?
– LendingTree vs Rocket Mortgage

How LendingTree Got Started
Company began in 1996 after founder had trouble getting a mortgage
Goal was to make it easier for consumers to compare loan rates/options without having to call individual lenders
LendingTree model ensures customers actually comparison shop via multiple rate quotes
Research shows more quotes equal more savings
First things first, a little history on the company, which was founded back in 1996 by Doug Lebda and headquartered in Charlotte, North Carolina.
Like many other prospective home buyers, Lebda grew frustrated with what turned out to be a time-consuming and arduous process while searching for financing on his first condo, valued at just $55,000.
He wanted to ensure he took out the best mortgage, but that wasn't possible without physically visiting several banks and then comparing offers from those financial institutions.
Clearly there "had to be a better way," and thus he set out to create his own website for customers "where banks would compete for their business."
He teamed up with Tara Garrity and Jamey Bennet to found Lewsburg Ventures Inc., which was later renamed CreditSource USA, and finally LendingTree.
Instead of going to lenders hat in hand, they'd call you and beg for your business. That was the basic premise.
And in doing so, you'd actually receive multiple mortgage quotes and comparison shop, something most Americans don't actually accomplish during their mortgage search.
LendingTree became a publicly traded company in 2000, but that was quickly followed by the dot-com bust just a year later.
It was then sold to IAC/InterActiveCorp in 2003, and Lebda served as president and COO from 2005 through 2008.
The company was then spun off from IAC as its own public company, rebranded as Tree.com, and then eventually restored its original name LendingTree.

What Does LendingTree Do?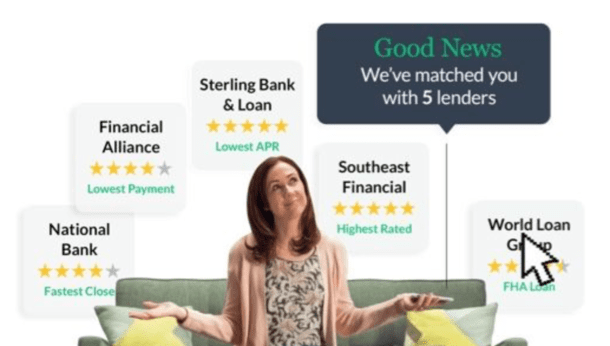 They connect lenders with consumers looking for home loan financing, credit cards, insurance, etc.
This makes it easier to shop around and get a good deal without all the legwork
At one time LendingTree made their own home loans but have since returned to core matchmaker business
LendingTree doesn't actually make the loans, nor are they a mortgage lender
There's probably some confusion regarding what LendingTree actually does since they sound a lot like a mortgage lender, but are in fact just a lead generator and mortgage broker.
In other words, they don't originate or underwrite your mortgage. Instead, they put you in touch with mortgage lenders in their network and earn a commission along the way.
This might explain why some of the LendingTree reviews you may have read are pretty mixed. People get upset if they don't understand what they're actually getting.
There was a time when they originated their own mortgages via subsidiary LendingTree Loans, which began in 2004 after they acquired HomeLoanCenter.com.
They later snapped up Louisville, KY-based Surepoint Lending in 2010, a year after it had been named the number one refinance lender on the LendingTree network in 2009.
But in 2012, the company decided to focus on its core business of lead generation for mortgage lenders, selling their origination unit to Discover in the process.
That led to the creation of Discover Home Loans in 2012, which only lasted about three years when they ceased lending in mid-2015.

How LendingTree Works
You fill out a form on their website with personal and property information
They pull your credit and send your completed lead to lenders in their partner network
You get contacted by lenders with loan rates and options
Compare, haggle, and apply for your loan with the lender of your choice
As noted, Lending Tree helps you comparison shop for things like mortgages, auto loans, student loans, credit cards, debt consolidation, and more.
They facilitate the process by asking you to provide basic information to their mortgage lender partners upfront, as opposed to you reaching out to individual lenders and providing the same information over and over again.
This entails filling out a lead form that asks a series of questions, including:
– Type of mortgage (purchase, refinance, home equity, reverse mortgage)
– Contact information (birthdate, name, address, email address, social)
– Property value and loan amount (estimated home equity)
– If you have a second mortgage
– If you want cash out (if a refinance)
– Estimated credit score
– If you served in the military
– If you've had a BK or foreclosure in past 7 years
Once they have all the necessary information and your consent to sell your lead to their partners, they'll pull your credit.
This is a soft pull that won't count against you or hurt your credit score, nor will it be visible to anyone but yourself.
Within minutes, multiple lenders will begin contacting you with their personalized loan offers and LendingTree will send you email notifications regarding these loan options.
LendingTree's new tagline is "may the best loan win," and that's exactly how the process is supposed to work once you start receiving loan offers.
The idea is that you'll receive multiple quotes and then determine which is best for you based on the mortgage rates, loan costs, APR, etc.
You'll have the chance to speak with these lenders on the phone if you're looking to haggle, or you can simply apply after comparing loan options and loan rates side-by-side online.
One important thing to note is that the form you fill out with LendingTree isn't a loan application.
It's simply a lead form that provides enough preliminary information to get you matched up with one of their third party lender partners.
Once you agree to terms with one of the lenders in their network, you'll need to fill out a standard mortgage application.
At that time, your credit score will likely be pulled (a hard pull affecting your credit), and you may need to pay a deposit for things like a rate lock or home appraisal.

How Are LendingTree's Mortgage Rates?
Remember, LendingTree is not a mortgage lender, so the mortgage rate quotes you receive from their site will be from other lenders that make up their marketplace.
As such, it's impossible to say the mortgage rates will be universally good, bad, or average.
It really depends on your unique loan scenario, coupled with the mortgage lenders interested in your specific loan characteristics.
Ultimately, the goal of LendingTree's service is to provide a breadth of different interest rates and loan costs and let you decide which is the best offer.
This range in rates will vary depending on the loan in question, driven by the loan amount, type of loan, transaction type, lender demand, your location, and so on.
The good news is you'll receive several mortgage quotes from multiple lenders to give you a better idea of what's out there.
Compare that to receiving just one quote from your neighborhood bank or existing mortgage lender and you should realize the value of their marketplace.

Should I Use LendingTree to Get a Mortgage?
Back in the day, I didn't like the idea of multiple lenders badgering you to get a mortgage.
It seemed bad enough having one lender bother you. But then I realized most people wouldn't actually comparison shop if they weren't forced to.
In fact, a survey by Harris Interactive and LendingTree claimed only 40% of borrowers obtained more than a single mortgage quote.
Put another way, 60% of mortgage borrowers just went with the first offer they received, despite the fact that there were probably several better offers out there.
Often, borrowers just use whomever real estate agents recommend, without knowing if it's a good deal or not.
Unfortunately, a mortgage stays with you for a long time, so if you overpay, it hits your wallet month after month, potentially for years.
That makes it a lot worse than overpaying for a single item, which you may have researched more than your mortgage.
Additionally, there is data from Freddie Mac that says gathering just two quotes can result in savings of around $1,000 to $2,000. That's a pretty good return on investment.
And the savings get even better as you request a third, fourth, or fifth quote.
It's unclear how many lenders will contact you if you submit a lead form to LendingTree, but they say you'll receive up to five loan offers.
Again, while perhaps annoying, the data says it'll save you a considerable amount of money.
You could actually go a step further and use LendingTree alongside other options like local banks and credit unions, mortgage brokers, etc. to really get a comprehensive view of what's out there.
There's no need to exclusively use LendingTree to get your mortgage. Consider it one of many options you can use concurrently.
To make life a little easier, today it's pretty simple to block unknown calls and filter emails, so even if you get bombarded with offers at first, it should be manageable to stop the noise.
Lastly, if you let lenders know you used LendingTree, they'll realize you have other, real offers to consider, and that might force them to negotiate and/or offer you an even better price.

LendingTree vs Rocket Mortgage
Because LendingTree is such a big name, it often gets compared to the likes of major mortgage lenders like Rocket Mortgage.
But in reality, the two companies are very different, in that Tree is a lead gen provider and Rocket is a mortgage lender.
One matches customers with mortgage lenders, while the other actually originates loans.
So really the pair complement each another, as opposed to be being competitors. In fact, they're actually business partners.
Where they intersect might be more interesting – it's very possible you could use LendingTree to get a mortgage quote and receive a call from Rocket Mortgage.
In short, Rocket is the #1 mortgage lender in the country, so there's a very good chance they'll be one of the lenders that gets in touch if you use LendingTree.
Read more: Rocket Mortgage review