More than a third (36%) of respondents believe "walking away" from the mortgage is acceptable, according to a Pew Research Center survey released today.
Two-in-ten (19%) said it was outright acceptable, while an additional 17 percent "volunteered" that it depends on the circumstances.
In other words, they said it was acceptable but threw out the "it depends" comment to validate their response, despite it not being an option in the survey.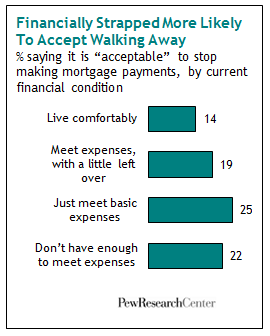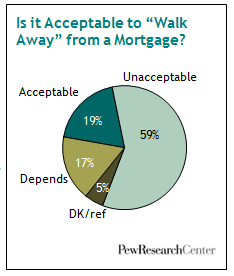 "Nearly half (48%) of all homeowners say the value of their home declined during the recession, and as a group they are more likely than those whose home did not lose value to say it's acceptable to renege on a mortgage (20% vs. 14%)," the survey said.
"But homeowners who say their homes are worth less than what they owe are not more tolerant of the practice than those who would break even or make money on a sale (18% vs.17%)."
Renters were even more likely to say it was okay to stop making mortgage payments, with 25 percent saying it's acceptable to walk away.
And 24 percent who said they are just able to pay their monthly bills or can't meet expenses said it's okay to stop paying the mortgage, compared with 14 percent of those who say they "live comfortably."
Meanwhile, nearly six-in-ten (59%) said they felt it is wrong for homeowners to deliberately stop paying their mortgages and give up their homes to the mortgage lender.
More than one-in-five homeowners surveyed said they owed more on their mortgage than their home is currently worth (negative equity).