Last week, the World Health Organization (WHO) designated Omicron, formally known as B.1.1.529, a variant of concern.
This news rocked financial markets nationwide amid concerns of another series of lockdowns, travel restrictions, and so on.
In short, there's renewed fear that we're not out of the woods on COVID, as some seemed to think prior to this bombshell.
Of course, this is all just preliminary information, and researchers in South Africa and elsewhere are conducting studies to determine if it presents additional risks to the world.
If you're in the market to buy a home or refinance your mortgage, you might be wondering what it means for mortgage rates. Let's discuss.
Mortgage Rates Tend to Drop When There Are Unknowns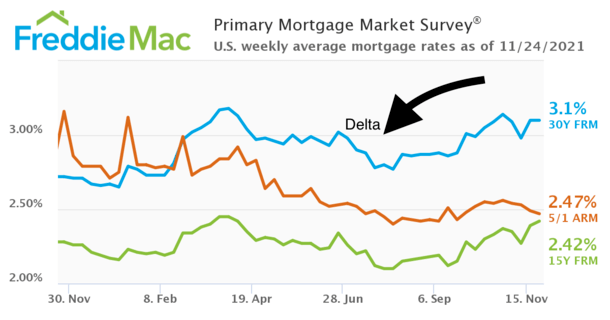 While mortgage rates and COVID don't have a long-term relationship, given COVID's recent emergence, one thing is clear.
Interest rates often move lower when there is uncertainty in the air, no matter what's behind it.
Prior to this announcement from the WHO, there was a general belief that we had seen the worst of COVID, and thus the economy could get back on its merry upward trajectory.
This news has thrown a wrench is that idea, and as such safe havens like Treasuries have rallied.
Meanwhile, their yields have plummeted, with the bellwether 10-year bond yield falling about 20 basis points (.20%) from around 1.68 to 1.47, before recovering somewhat.
It now stands at about 1.52, as investors digest this Omicron news and try to make sense of it all.
Long-term mortgage rates (e.g. the 30-year fixed) tend to track the movement of the 10-year bond yield, so they are now lower as well.
Whether they remain low or move even lower in the near-term and beyond is another question.
To my point about uncertainty, we don't really know anything yet one way or the other. There is just new fear and perhaps danger afoot.
WHO noted that it's unclear if Omicron is more transmissible, causes more severe disease, or circumvents available vaccines. But all those unknowns are/were enough to rattle investors.
[Also read: 2022 Mortgage Rate Predictions]
Omicron May Push Mortgage Rates Lower for Longer
While this is a very new development, mortgage rates have already moved lower as a result.
For example, a 30-year fixed quoted at 3% might now be 2.875% or even 2.75% today, depending on the lender in question.
And rates could continue to drop if more bad news is unveiled related to Omicron. But that's still a big question mark.
Will Omicron be the next Delta strain, or even worse, or more innocuous, like the Mu strain?
We don't know, but we do know Israel, Japan, and Morocco have closed their borders to all foreign travelers, and Australia has delayed its reopening by two weeks.
This is certainly ominous news, and could mean the Omicron variant will be a lot worse than previous ones. And more importantly, actually create headwinds for the economic recovery.
The Delta strain was declared a variant of concern in mid-June by the CDC, when the 30-year fixed averaged roughly 3%, per Freddie Mac.
Rates yo-yoed a bit after that before drifting to around 2.75% a month later, then began their most recent ascent.
So if Omicron proves to be similar to Delta, the 30-year fixed might fall back to these lower levels.
But the move could prove short-lived if it turns out not to be as bad as Delta.
Of course, if it's worse than Delta, and exacerbated by the winter months, it might mean mortgage rates move even lower. And stay lower for a longer period of time.
What to Expect for Mortgage Rates in Coming Months
Ultimately, this new strain is yet another reminder that the COVID pandemic isn't going to disappear anytime soon. It will take years to play out.
We were told this from the beginning, so to believe it was going to be business as normal in 2021 was clearly shortsighted.
While the world doesn't look like it did a year ago, when the economy was basically shuttered, we have another potentially deadly winter in front of us.
And with the emergence of Omicron, it means there's a whole lot of uncertainty in the air.
It happened to come right after the Fed tapered its purchases of mortgage-backed securities (MBS), with possible rate hikes also on the horizon.
That could push this potential rate hike further into the future, and turn those 2022 mortgage rate predictions on their head.
Maybe we won't see a 30-year fixed mortgage rate approach 4% in 2022. Maybe rates will slide back to their record lows.
Omicron essentially reopens the door to this possibility, but doesn't definitively tell us anything just yet. In the meantime, enjoy those super low mortgage rates.