A new analysis from real estate information portal Trulia revealed that the overwhelming majority of real estate agents actually own homes as opposed to rent.
The company scoured Census data from 2007-2012 to come up with the homeownership rates, and found that 84.9% of real estate brokers and sales agents owned property.
That compares to just 70.1% for individuals in all other occupations combined.
Appraisers Own, Rarely Rent
Trulia also found that many other housing-related jobs had high levels of homeownership, with appraisers and assessors of real estate the most likely to own.
This group exhibited a homeownership of 87.9%, which was second only to "farmers, ranchers, and other agricultural managers." And yes, that latter group tends to need to own land to run their respective businesses.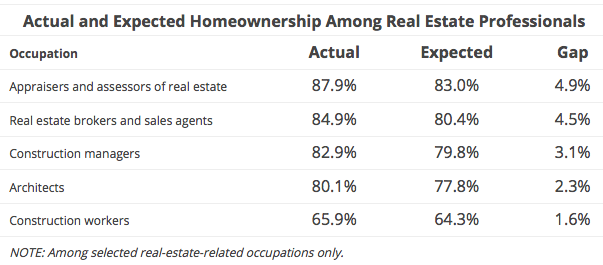 In the construction world, construction managers boasted an 82.9% homeownership rate while construction workers owned just 65.9% of the time. That's a sizable gap for those barking orders and those actually hammering in the nails.
Finally, there are the architects, which had an ownership rate of 80.1%.
If you're wondering why these individuals tend to own as opposed to rent, Trulia believes it's a combination of believing in the importance of homeownership, along with knowing the ins and outs of the home buying process.
And it's not just demographics. Trulia also took the time to determine what the homeownership rate would be based on the age, income, and location of these real estate workers, with occupation omitted.
They found that the actual rate of homeownership was always higher than the expected rate, meaning there is likely something tied to the occupation.
The Postman Isn't Just Delivering Mail…
While these numbers are all higher than the average, there are other occupations that yield even higher homeownership rates.
Interestingly, postal service mail carriers are big time homeowners, seeing that their homeownership rate was a staggering 84%. Only farmers and ranchers beat them out.
Perhaps they get inside information when delivering all that mail…or just get an itch to buy, who knows?  But their expected rate is only 79.4%.
Those that protect and serve also tend to own, with 83.6% of firefighters and 80.1% of police officers also homeowners, partially because of programs aimed at helping them purchase homes.
And those that look after the landscaping also own quite a bit of real estate, with the homeownership rate a whopping 75.3% for such workers.
Meanwhile, those looking after our appearance don't seem to be looking into real estate. Just 63.3% of "miscellaneous personal appearance workers" owned real estate, though 69.1% of hairdressers, hairstylists, and cosmetologists were homeowners, perhaps because they're typically self-employed.
Still, their expected rates of homeownership are significantly lower, so they're still bucking the odds.
Chefs Less Likely to Own Homes Than Expected
Not every occupation had a higher homeownership than expected, based on demographics, income, and location.
For some reason, chefs and software developers were less likely to own than their profiles would suggest. Could be too much time spent in the kitchen or on the computer.
And that's not all. Economists were also nearly two percent less likely to own a home than expected, perhaps because they overthink the whole thing.
Read more: How much do real estate agents make?