We all know underwriting standards have improved immensely since the latest housing crisis.
When it comes down to it, they couldn't have gotten much worse, seeing that lenders were turning to pay-option arms with zero down as a solid choice for borrowers.
Today, it's all about sound underwriting and fixed-rate mortgages, which coupled with rising prices and ultra low mortgage rates, make for a pretty solid recipe.
But just how good are the mortgages being made today? Well, according to a new report from Black Knight Financial Services (formerly Lender Processing Services), they're the best ever.
The company's senior vice president of Data & Analytics, Herb Blecher, noted that 2013 originations were the "best-performing vintage on record."
If you take a look at the chart below from their most recent Monthly Mortgage Monitor, you'll notice performance is solid across the board, for Fannie and Freddie loans, FHA and VA loans, and portfolio and private loans.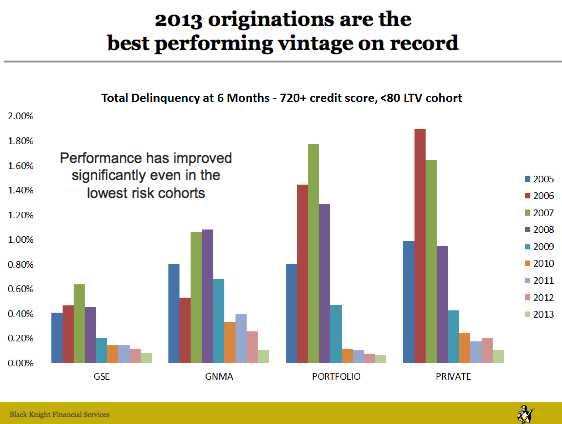 The delinquency rate for loans six months out with 720+ credit scores and LTV ratios south of 80% is fractional.
From the chart it appears as if portfolio loans (those kept by banks on their own books) are performing best, followed by GSE loans (Fannie and Freddie), then Ginnie Mae loans (FHA/VA), and finally private.
The worst performing vintages vary by loan type, though 2006 to 2008 were the worst years without question.
For GSE loans, 2007 was far and away the worst vintage. Loans originated during this period accounted for much of the foreclosure activity seen over the past several years.
For Ginnie Mae loans, it wasn't until 2008 that delinquencies hit their peak, and for portfolio loans, 2007 was the worst year.
As far as private loans are concerned, delinquencies skyrocketed in 2006, and have since improved tremendously.
Second Mortgages Far Less Common on Recent Vintages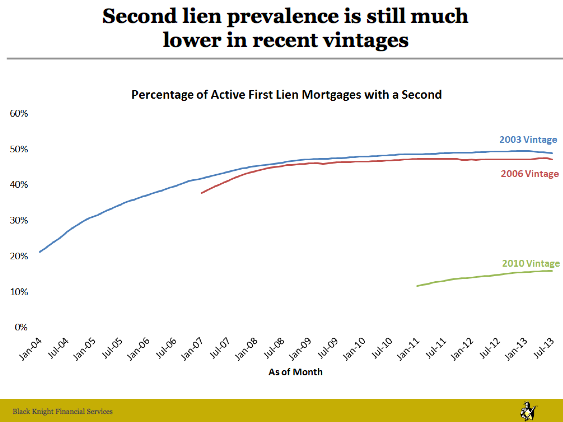 Another plus related to recent vintages is that very few have second liens, a characteristic that was very commonplace leading up to the housing crisis.
More than 40% of active first mortgages from 2003 and 2006 vintages have a second lien, seeing that 100% financing was extremely popular and essentially the norm at the time.
Meanwhile, less than 20% of first mortgages from the 2010 vintage have a second lien, a sign of the times as lenders shied away from such high-risk offerings.
Of course, over time it is expected that more and more borrowers will take out two loans when purchasing a new home to extend mortgage financing and avoid mortgage insurance.
In fact, second mortgage home equity loan volume is up 206% from a year ago, while second lien HELOCs are up 168%. These numbers should continue to rise from their near-term lows, especially as home prices continue to rise and more borrowers tap equity.
With loan quality this good, it'll be interesting to see if the new mortgage rules make any material impact going forward. You also have to wonder how much ultra-low mortgage rates and rising prices affect loan performance.