If you're a webmaster, a blogger, or just happen to own a domain name or two, you might be confused as to why there are so many new TLDs (top-level domains) these days.
Back when, there were three main TLDs, including .com, .net, and .org. They were all pretty straightforward, though .net seems to have become a lost TLD with .com now the gold standard.
Nowadays, there seems to be a TLD for just about every word in the dictionary, which begs the question, why?
I'd like to think I know a little something about the Internet, but this domain game is getting really, really strange.
The amazing part is that big companies are paying a ton of money to acquire these new TLDs, perhaps because they know individuals will buy them.
For example, last month Amazon purchased the TLD .spot for $2.2 million. It sounds pretty expensive, but Amazon's market cap is nearly $140 billion. Register a few thousand domain names and they're in the money.
Another company by the name of Fegistry bought .realty for nearly $5.6 million. Keep in mind that there is also the TLD .realtor and .realestate, not to mention .loan, and even .haus, the German word for house.
Do we really need .ninja, .rocks, and .pub? I don't think so.
Introducing .Mortgage
If none of the current TLDs work for you, perhaps .mortgage will. You can now register .mortgage domain names at a very pricey $125 per year.
They're geared toward mortgage brokers and loan officers looking to brand themselves.
So if you're a broker named Bob Smith, you could buy bobsmith.mortgage instead of settling for a lengthy or not quite right dot com name.
I already looked up some of the "good ones" and they're taken, obviously. You can't buy news.mortgage, and rates.mortgage is being offered as a premium domain with bids starting at $5,000. Pass.
Perhaps this is the flaw of offering these TLDs in the first place. The operator just snaps up the good ones and sells them at a premium.
Besides, you can buy classic dot com names for a mere $1.50 with a renewal fee of closer to $15, so why pay $125 for a domain extension that will probably just confuse the end user?
Real Estate Agents Can Use .Realtor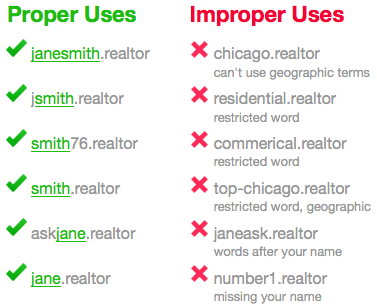 Last month, the National Association of Realtors won the rights to .realestate and .realtor, with the latter available to members of NAR and CREA (The Canadian Real Estate Association).
They've got a lot of rules regarding their .realtor TLD, generally only allowing first and last names to precede it.
Assuming you're a member, registration opened on October 23rd. The first 500,000 NAR and 10,000 CREA members get their first domain free for one year.
The main point of .realtor is that it's a trusted domain extension, though .com is still pretty reliable last time I checked.
The details regarding .realestate will be available in the second quarter of 2015.
If you go with .mortgage, there are fewer if any restrictions, though you'll need to justify that $125 price tag. The benefit is wider availability, as most mortgage-related dot coms have long since been scooped up.