It's common for home buyers to purchase a property in a certain school district.
This ensures their children can attend a specific school if they've got their eye on one in particular.
Heck, even those without kids might favor a certain home because it resides in a highly-sought after district.
Now Zillow has made it easier for prospective home buyers to find properties in attendance zones or school districts simply by using the search bar.
When using the company's mobile app, you've got the option to search by school, just as you would city or neighborhood.
Search by School on Zillow to Find a Home in Your Desired District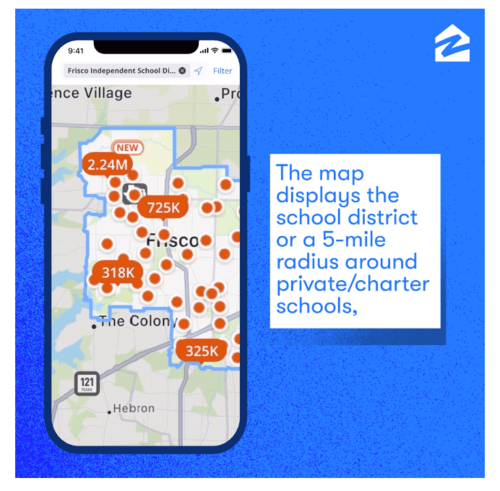 The latest update to the Zillow app allows home shoppers to search by school attendance zone or school district.
Simply open the app and navigate to the search bar. Instead of typing in a certain city or neighborhood, type the name of a school you like.
From there, Zillow will automatically display the attendance zone boundaries on the associated map in the app.
You'll be able to see properties that are available for sale (or rent) within the attendance zone selected.
And if you search for open enrollment, or for a charter or private school without an assigned boundary, Zillow will display homes within a 5-mile radius surrounding the school.
The new search-by-school feature also allows home shoppers to receive instant or daily alerts when new for-sale or for-rent homes within their preferred school district or attendance zone come online.
That way you'll be the first to know if a property meeting your school district needs pops up.
Since homes in desirable school districts are often quite popular, this can provide a competitive edge over other prospective buyers.
Those who are logged-in users will also see auto-complete suggestions for relevant schools and school districts based on their search history.
As always with any sort of property details, be sure to double-check that the home is indeed in the school district.
While it's helpful to have this information generated automatically, it's always smart to verify that the details are accurate.
This functionality is currently available on Zillow's iOS mobile app and will launch on Android by the end of 2024 (it will be on the web sometime next year).
School District Boundaries Are Very Important to Home Buyers
While there are a number of reasons why home buyers choose their properties, school district is a biggie, especially for those in their 30s.
And the prime first-time home buyer age is around 34, so most home buyers are going to be very focused on the associated school district.
As noted, even those without kids (or no interest in having kids) should be concerned with school districts as they can impact valuations pretty significantly.
You'll often find that property values (and list prices) are notably higher in highly-sought after school districts.
This means a home seller can unload their property for a premium, or rent it out for more to a family who wants to reside in the district.
But it is also typically means you'll pay more for it, and/or face more competition when attempting to buy the property.
Per Zillow's Consumer Housing Trends Report, 75% of home buyers in their 30s emphasize the importance of school district selection.
Additionally, 67% of buyers in their 40s and 61% of first-time buyers consider school district a highly important factor in their home search.
This trend also seems to be growing, with the percentage of buyers who considered school districts highly important rising to 52% in 2023 after holding steady at 43% from 2018 to 2021.
Homes Tend to Appreciate More in Good School Districts
Back in 2016, I wrote that you should buy a home in a good school district even if you don't have kids because they tend to appreciate more than those in not-good districts.
A study by ATTOM Data Solutions analyzed average test scores from about 19,000 elementary schools nationwide that covered nearly 46 million single-family homes and condos.
They discovered that in zip codes with at least one good school, the average estimated home value was 77% higher than in zip codes without any good schools.
Despite being more expensive, these good school district properties increased an average of $74,716 since the time of purchase, compared to just $23,311 for the not-good districts.
In other words, the purchase price might be higher to start, because it's located in a good school district, but over time it should outperform properties located in the not-good school districts.
This might explain why there are even single-family home investors who are actively targeting properties in "elite school districts" these days.
While I don't necessarily endorse that approach, since it makes getting into good school districts even more competitive for young families, it makes business sense.
All that being said, school districts aren't everything. It can also pay off to buy a home near a Starbucks, a Target, or a Whole Foods or Trader Joe's.
But ultimately, you should love the home you make an offer on, and want it for a variety of reasons that go beyond it's potential monetary value.
Read more: When should you start looking for a house?