The short answer: Immediately. That is, if you want to buy a home at some point in the next year, or any time thereafter.
We'll get into the specifics in a moment, but there's really no sense in waiting if you want to own a home or condo because it's always going to be a lengthy process.
Sure, once you find "the one" it might only take a month, or even less, to close escrow, thanks to new technologies that are making the actual transactional piece faster.
But the transaction is just one slice of the pie, and usually the fastest part. Personally, whenever I've looked for real estate, it's been a long, long search. We're talking many months if not a year or longer.
Consider All Aspects of the Home Buying Process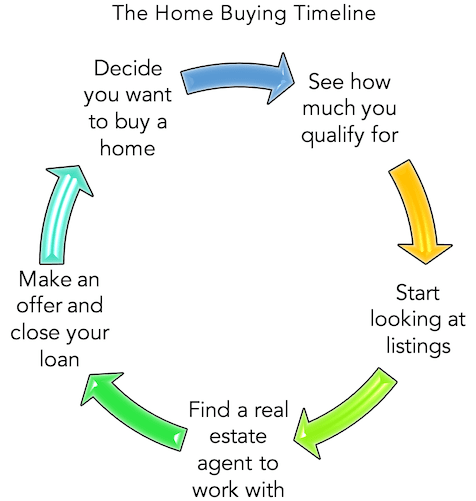 Decide you want to buy a home (might be a long or short process)
Determine if you're able to (seek out mortgage pre-approval)
Might need additional time to save for down payment and/or improve credit
Start looking at listings (set saved searches and alerts)
Find a real estate agent to work with (can be early on or late in the process)
Attend open houses, tour properties, and find one you like
Make an offer the seller accepts
Conduct inspections
Secure financing and close your loan
It'll Probably Take You Over a Year to Find a Home

If we count the time from when you begin house hunting until your home purchase loan ultimately funds, there's a decent chance 365 days will have elapsed.
I'm talking the day you first set your filters on Zillow/Redfin until the time the mortgage lender congratulates you on being a homeowner with an oversized key.
Does this mean each and every day is going to be consumed with home shopping? No, not at all. In fact, there might be days or weeks at a time during that span when nothing is brewing.
Your desired market could lie dormant if no new listings appear that fit within your specific parameters.
Of course, this is technically part of the process too. Waiting. And keeping an eye on things even when nothing is happening.
The good news is this will give you more time to prepare as a homeowner, especially if you're going to be a first-time home buyer.
First Make Sure You Qualify for Home Loan Financing
The mortgage should come before the house
Not the other way around as some may lead you to believe
Know you can actually obtain financing and at what price point
Then start looking at suitable properties to ensure you don't waste your time or anyone else's
I've written an entire post about this, but I'll reiterate here again. It's probably not a good idea to start searching for a home until you know you qualify for a mortgage, assuming you're not paying cash.
You wouldn't shop for a new car if you didn't have a steady job and money in the bank, so why shop for an even larger purchase without knowing where you stand?
Fortunately, it's pretty easy to get a mortgage pre-approval, and even easier to get pre-qualified, though the latter isn't worth a whole lot.
Either way, make sure you do one of the two to at least get a ballpark estimate of what you can afford. And to determine if there are any red flags that need to be addressed early on.
Credit is usually a biggie, and one that can take months to resolve if there are any glaring issues. Or if you simply need time to up your credit scores for more favorable mortgage rate pricing.
Anyway, once you know how much house you can afford, and that you're more or less eligible for a home loan, you can begin your property search.
Set Up Your Property Searches and Get Email Updates
Only after you know you can obtain a home loan
Should you begin searching for properties in your price range
Companies like Zillow and Redfin are handy and offer nearly real-time updates
They allow you to set alerts and receive instant or daily emails when new properties hit the market
One of the best ways to search for a property these days is via Zillow or Redfin. Assuming they cover your particular metro, pretty much every house, condo, and townhome will be listed.
You'll have a ton of key information at your fingertips, including listing price, days on market, number of bedrooms and bathrooms, square footage, sales history, recent comparable sales, and most importantly, pictures!
Most home sellers throw up 20-50 photos or more, so you can do most of your home shopping from the comfort of your own abode before even thinking about a tour.
The good thing about these sites is you can set up filters and saved searches, then elect to receive targeted emails daily or instantly.
So the minute something new pops up, you'll receive an alert. Or you can wait and get all new listings for that day in one shot.
Assuming you followed step one and got pre-approved for a mortgage, while simultaneously getting all your ducks in a row otherwise, you'll be ready to pounce at a moment's notice.
And these days, with the real estate market so hot, you might not get a chance to hesitate (see my 2022 home buying tips for more on that).
However, for most folks, the search process will take over a year, so there's not necessarily a big rush.
Tip: If it's a pocket listing or for some reason not on the MLS, the property may not show up on these websites. But this is less likely and even then, it may not be what you're looking for or readily available.
Select an Experienced Real Estate Agent
Most home buyers will use a real estate agent to get the job done despite there being other options
You can choose to work with one early on in the discovery process
Or do the pre-qualifying and home shopping on your own before selecting one
Then you can have them come in just for the negotiation and paperwork when you find a house you like
Another thing you'll need to take care of along the way is choosing a real estate agent to work with, that is, if you don't go it alone.
Most home buyers work with agents, so there's a good chance you will too. Add this selection process onto your home search timeline.
It can happen while you're looking at prospective homes, or once you've already found one. You might know an agent and just tell them to be ready for you once you find your ideal home.
Or you might want some more hand-holding and seek out an agent without delay, who hopefully will get you organized and prepped immediately to avoid any missteps.
I like the idea of doing some stuff on your own first without any input from interested parties so you can explore and figure things out without bias.
But everyone is different and may not have the time, patience, or ability to do so.
Anyway, an agent can send you updates when new listings hit the market as well and basically be a more hands-on guide if you want/need it.
They can take part immediately or enter the conversation at a later date. It's really up to you on how they fit in.
Tip: You can fly solo and once you find a home you like, use the listing agent as your buying agent to perhaps give you a leg up on the competition. Just be sure they have your best interests in mind too.
There Are Plenty of Houses in the…
It's easy to fall in love with a house at first sight
And experience major FOMO along the way
But you'll probably see 10+ properties in person
Before finding the right one (so try to temper your emotions)
I think we all have a tendency to fall in love with the homes we see in person, especially as first-timers, but it's important to physically visit multiple properties to gain perspective.
These days you can see 50+ photos of a property before committing to a tour. So if you've made it that far there's a good chance you're into it.
Sure, you can arrive at the property in question and be completely underwhelmed, but if do like what you see, it might be hard to walk away.
And even harder not to imagine yourself living there. And decorating it exactly how you wish.
The best line I can think of here is that there are plenty more fish in the sea. Don't get caught up on that first property, or any property in particular.
Aside from potentially overpaying, often times, you'll look back and be grateful that you didn't buy that one house, or you'll be glad you got outbid by another buyer, etc.
You might get lucky and find that right house in a week, but chances are you won't. Or it might just feel like the right one until you dig deeper and see more of what's out there.
Tip: Per the National Association of Realtors, buyers see an average of 8 homes before making an offer. So prepare yourself mentally.
Okay, So How Long Does It Take to Buy a House?
The average time it takes to find a house might be 4-6 months
But it depends when we actually start the clock
Many buyers dip their toes for a while before getting more serious
We also have to factor in the many steps including financial prep, selecting an agent, house hunting, and loan closing
While results will vary, maybe tremendously, most industry experts say it'll take anywhere from four to six months to buy a house, if not longer.
Thing is, it depends when the clock starts ticking. Do we start counting when you first open the Redfin or Zillow app, or do we start counting once you've met with a real estate agent?
These days, prospective buyers do a lot on their own before making contact with anyone. Or making it known that they're even in the market to buy.
They may go through their own little discovery period where they weigh the pros and cons of homeownership, potentially for months.
As noted, it's advisable to get in touch with a bank, lender, or mortgage broker just to know you qualify for a mortgage. Technically, this could count as the start of the home buying process.
The real estate agent part can be put off until you get more serious about buying a home because of the technology available these days.
We no longer need to be driven around the neighborhood by a friendly real estate agent in their Mercedes-Benz.
So really, the agent can come in during the late stages and help you close the deal, maybe only working with you for a month or so with the offer, paperwork, inspections, and loan closing.
But chances are they'll come in earlier and send you listings or be on the lookout for properties that might make sense.
Then we have to take into account the home loan process, which can take anywhere from 30-45 days or longer.
If we round that up to two months and add a couple months of looking, we're already around four months.
But the odds of finding your dream home in two months might be quite low if you're a picky buyer, which you should be in most cases.
In reality, you could be looking for six months before you find something you like, then once you submit an offer and get your mortgage, it's seven or eight months.
Factor in the time you were thinking about buying a home for a few months before that, the general financial preparation (saving for a down payment, getting credit in order, etc.), and the pre-approval piece, and you're at a year in many cases.
To summarize, it going to take a while, and that's totally okay. It's not a process that should be rushed.
In fact, the more time that goes by, the more knowledgeable you should become. And you can mentally prepare for homeownership at the same time. That's a good thing.
Read more: When should I buy a house?