While homeowners of all ages are mostly happy they purchased a property, younger borrowers seem to be regretting their mortgages more than the rest of the population.
Per the semiannual survey titled, "Zillow Housing Aspirations Report," Millennial and Generation Z homeowners are more likely to have qualms about their home loan compared to those aged 55 and older.
But don't call them lazy – Millennials contacted an average of 2.8 mortgage lenders before choosing one, versus just 1.7 for Gen X, 1.8 for Boomers, and 1.3 by the Silent Generation.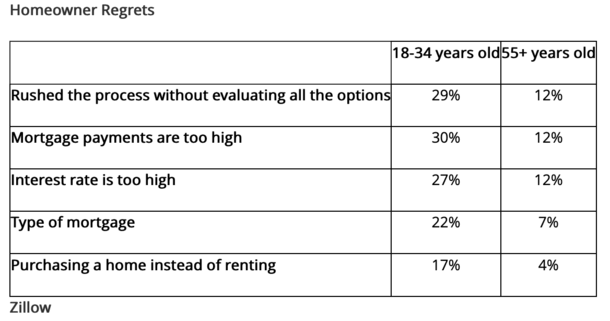 The Mortgage Payments Are Too High
The biggest regret for the 18-34-year-old cohort was "mortgage payments are too high." Some 30% cited this as a regret compared to just 12% of the 55+ crowd.
This might have something to do with all those hidden costs of homeownership.
In reality, they aren't really hidden, but if you've been renting, you might be unfamiliar with things like property taxes, homeowners insurance, mortgage insurance, and so on.
The mortgage payment itself might look appealing, especially with mortgage rates as low as they are, but once you consider the total housing payment, your feelings could change.
Seasoned homeowners will already know about the total housing payment, not to mention the many other costs that go into homeownership like costly utilities and maintenance.
So if you're thinking about buying, look at everything that goes into a mortgage payment!
I Rushed the Process
The second most common regret (29% vs. 12% for 55+) was rushing the process without considering all options.
It's easy to get caught up in the excitement of it all, especially if you're a first time home buyer.
And it doesn't help matters that today's housing market is riddled with hastiness in general, and only getting faster thanks to the technology rolling out.
But buying a home is still a very major purchase, and one you can't just cruise through using an app without taking time to make sure it's the right decision.
It's also very costly to buy and sell a home, so if you make a mistake, it can hit your wallet too.
Simply put, take your time, even if it feels like you might miss out. FOMO has no place in real estate.
My Interest Rate Is Too High!
Younger homeowners also seem to regret high interest rates just about as much as high mortgage payments, with 27% citing it as a problem versus just 12% of the 55+ homeowners.
While it might sound kind of silly, what with mortgage interest rates being historically dirt cheap at the moment, it could have something do with the younger crowd not qualifying for the lowest rates available.
For example, low credit scores and student loan debt can both drive mortgage rates higher.
The good news is while you might regret your high mortgage rate, it's possible to refinance your mortgage once your credit improves and your borrower profile allows for a better rate.
So you're not necessarily stuck with your first mortgage forever, even if you continue to live in the same home.
There Are Other Types of Mortgages?
The next most common complaint (22% vs. 7%) was type of mortgage. My guess is that most young homeowners just went for a 30-year fixed without even looking into other options.
It commands a 90%+ share of all home purchases, so chances are the 18-34-year-old subset went with that option too.
But there are lots of other home loan types, including hybrid ARMs like the popular 5/1 ARM or 7/1 ARM, both of which could be perfect for a young homeowner who plans to move to a larger home in half a decade or so.
The takeaway here is to look at all the options in front of you (or not in front you), especially if you're young and more mobile.
The 30-year fixed isn't a bad product by any means, but it's also not necessarily the best fit for all home buyers.
Maybe I Should Have Kept Renting
Finally, 17% said they should have continued renting instead of buying a home, versus just four percent of 55+ homeowners.
In other words, nearly 1 in 5 regretted the entire transaction. But this could be more of a coming to terms with taking on greater responsibility thing that will diminish over time.
However, when you're young, it is nice to have the option to relocate if and when you'd like if an opportunity arises.
So there shouldn't be any rush to buy a home, especially if home prices aren't all that cheap.
Remember, they've risen a ton since bottoming 5-7 years ago, so they're not exactly on sale.
Perhaps now is a better time to get all your ducks in a row and wait for an even better opportunity to dive in, especially if housing inventory improves in the future.
As I argued in an earlier post, it might make sense to skip the starter home altogether when you're really ready to become a homeowner.
That way you can you get the house you really want (and hopefully the right mortgage too!) in one move.