In a rather odd interview on CNBC Thursday, Zillow CEO Spencer Rascoff said it's "definitely a great time to sell," despite the fact that home prices are expected to rise a fair amount in the near future.
Funnily enough, back in March his company asked a bunch of economists about the direction of home prices, and the consensus was a fairly decent 21.99% increase through 2017.
Even Stan Humphries, Zillow's chief economist, sees home prices climbing 18.42% over the five-year period.
To be sure, home prices have been on a tear lately in many parts of the country that were previously hit hard by the housing crisis, including Phoenix, Los Angeles, and the Bay Area.
But Rascoff sees the current level of home price appreciation as unsustainable, and expects it to fall back in line with historical norms.
Supply and Demand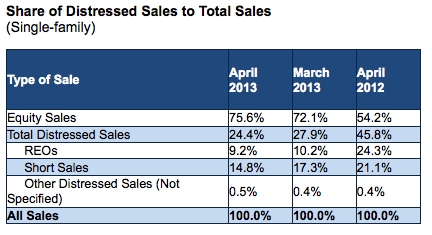 The culprit at the moment has been supply and demand. There aren't many homes for sale, and distressed properties have all but disappeared.
The April pending and distressed sales report from the California Association of Realtors revealed that the combined share of distressed properties (short sales and foreclosures) fell to 24.4%, down from 27.9% in March and 45.8% a year earlier.
Distressed sales are now at their lowest level since February 2008, and only really expected to keep falling as more borrowers gain home equity and get back above water.
There are also Wall St. investors (hedge funds) buying up bundles of properties, making it difficult for the average Joe to get in on the action, even if something does pop up.
Perhaps Rascoff is doing his part to improve the inventory situation, which is dismal and hopeless at best.
Why Sell Now as Opposed to Later?
So why the heck should homeowners get out now if they stand to do better if they hold on a bit longer, especially if they've seemingly survived the worst of it?
Well, his issue seems to be rising mortgage rates, which have increased nearly 1% in the past month or so thanks to improved economic conditions and possible tapering of the Fed's mortgage buying program.
The 30-year fixed, which was recently in the low 3% range, is now in the low 4's, with fears it could rise even more as the economy gets back to normal.
The implication here is that rising rates would make it more difficult for prospective home buyers to purchase homes, so selling now while rates are low would increase the pool of eligible buyers.
Additionally, the low rates on offer at the moment allow sellers to list their homes at a premium, seeing that buyers have greater purchasing power at lower mortgage rates.
This seems to explain why buyers are continuously bidding up prices, often well beyond the original listing price. In their eyes, a low mortgage rate may trump all, especially if they plan on keeping the home for the foreseeable future.
And I kind of agree with Rascoff here – if you sell now, you can basically snag the future premium without a wait, seeing that homes are currently selling for future prices.
In coming years, home prices may cool off and sell for what they sold for in 2013. And today's sellers can get rid of their homes fast, without much scrutiny from the buyer.
Fast forward a few years and you might have to deal with a more discerning buyer, which could make selling a lot more difficult. There's also no guarantee that home prices will appreciate over the next few years.
Still, Rascoff didn't have an answer when one of the CNBC talking heads asked where the seller would go once they sold.
And that's the issue at the moment – if you sell your home today, where do you go? How do you get another one? Do you rent? Do you wait for a better entry point?
Perhaps it's better just to stick around and enjoy a super low fixed mortgage rate for a while…
Read more: Do higher mortgage rates lower home prices?