If you want to snag a foreclosure property on the cheap, take a look at the new improved Zillow.
The real estate listing company announced the launch of its so-called "Foreclosure Center" today, which includes tutorials, buyer and seller guides, and most importantly, free foreclosure listings!
You can now access pre-foreclosures, foreclosure auctions, bank-owned properties, and more, alongside their standard listings.
Zillow estimates their pre-market inventory to total more than 1.5 million properties nationwide, along with another 250,000 properties that have already been foreclosed on.
They are also "surfacing" 67,000 foreclosure listings in their for-sale search category (I guess merging them?).
Now if only they could display all that shadow inventory as well…like the people about to walk away, or just behind on the mortgage.
Zillow's Foreclosure Listings Include Pictures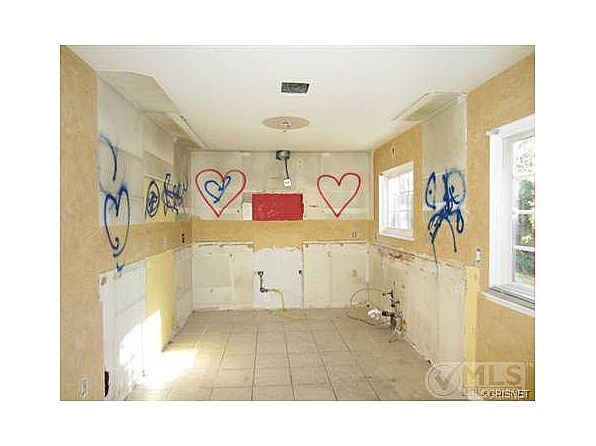 For better or worse
You can actually get a lot of detail on these foreclosed properties
Including both interior and exterior photos
Which may reveal the condition some of these homes are in
This is what a foreclosed kitchen looks like after being ransacked and left for dead. At least they did some decorating.
So if you ever wanted to see what a gutted, foreclosed home looked like, wonder no longer.
Pictures aside, there are also details galore. Take a look at this screen grab from one property listed as a pre-foreclosure in auction status.
Check Out the Foreclosure Status in Great Detail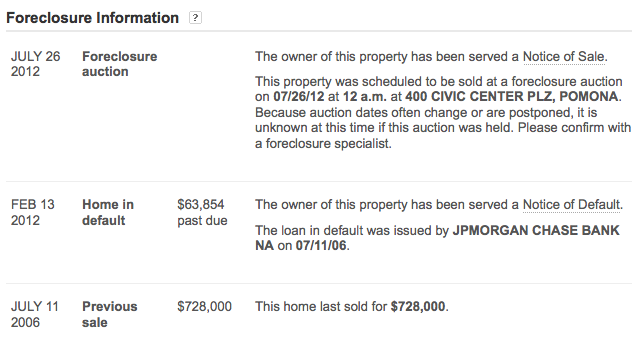 Instead of simply marking a property as "foreclosed"
Zillow provides the history of the foreclosure
Including the previous sale, when the NOD was filed
And when the foreclosure auction is scheduled to take place
It actually shows you when and where the auction is scheduled to be held.
The new improved listings also provide more background on the property, including when the owner was served a Notice of Default, the first step in the foreclosure process.
Additionally, there's mortgage lender information so you can see which bank is involved in the sale, what the unpaid loan balance is, and if and when they acquire the property from the delinquent homeowner.
Finally, there's trustee and/or attorney information as well
Introducing Foreclosure Estimates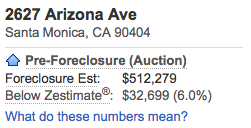 They also provide foreclosure estimates
Which sadly aren't known as Festimates (I wish!)
It's basically what Zillow expects the property to sell for
Taking into account that it's a foreclosed property
Zillow has also come up with so-called "Foreclosure Estimates," which flank their flagship Zestimates and Rent Zestimates. Why they aren't called "Festimates" is beyond me.
This figure is essentially what Zillow thinks the property will sell for, and is represented as a dollar amount and percentage relative to the Zestimate.
They tend to be estimated to sell below the Zestimate, which makes sense given that they are foreclosures.
Still, some of the properties will sell above their listing price and below the Zestimate.
Hopefully Zillow will include data about what foreclosed properties sell for versus traditional sales in the future.
Timing Is Everything Though…

Zillow always seems to be a bit behind
When it comes to providing fresh data
So while it's nice to have access to a wealth of foreclosure information
It needs to be up-to-date to be of any use to a potential home buyer or investor
I hate to break up this party, but Zillow still faces some challenges with its new foreclosure listings.
While they may be winning on the information front, their timing is still a little off.
I browsed a few of their foreclosure listings and noticed that their info was outdated in many cases.
For example, one property listing was chock full of foreclosure information, but didn't contain any new data since July.
Meanwhile, over on Redfin it was listed as a pending sale as of October 19th.
Redfin actually addressed this issue earlier this month, when it claimed to have much better data than its peers.
For example, it noted that it has 100% of agent-listed homes available, versus only 81% for Trulia and 79% for Zillow.
Additionally, the company said nearly two out of every five listings on Zillow and Trulia are no longer for sale, compared to just one out of 1,000 at Redfin.
The median day to publish a new listing was zero days for Redfin, seven days for Zillow, and nine days for Trulia.
Of course, they only looked at 11 metros in the U.S., though they were major ones like Los Angeles and Chicago.
However, I did come across foreclosure listings in Zillow that didn't appear on Redfin.
So at the end of the day, you really still need to scour all of these sites simultaneously to ensure you don't miss a thing.