A new report from Redfin revealed 2012 was an absolutely fantastic time to purchase a home.
Collectively, that crop of home buyers earned $203 billion in equity since their well-timed purchases, with the median homeowner having gained 261%, or $141,000.
The average home sold in 2012 has increased by a whopping $110,000, from a median sale price of $210,000 to an estimated value of $320,000 today.
And these lucky buyers typically started off with just $54,000 in home equity that ballooned into $195,000.
Biggest Home Equity Gainers by City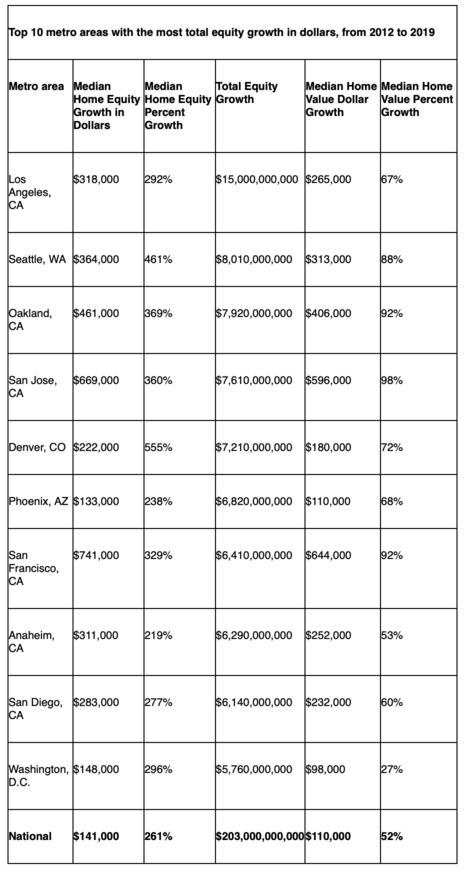 In terms of most home equity gained, it was San Francisco leading the way with $741,000 median dollars, followed by San Jose ($669,000) and Oakland ($461,000).
Rounding out the top five were Seattle ($364,000) and Los Angeles ($318,000).
Home equity has grown a staggering $15 billion in the Los Angeles metro alone thanks to rising home prices since the fairly recent housing bottom.
They've also gone up more than $8 billion in Seattle and $7.9 billion in Oakland.
On a percentage basis, Tacoma, Washington (1453%) and Virginia Beach, VA (1333%) led the way, thanks in part to their proximity to major U.S. military bases.
Median home equity growth in Tacoma is $218,000 through September, and $80,000 in Virginia Beach.
This means sellers might be able to pocket six figures when unloading their properties, despite owning them little more than half a decade.
The numbers are based on about 1.4 million home sales across 138 housing markets nationwide during 2012, the year we hit bottom post-Great Recession.
They determined the homeowner's 2012 equity based on the down payment used to purchase the property via county records.
For homes that are still owned today, current home equity is calculated as the difference between the homeowner's outstanding loan balance and the property's Redfin Estimate.
For homes that have been sold since 2012, calculated equity was the difference between the homeowner's outstanding loan balance and the home's sale price.
Homeowner Equity Hits All Time High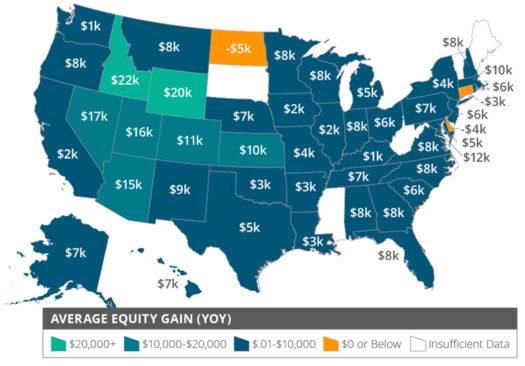 Meanwhile, aggregate home equity in mortgaged real estate increased by nearly $427 billion (4.8%) year-over-year from the second quarter of 2018 to a new all-time high, per CoreLogic.
However, the second quarter increase in home equity was the lowest annual gain in equity since the fourth quarter of 2012, a reflection of slowing home price growth.
As you can see from the map above, many homeowners have only seen home equity gains between one and five thousand dollars over the past year.
And in North Dakota, this number is down $5,000. Idaho is a standout with home equity up $22,100 on average, followed by Wyoming (+20k) and Nevada (+$17k).
Since the end of 2011, when home equity stopped its decline, borrowers have gained a massive $5.9 trillion in equity.
But it appears we are beginning to peak or at least plateau. And with for-sale home prices equally expensive, it's tough for an existing homeowner to cash out and move somewhere cheap.
Homeowners are also sitting on a ton of untapped equity, with cash-out refinancing a shadow of its former self.
Whether this changes in light of these massive equity gains, coupled with the ultra-low mortgage rates on offer, remains to be seen.
The good news is today's homeowner seems to be in pretty good shape relative to the homeowners of a decade ago.
They've got tons of home equity, a very low mortgage rate, and they probably truly qualified for their home loan at the time of origination, something that couldn't be said in 2006.
Negative Equity Is Still a Thing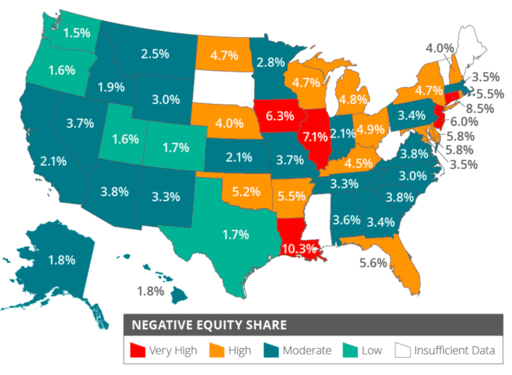 Somewhat amazingly, two million homes were still in a negative equity position, aka underwater, in the second quarter.
That represented 3.8% of all homes with a mortgage.
While it's the lowest share since CoreLogic began tracking in the third quarter of 2009, several states are still feeling the effects of the worst housing crisis in modern history.
Negative equity levels remain highest in Louisiana, Connecticut, Illinois, Iowa, and New Jersey.
Read more: 11 Ways to Build Home Equity