A startup named Curbio wants to help homeowners sell for more by improving their properties before they go to market.
The twist is that the homeowner doesn't have to pay for the renovations until settlement, meaning cash on hand isn't an issue.
The Problem Curbio Wants to Solve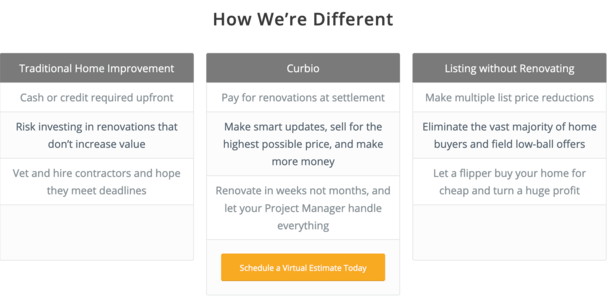 Say you want to sell your home, which you've lived in for the past 30 years. You think it looks great, but after a real estate agent stops by and chimes in, you get a rude awakening.
Apparently, the abundant doilies, giant draped windows, pink garage door, and outdated bathrooms and kitchen aren't as fashionable as you thought.
You're told the home you expected to list for $650,000 is better off being listed for $549,000. Ouch.
So do you chance it and defy the real estate agent's best intentions and list for more, only for the property to stagnate on the market?
Or do you do as they say, lower the price, and then hope it sells, despite the many improvements needed?
Both scenarios probably don't sound very appealing to the seller, and even if a buyer comes along, there's a good chance there will be repair requests to get across the finish line.
This situation is all too common, and perhaps one of the reasons why iBuyers like RedfinNow and Zillow Offers have surged in popularity over the past few years.
The sell "as-is" thing worked when the housing market was on the up and up, but now that price gains have moderated, home buyers are looking for a better product.
And it just so happens that many properties going to market are like the aforementioned, in need of some serious TLC after years of neglect.
While an iBuyer will purchase your home as-is, they won't do so at a premium. On the contrary, they'll likely give you a lowball offer AND charge fees for repairs and so on.
Ultimately, none of these options are great solutions for the savvy home seller looking to capture maximum value for their property.
That's where Curbio comes in, a company that describes itself as a "pre-sale renovation" company.
In a nutshell, they make renovations easier and more accessible for home sellers looking to boost their property's value before listing it.
Curbio is comprised of licensed and insured general contractors in each of the markets they do business in, who also have connections to a network of vetted subcontractors.
Additionally, their team is stacked with experienced real estate agents, house flippers, and designers who know how to get maximum ROI on renovations.
You often hear that most home renovation projects don't actually pay for themselves.
Curbio uses its expertise and proprietary technology to take the guesswork out of the equation and make the right improvements buyers in your area seek.
They refer to it as helping home sellers "flip their own home," instead of accepting a lowball offer, only to see their home flipped months later by a savvy investor.
How Curbio Works

Assuming your home is located in one of their service areas, which currently includes Atlanta, Baltimore, Chicago, Dallas-Ft. Worth, DC, Houston, Miami-Ft. Lauderdale, Orlando, Philadelphia, Phoenix, Tampa, you can request an estimate on their website.
They say they generally operate within a 40-mile radius of those cities, and expect to add Boston, Charlotte, Las Vegas, Los Angeles, Minneapolis, Portland, San Francisco, and Seattle over the next several months.
After submitting your property details, Curbio will provide you with a free estimate of proposed renovations to make your property more marketable, and importantly, more valuable.
The extent of the work will vary based on your home's needs, but can range from kitchen and bathroom remodels to roof repairs, flooring and HVAC replacement, mold remediation, and more.
However, it should be noted that Curbio does have a $15,000 minimum project size.
With regard to pricing, Curbio says its uses a proprietary database of pricing data, which consists of national pricing from similar projects, adjusted for local markets. They believe this results in fair pricing.
Once the work begins, you'll have a full-time general contractor who manages the project, along with an on-the-ground project manager to oversee the renovation work.
They will share real-time photo, text, and video updates to homeowners and their real estate agents via the Curbio app to see how the work is progressing.
Speaking of progress, Curbio aims to complete renovations a lot quicker, with projects about 60% faster than the average contractor thanks to their vast network and technology.
That reduces downtime and keeps agents happy, who may not want to work with a home seller who needs months to get their property to market.
What If My Home Doesn't Sell After Curbio Makes Improvements?
Home must be kept on the market until it sells
With a 2% price reduction every 30 days if not sold during that time
You can also pay Curbio directly for their work if you want to end the deal
May make sense to shop around for other bids to see how Curbio pricing stacks up versus the competition
Now some of the what-ifs one needs to consider if using Curbio to make renovations.
Since they're doing the work upfront for no charge, on the basis that they'll get paid at closing, your home eventually needs to sell.
And they state their decision to take on a project is based on the homeowner's equity in the property.
My assumption is they want you to have a healthy amount of it to allow for a flexible sales price.
Curbio does have an arrangement in place to ensure the properties do sell in a timely manner.
They say they'll wait as long as it takes to get paid, and won't charge additional fees or interest charges during that time.
And while there is no time limit, they do require that the list price be reduced by 2% after 30 days on the market, and an additional 2% every 30 days thereafter.
You must also agree to leave the home on the market until it sells, unless you choose to pay Curbio directly for their work.
The obvious downside here is that there's no guarantee your home will sell for enough to cover the cost of renovations performed by Curbio.
But they seem confident that homes can sell for enough post-renovation to result in a healthy ROI.
I'm also curious if you can reside in the home while the work is being completed, or if you need to vacate the property.
You can always get an estimate from Curbio and then collect multiple bids from other contractors in your area to see how they all stack up pricing wise.
The downside is you'll need to pay the other contractors upfront, though I've created a comprehensive list of the pros and cons of paying for home renovations via many different methods.
One could also argue that you should enjoy your home renovations before selling, so doing them early on may be more beneficial from a happiness standpoint.
The ideal situation is making renovations that benefit the homeowner while they're in the property, and pay off once it comes time to sell.
(photo: Marco Verch)