At first glance, the headline doesn't make a lot of sense. Why would all-cash home sales increase if mortgage rates were hitting new lows for the year?
Not only that, but why would all-cash sales rise when distressed homes sales are down and institutional buying is lower?
Two separate reports came out today with the same basic message, that cash is still king despite the low rates and lack of investor activity.
The National Association of Realtors noted today that all-cash purchases increased to 33% in the first quarter of 2014, up from 31% in 2013 to 29% in 2012.
More than half of all homes purchased in Florida were paid for with cash, while roughly four out of 10 sales in Arizona, Nevada, and West Virginia were all-cash transactions.
At the same time, the distressed home sale share fell to just 15% in the first quarter, down from 17% in 2013 and 26% in 2012.
Over at RealtyTrac, all-cash sales hit a record high of 42.7% of all residential property sales in the first quarter, up from 37.8% in the fourth quarter and 19.1% from a year earlier.
That coincided with a large drop in institutional investor purchases, which fell to the lowest level since the first quarter of 2012.
Such buyers, which are defined as those who purchased at least 10 properties in a calendar year, accounted for just 5.6% of residential sales in Q1, down from 6.8% a quarter earlier and seven percent a year ago.
In large metros, all-cash sales made up more than half of all transactions in Atlanta, Detroit, Las Vegas, Miami, and New York.
The highest percentage of all-cash sales in cities with a population of at least 500,000 were all in Florida:
– Cape Coral-Fort Myers (73.6%)
– Miami (67.1%)
– Sarasota (65.1%)
– Palm Bay (64.1%)
– Lakeland (61.8%)
Additionally, 15% of all-cash purchases in the first quarter were in the foreclosure process, while 10% were bank-owned properties.
Interestingly, these numbers were released on the same day rates on the 30-year fixed-rate mortgage hit 4.21%, which is the lowest point it has been all year. And not really that far off from record lows seen in late 2012.
Why Are There So Many Cash Buyers If Rates Are Still Very Low?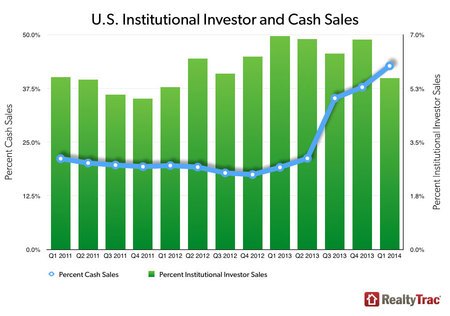 For one, inventory is still tight, so paying with cash is the best way to get your offer accepted, even if you can qualify for a mortgage. Think bidding war.
But NAR also noted that mortgage lending standards remain too restrictive, though they always say that, and would say that even if you could get a mortgage with no money down with just your credit report.
They also pointed to cash sales coming from aging baby boomers, who are trading down or using retirement cash and/or years of home equity to get the job done.
Then there are foreign investors, who tend to use cash, and a recent trend of pulling money from the stock market (now near record highs) to put into real estate. Simply put, it has become an attractive investment again.
RealtyTrac attributed the trend to strict lending standards as well, coupled with low inventory, which gives cash buyers the upper hand when making an offer.
They looked at the brighter side of things, highlighting the fact that individual investors, second-home buyers, and owner-occupants have quickly filled the void left by institutional investors.
Because of that, home prices have continued to appreciate fairly rapidly, though at a slower pace than a year ago.
However, it is somewhat unfortunate that most home buyers can't even take advantage of the low mortgage rates because they can't get an offer accepted when competing with a cash buyer. Go figure.