It's not very common for mortgage lenders to offer cash back or some other sort of reward for taking out a mortgage.
Generally, you might get some sort of closing cost guarantee or some assurance that if they screw up, you'll be compensated. Really, that's just making you whole.
But Chase is looking to change that by offering a very healthy 100,000 Ultimate Rewards points (their own rewards currency) for those who apply for a mortgage (and close the sucker).
Update: They have lowered the bonus to 75,000 Ultimate Rewards points, but now offer a bonus across multiple different credit cards.
Chase Is Targeting Sapphire and Other Credit Card Customers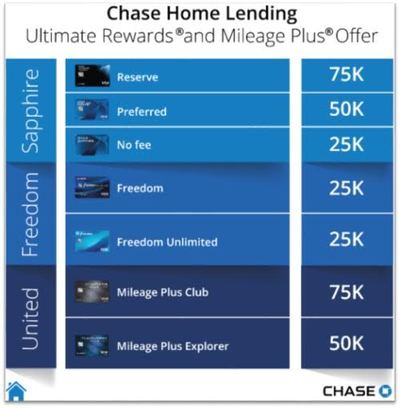 Get 75,000 UR points if you have Chase Sapphire Reserve
50,000 UR points if you have Chase Sapphire Preferred
25,000 UR points if you have Chase Sapphire (no fee version)
25,000 UR points if you have Chase Freedom or Freedom Unlimited
75,000 United Miles if you have Chase Mileage Plus Club
50000 United Miles if you have Chase Mileage Plus Explorer
In order to be eligible for this rather handsome bonus, you need to be an existing Chase credit card customer with either the Chase Sapphire Preferred card or the Chase Sapphire Reserve.
It has since been opened up to those with a Chase Sapphire (no fee version), a Freedom or Freedom Unlimited card, and those with Chase co-branded United credit cards.
Assuming you've got one of those, you need to take out a "new, residential first mortgage" with the bank. In other words, a purchase loan. You can't just refinance your existing mortgage to snag the big bonus.
This appears to be a push to capture more purchase-money business, an emerging trend in the industry ever since mortgage rates began to increase and shrink the eligible pool of borrowers.
The loan application must also be submitted to Chase between March 19th and August 31st 2018, and as noted earlier, must actually fund and close.
Within 10 weeks of closing, Chase will deposit the bonus Ultimate Rewards to the primary cardholder's account. In practice, they tend to credit these bonuses a lot quicker.
Is This Chase Mortgage Bonus a Good Deal?
It depends on how you value the UR points
And how low the rate and closing costs are with Chase
As opposed to using a different mortgage lender
That might offer a better rate/fee combination
Well, that all depends. Many value Ultimate Rewards points at nearly 2 cents apiece, which equates to $2,000. But their value is dependent on how they are used.
If you simply cash them in, which you're more than welcome to do, you'll only get as much as $750. Still, nothing to sneeze at.
Alternatively, if you use them for business class airfare, you might be able to get thousands of dollars in value out of them.
But then you have to ask yourself if acquiring frequent flyer miles is your goal when taking out a mortgage.
For me, if Chase happens to offer the best pricing and service, or close to it, the 75k bonus points could be enough to sway your decision.
On the other hand, if you can get a better mortgage rate elsewhere, with lower closing costs, the benefit of those points could evaporate quickly.
It should also be noted that the bonus might result in a 1099 (be taxed), whereas traditional credit card rewards aren't taxed because they're considered a rebate. That reduces the perceived benefit even more.
The good news is the mortgage market seems to be getting more competitive as lenders fight over less business. That sounds like a positive trend for prospective borrowers.
Chase has been working on revamping its mortgage business of late, promising a digital mortgage experience to keep up with the likes of SoFi and Quicken's Rocket Mortgage.
They also recently announced the hiring of HGTV's Property Brothers to promote their home loan lending business. It seems to be an attempt to make mortgages cool, or perhaps more appealing to Millennials, given the many new startups in the space.
As always, be sure to comparison shop before deciding on one lender to get perspective, otherwise you won't know if you're sitting on a good deal or a bad deal.
Read more: 10 Tips While Mortgage Rate Shopping