When you hear the acronym "USDA," the first image that probably comes to mind is a juicy steak. As in, USDA Prime or Choice.
But the U.S. Department of Agriculture isn't just in the farming business…they also run a pretty substantial home loan program that offers mortgage financing with zero money down.
Jump to USDA loan topics:
– USDA Home Loan Requirements
– Types of USDA Home Loans
– Minimum Credit Score for a USDA Home Loan
– Which Lenders Offer USDA Home Loans?
– USDA Home Loan Insurance Costs
– Refinancing a USDA Home Loan
– USDA Homes for Sale
– USDA Home Loan Frequently Asked Questions
What Is a USDA Home Loan?
A government home loan that provides 100% financing to home buyers
Available to borrowers in rural areas throughout the United States
Must have a household income at/below a certain threshold to qualify
Offered by private sector banks and lenders on behalf of the USDA
The USDA's Single Family Housing Guaranteed Loan Program, which just recently celebrated its 25th anniversary, provides affordable mortgage financing for borrowers in rural areas throughout the United States.
Since the program was launched in 1991, some 1.5 million residents in rural areas have used an USDA loan to purchase a home, with more than 134,000 utilizing one in 2015 alone.
At first glance, a USDA loan (also known as a rural development loan or an RD loan) might not seem like the right fit for you and your real estate needs, but the program actually has fairly high income limits and the "rural" areas are often not as far out of town as you may think.
In fact, you could argue that rural and suburban areas make up their eligibility maps, depending on the city in question.
So if you feel you might have trouble coming up with a down payment, or simply want to explore all your loan options, be sure to check to see if the property you're interested in buying is in one of these rural areas.
USDA mortgage rates also happen to be pretty attractive.

USDA Home Loan Requirements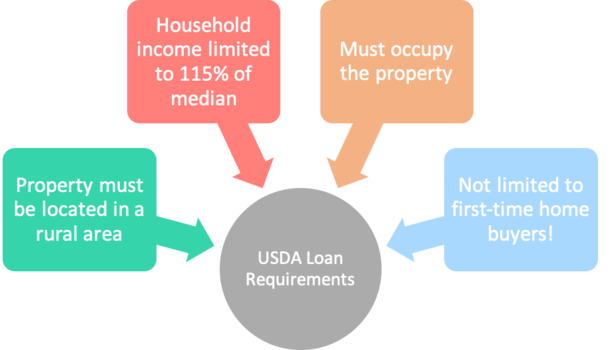 Property must be located in a rural area
Household income limited to 115% of area median
Must be owner-occupied (live in it year round as your primary residence)
But the program is not limited to first-time home buyers!
One of the biggest eligibility requirements is that the property be located in a designated rural area. You can use this map to determine if the property you have your eye on is eligible for a USDA home loan.
Generally, these areas are outside of major metropolitan areas throughout the United States. This certainly limits who can utilize the USDA home loan program, but there are areas relatively close to major metropolitan areas, or just on the outskirts.
The next biggie is the USDA income limits. You can't make more than 115% of the median family household income for the area in which you wish you purchase the home.
However, these median income limits are pretty generous. For example, in the Los Angeles metro area a 1-4 person household can make $138,000 and still qualify for a USDA home loan.
With regard to income requirements, the max DTI ratio is 29/41, meaning the housing payment can't exceed 29% of gross monthly income and total liabilities can't exceed 41% of income. Check out my affordability calculator to get an idea.
You must also occupy the property you're buying – no second homes or investment properties are permitted. But manufactured homes are USDA eligible. And the area loan limits just like there are on conventional mortgages and FHA loans.
Additionally, you must be a U.S. citizen, a U.S. non-citizen national, or a Qualified Alien. And you must not have been suspended/barred from other federal housing programs.
Lastly, you must demonstrate the ability to repay your loan, aka the loan must be underwritten like any other mortgage.
Assuming all these requirements are satisfied, you can buy a home with zero money down. Lenders are able to extend this seemingly risky financing option to borrowers thanks to a 90 percent loan guarantee provided by the USDA.
Tip: The USDA home loan program is not limited to just first-time home buyers. Repeat buyers are also eligible!

Types of USDA Home Loans
One potential downside to the USDA home loan program is the lack of product choice
It only comes in the form of a 30-year fixed mortgage
So you won't be able to take out an adjustable-rate mortgage
Or a 15-year fixed because that would imply you don't need the assistance this program offers
The USDA home loan only comes in one flavor; a 30-year fixed-rate mortgage. Nothing fancy or exotic here to ensure borrowers don't get into any trouble with an ARM.
The 15-year fixed also isn't an option because such a loan would imply that the borrower could afford a conventional loan and not need to rely on the USDA guarantee and its zero down financing program.
Although there was word of a USDA 15-year mortgage coming along in late 2014 (I haven't actually seen one offered anywhere on USDA lender rate sheets…).
So you won't need to do too much comparison shopping on loan type, you'll likely be getting a 30-year fixed. But still pay attention to loan rates!
However, you can use a USDA home loan to both purchase a new property or refinance your current mortgage under certain circumstances. But no cash out is permitted if you perform the latter.
If you want cash out, you'll need to refinance your USDA loan into a conventional loan or another type of loan and meet the corresponding loan requirements.
Note: There is a sister program known as the Section 502 Direct Loan Program that assists low- and very-low income borrowers by providing subsidies that lower monthly mortgage payments for a select period of time.
The income limits for this program are significantly lower than those for the main USDA loan program, but the benefits are pretty amazing. For example, you can obtain an interest rate as low as 1% and get a 38-year loan term.

Minimum Credit Score for a USDA Home Loan
There is technically no minimum score for a USDA loan
However most mortgage lenders impose overlays to avoid high-risk lending
You might find the requirement to be credit scores of 640 or higher
It may be difficult to gain USDA loan approval without scores that high
Technically, there is no minimum credit score required to obtain a USDA home loan. However, lenders often impose overlays over USDA guidelines to ensure the borrowers are creditworthy.
Generally, you'll need a credit score of 640 or higher to get approved for a USDA loan, though it's possible to go lower with an exception or a manual underwrite. But let's face it, many would consider a score that low bad credit or on the cusp.
When doing a manual underwrite, you should have compensating factors (such as long-term employment, assets, decent income, positive rental history etc.) to allow for the lower credit score. Your mortgage rate will also be higher to account for increased risk.
Also note that a higher credit score may be required if your DTI exceeds the allowable ratios.
In any case, you should really try to attain much higher credit scores if you want to get any type of mortgage, and favorable terms on said loan.
As with any other mortgage, it's advisable to check your credit several months in advance to ensure your credit is on good shape, and if not, take steps to improve it before applying.

Which Lenders Offer USDA Home Loans?
All types of banks and lenders offer USDA loans
Including smaller mortgage bankers and mortgage brokers
Local credit unions and large national retail banks also do
Just make sure the company you plan to work with does because some don't offer the product
There are literally hundreds of mortgage lenders that offer USDA home loans, and the USDA Rural Housing Service (RHS) actually compiled a list of the many lenders approved to make loans under the Single Family Housing Guaranteed Loan Program.
You'll find small local mortgage lenders and big national banks like JPMorgan Chase and Wells Fargo that offer USDA mortgages.
Ideally, you'll want to work with a loan officer who is well-versed in the program and eligibility requirements.
They do note that the list is not comprehensive, nor is any lender in this list endorsed by the USDA. They simply have the ability to make USDA home loans.
You can check out the top USDA lenders by loan volume if you want to know who is biggest.
Keep in mind that the Rural Housing Service doesn't actually make the loans, but rather guarantees from on behalf of private sector lenders, similar to how the VA and FHA operate.

USDA Home Loan Insurance Costs
USDA loans require mortgage insurance known as a "guarantee fee"
You must pay an upfront premium of 1% (which can be financed)
And a monthly premium of 0.35% that is paid along with your regular P&I payment
Both used to be higher but are now much cheaper than premiums on FHA loans
One of the downsides to a USDA home loan is the fact that there's an upfront guarantee fee that the borrower must pay.
This "USDA guarantee fee" was set at a very high 2.75% of the loan amount in 2016, after being increased from 2% back in late 2015 to keep the program up and running.
But starting in fiscal year 2017 (October 1st, 2016), the upfront guarantee fee dropped to 1%. As of fiscal year 2022, it remains at 1%.
This fee can be financed into the loan amount so it's paid off over time, as opposed to upfront out-of-pocket at closing. And if the USDA guarantee fee is financed, the LTV can exceed 100%.
For example, you can get a mortgage set at 101% LTV, so if the purchase price is $200,000, a loan amount of $202,000.
In addition to the upfront premium, borrowers must also pay a monthly premium, which was also reduced recently from 0.50% to 0.35%. It is bundled into the monthly mortgage payment.
This monthly insurance premium remains in effect for as long as you hold the loan, it cannot be canceled like PMI on conventional loans.

Refinancing a USDA Home Loan
You can also refinance a USDA home loan if you're an existing homeowner
This is accomplished via their streamline process to lower monthly payments
Flexible terms mean even underwater borrowers may qualify
The mortgage rate must be reduced by at least 1%
It's also possible to refinance an existing USDA home loan into another USDA loan, and actually quite easy thanks to a streamlined program that doesn't require an appraisal, credit report, or a debt-to-income calculation, similar to an FHA streamline.
The lack of an appraisal means you don't need any home equity can be underwater on your home and still refinance your mortgage with USDA financing!
The only requirement is that you must have been current on your mortgage for the past 12 months, and it must lower your interest rate by at least 1%. For example, from 5% to 4%.
The average savings via refi is $150 per month, and the USDA says some borrowers have saved as much as $600 a month, or $7,200 annually. You can use a loan calculator to determine the potential savings beforehand.
There is also a non-streamlined USDA refinance option that requires an appraisal to gain approval, but allows you to roll closing costs into the new loan.

USDA Homes for Sale
Homes lost to foreclosure with USDA financing
May be available for purchase at a potentially discounted price
Properties are sold as-is and may require payment of outstanding taxes
Geared toward real estate investors with cash
Lastly, let me mention that the USDA sells properties with USDA financing that are in foreclosure and soon to be lost by the former owner. They are geared toward investors because you are required to make a bid on them at a local courthouse.
While there typically isn't a large inventory of homes for sale, you can search on their website in your desired state and county for available listings.
Properties are sold to the highest bidder, and a certain percentage of the purchase price (sometimes 100%) is due at the time of the sale. Each listing page will detail the government bid price along with location, time, and date of the auction.
They are sold as-is and may be subject to outstanding real estate taxes and assessments.

USDA Home Loan Frequently Asked Questions
Does the property need to be located out in the country?
No, there are plenty of "rural" areas that are located just outside of major metropolitan areas. Apparently 97% of the United States is eligible (but most people live in that other 3%). Just make sure the property is located in an area that is USDA loan eligible before you proceed.
Do I need to make a down payment on a USDA home loan?
No, you can obtain 100% financing with a USDA loan, which is the main draw of the program. The only other government housing loans that provide zero down financing are VA mortgages. You can also get a low down payment mortgage (3.5% down) via the FHA.
What is the max loan amount for a USDA loan?
There technically isn't one single loan limit, unlike other government mortgages such as FHA and VA mortgages. However, because the loan program is geared toward low- and moderate-income borrowers, and the maximum loan amount is determined based on what the applicant qualifies for, the expectation is that the homes purchase price will be modest.
What credit score do I need to get a USDA loan?
You need a 640 credit score to get an automated approval for a USDA loan, but some lenders will go into the 500s with expensive pricing adjustments. If you have bad credit, you may want to take a hard look at your credit history and clean it up as much as possible before applying.
Do I need two years of job history to get approved for a USDA loan?
Not necessarily. If you're new to the workforce or returning after a reasonable and explainable absence and likely to continue working it may be permitted.
Can I get a USDA loan if I'm self-employed?
Yes, but you'll need to provide two years of tax returns to ensure it is stable and in the same line of work.
Are USDA mortgage rates high or low?
They're generally pretty low relative to conventional mortgage rates (Fannie and Freddie) and pretty close to FHA mortgage rates, which equates to low monthly payments.
If an FHA 30-year fixed is 3%, the USDA 30-year fixed rate might be 3.25%. In other words, they're low and competitive, but still take the time to shop around and get multiple rate quotes.
And you have to factor in the upfront and monthly mortgage insurance premiums as well.
Fortunately, USDA loan rates can't be more than 1% above the current Fannie Mae yield for 90-day delivery for 30-year fixed rate conventional loans. This regulates how high the rate can be based on the market average.
What loan types are available via the USDA loan program?
Just the 30-year fixed. No adjustable-rate mortgages and no other fixed products are available. Additionally, balloon mortgages and interest-only mortgages aren't permitted, nor are prepayment penalties.
Can you buy a condo with a USDA home loan?
Yes, but it must be on the approved list from Fannie/Freddie, the FHA, or VA, and it must be located in a rural area.
Can I get a USDA loan on a second home or investment property?
No, USDA loans are only available on owner-occupied primary residences.
Can I get cash out via a USDA loan?
No, only rate and term refinances are available, along with purchase financing. So it's not possible to use one for debt consolidation.
What are the reserve requirements for a USDA loan?
There is no reserve requirement, but they can be helpful if you need compensating factors to gain USDA home loan eligibility.
Can I roll closing costs into a USDA loan?
Yes, as long as the property appraises for more than the purchase price and the DTI isn't exceeded as a result. You can also use seller concessions or a lender credit to cover closing costs.
Is there mortgage insurance on a USDA loan?
It's technically called a guarantee fee, and includes both an upfront fee at closing (that can be financed) and a monthly fee that is ongoing.
Can insurance on USDA loans be canceled?
No. The monthly premium must be paid for as long as you keep the loan. The only way to get rid of insurance on a USDA loan is to refinance out of the program or pay it off completely.
I heard the guarantee fees are being reduced?
Yep, on October 1st, 2016 the upfront fee dropped to 1% and the monthly fee fell to 0.35%. Great news for those looking at this program!
Where can I get a USDA loan?
From any lender that is approved to make such loans, which includes hundreds of banks nationwide, from small local mortgage bankers to credit unions to major national lenders. A mortgage broker may also be able to help you.
How long does it take to get a USDA loan?
Like all other mortgages, it depends on your specific scenario, but the USDA loan approval process does require an extra step in sending the loan to the USDA for final approval.
They basically check the lender's work to ensure it meets all USDA home loan requirements before they allow them to fund the loan. This step can add an extra few days to few weeks (or more) onto your closing date, so beware!
Are USDA loans assumable?
Yes, they may be assumed by a new homeowner if they and the property are eligible for USDA financing. This may allow the borrower to avoid the upfront guarantee fee and land a lower interest rate.
What else should I know about USDA home loans?
Also note that gifts, grants, and Mortgage Credit Certificates (MCC's) are also permitted.