Well that didn't take long – demand to buy a home is now back above its so-called 
"pre-coronavirus levels," per a new analysis from real estate brokerage Redfin.
The company said demand was a seasonally-adjusted 5.5% higher during the week ending May 10th than it was prior to the COVID-19 pandemic.
Of course, it would probably have been a lot higher if not for the complete dislocation of the economy, but it's still a good sign.
A V-Shaped or a W-Shaped Recovery?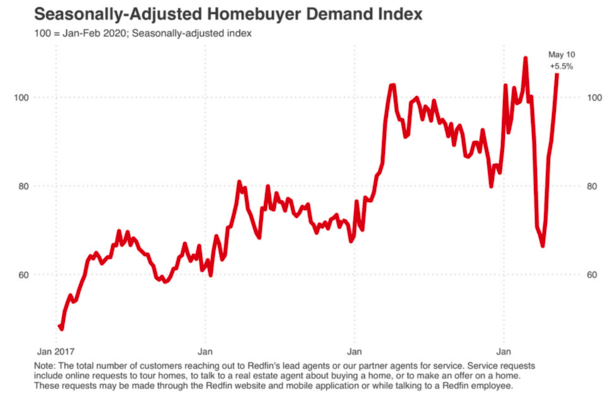 Redfin sees a V-shaped recovery because home buyer demand has totally bounced back
But prospective buyers might not be looking at the same properties post-pandemic
Realtor.com sees a W-shaped recovery in 2020 thanks to coronavirus second wave
Expects sales to drop 15% as sellers de-list their properties and buyer demand see-saws
There are two camps when it comes to real estate in 2020. There is Redfin, which is already calling a V-shaped recovery, or complete return to pre-pandemic levels.
And there is Realtor.com, which expects a W-shaped recovery, brought on "as secondary waves of coronavirus infections pop up throughout the U.S."
Redfin says the V-shaped recovery is being driven by record low mortgage rates and the loosening of shelter-at-home orders in certain states.
They believe after a two-month wait, prospective buyers who are still gainfully employed and perhaps even confident about their financials are jumping back in.
Meanwhile, the Realtors expect home sales to rebound as virus-related concerns dip, but anticipate a decline in sales later in the year thanks to rising infections and lingering unemployment.
Inventory Even More Constrained Due to COVID-19

Both Redfin and the Realtors expect housing inventory to remain super low
This would normally result in bidding wars and rapidly rising home prices
But dislocations due to coronavirus may stifle demand and keep things balanced
Realtors expect home price appreciation of just 1.1% in 2020 (better than nothing)
While their opinions diverge a bit, both seem to agree that housing inventory will be a major concern in 2020 and beyond.
It was already at super-low levels before the pandemic, and social distancing combined with reluctance to move has only exacerbated it.
Sure, you might be able to conduct most business virtually, or from a distance, but not all buyers are fully on board with that. They still want to get a good feel for a home before making an offer.
And home sellers still need to find a replacement home or new place to live, which presents its own challenges.
Redfin noted that new listings "have steadily increased every week for the last four weeks," but they're still down 30% for the week ending May 8th compared to the same period a year earlier.
And inventory of homes for sale continues to dwindle and is now off 24% compared to early May 2019.
Realtor said the biggest challenge for buyers will be inventory, with new homes for sale dropping 45% year-over-year in April. They expect it to "remain scarce" as home sellers remain on the sidelines.
As a result, they expect existing home sales to fall 15% in 2020, despite an increase in transactions during the third quarter.
This could result in higher home prices, with Redfin citing a median list price of $322,000 in early May, which was the highest since March 10th (pre-pandemic) and 5% higher than the same period a year ago.
However, you may want to temper your expectations if you're a seller, as the Realtors see home price growth flattening to a paltry 1.1% in 2020.
As to why, you can blame home buyer demand, which they feel will be affected by that second wave, which obviously can affect both health and employment.
If market conditions were normal, one could expect home prices "to skyrocket as inventory evaporates," but things are far from normal.
Really, no one should complain if home prices simply tread water during this period.
Another threat is/was mortgage market liquidity and borrowers' ability to qualify for a mortgage, which could further stifle demand.
Urban Living No Longer Be-All, End-All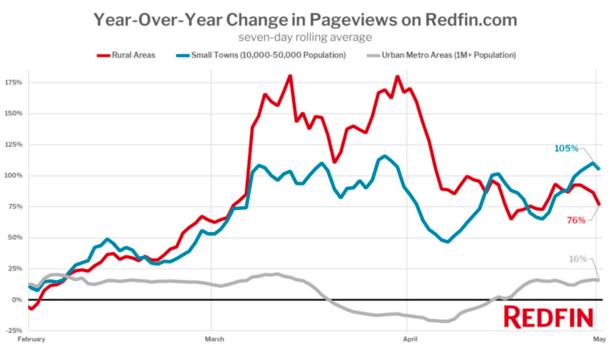 A recent trend highly favored urban living for its proximity to work and leisure
But the pandemic has caused home buyers to rethink living in big cities
Home searches and pending sales are rising in small towns and rural areas
They appear to be slowing in urban areas, partially due to already-high property values
A semi-recent trend, maybe over the past decade, has been urban living.
Instead of buying an oversized home in the burbs, you could settle for a smaller townhouse or condo in the city and enjoy the many nearby amenities.
You could ride your bike to work, walk your kids to school, go to nearby parks and restaurants on foot or via green mass-transit, and lessen your carbon footprint in the process.
It seemed like the perfect setup until COVID-19 showed up and turned the world on its head. Now everyone is thinking big plot of land far away from others, where they have space and acreage to grow their own fruit and vegetables.
Whether this is temporary or permanent, home buyers seem to be rethinking the whole deal.
Redfin reported that American home buyers are embracing small towns, namely those with populations of less than 50,000, at a much higher rate than they were a year ago.
They said pageviews for homes in small towns grew 105% during the week ending May 1st on a year-over-year basis.
And in rural counties, those with fewer than 10,000 people, pageviews rose 76%, a sizable increase from a year earlier, despite some recent slowing.
At the same time, homes in urban metro areas (with 1 million+ people) saw just a 16% rise in pageviews during the same period, thanks in part to a recent bounce-back.
This could mean buyers are calming down and looking in cities again, after an initial panic after the outbreak. But the annual gain is still much lower than small towns and rural areas.
Redfin is also seeing the trend in pending sales, which sank 39% in urban metro areas during the week ending May 1st, compared with a decline of roughly 25% for both small towns and rural areas.
Realtor noted that home buyers have put a new emphasis on "space and quiet" after spending a lot of time at home, which could make the suburbs and "secondary markets top of mind for many buyers."
Prospective buyers were already looking outside big cities because home prices had become too expensive, further cementing that trend and perhaps making it less of a tradeoff to live far from the (now undesirable) action.
Additionally, if remote work becomes more of a thing, buyers won't mind commutes as much, with less traffic and perhaps fewer days required in the actual office.
Read more: Will home prices go up or down due to COVID-19?