Just when you thought things were cooling off, home prices surprised us with yet another killer year.
Tomorrow, Zillow will release the November edition of their Real Estate Market Reports, which will show that home prices increased 6.5% in November from a year earlier, the best year-over-year gain since 2006.
Yes, you heard that right. It might be a seasonal blip, but still, best 12 months since 2006…that's impressive.
I Was Wrong
I'll be the first one to admit I was wrong about sustained, stellar home price appreciation. I actually thought things were overheating a couple years ago, yet home prices continued to defy expectations.
I suppose we can thank low mortgage rates and scant inventory for that. The good news is I've learned something from all of this.
Whenever you think things are about to top out, they've probably got a lot more time to keep going higher. This is probably even more true when you watch things really closely.
The same thing happened in the stock market. It looked frothy a couple years ago, but now we're on the cusp of Dow 20,000. And probably Dow 21,000 if history is any indication.
Not long after, it might be time to worry, or least get slightly less bullish.
The takeaway is that market tops take a long time to reach, just like market bottoms, and you'll doubt yourself along the way.
I've been hearing chatter lately about how we probably have another good year or so, maybe less, depending on who you ask, in both real estate and the stock market.
The sentiment seems to be that we can squeeze a little more out of this rally, but it's clearly coming to an end. Everyone seems to agree on that, at least in private.
Does that mean the bottom is going to fall out once we all realize we've gotten ahead of ourselves? That part I'm not sure of, though history does tend to surprise us over and over again with the same exact outcome (think about it).
We'll Never See Another Crisis Like We Did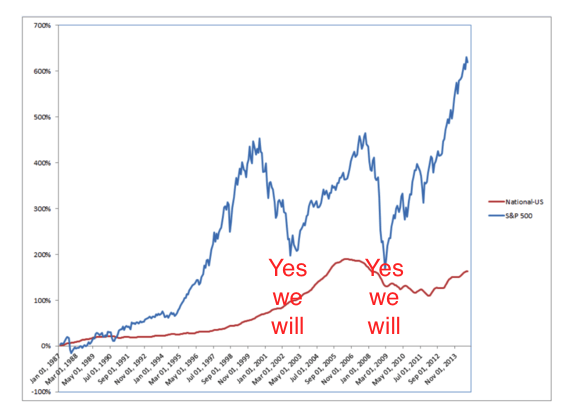 The chart above (I annotated it) shows the Case-Shiller Home Price Index (red) versus the S&P 500 (blue) since 1987.
I discuss this stuff with my wife sometimes, who always tells me I overthink everything. She's probably 100% right. But what struck me recently was her telling me something like, "Things will never be as bad as they were a few years ago."
When I heard her say that I thought to myself, "famous last words." The second you hear that kind of stuff, it conjures up memories of the dot-com bust or simply the most recent housing crisis, and fears of impending doom.
Back in early 1999, the Dow hit 10,000 for the first time…and it wasn't long before it hit 11,000. In fact, it was less than two months later that it climbed above that next key threshold.
Interestingly, it wasn't until 2006 that the Dow surpassed 12,000 for the first time. Does that mean the Dow is going to hit 20,000 soon, then 21,000 shortly after, then tank? Or at least stall for five years? Maybe, who knows?
There's certainly a lot of uncertainty in the world at the moment. If you want to talk about geopolitical tension, you'll have plenty of material to fuel days, if not weeks of conversation.
Should You Buy a House in 2017?
Now let's talk about real estate. Home prices are no longer on sale. Whether they're still cheap is perhaps a more complicated question.
Most pundits will tell you that Americans are spending less on housing historically, but that's mainly because of near-record low mortgage rates.
Still, home prices have increased as mortgage rates have risen, so there's no clear correlation there, as many might expect.
But there will come a time when wages won't be able to keep up with home prices, at which point they'll need to fall, or at a minimum, gains will need to moderate as incomes catch up.
The question is when will that actually happen? When the dot-com bubble burst around the turn of the century, home prices pulled back around 10% in the Bay Area.
Before that somewhat modest decline, home prices had risen about 60% from 1997 to 2000.
In San Francisco, the median home value increased from $670,000 in 2012 (most recent bottom) to $1.12 million as of early 2016, a gain exceeding 67%.
History is starting to sound pretty familiar, isn't it?
Of course, home prices in the Bay Area bounced back between 2003 and 2006, before tanking again. Regardless, the trajectory is always up.
The question then is clearly a matter of timing. As I've said before, time heals all real estate wounds, but there are better and worse times to buy. There are also those who tell you not to time the stock market, and probably the housing market too.
For me, 2017 doesn't seem like a particularly good year to buy real estate. There's just too much uncertainty in the world at the moment, and with home prices at new, fairly pricey all-time highs, I'd rather watch how things play out.
Pull Back More Likely Than Another Crisis?
Fortunately, the mortgages originated over the past few years (and still today) are of the utmost quality. CoreLogic launched a new quarterly report this week featuring its Housing Credit Index (HCI), which claims mortgage credit risk continues to be low.
In fact, it fell in the third quarter of 2016 from a quarter earlier and a year before that. You can thank rising credit scores, falling DTI ratios, and lower LTVs for that.
But it might be set to change direction as mortgage rates begin to rise, finally. Chances are borrowers will begin to assume more risk to deal with the higher rates and home prices in place, perhaps in the form of ARMs and smaller down payments.
Before long, we could be back in a familiar situation, though as my wife said, not as bad as it was before.
If you wait, maybe you'll see a pullback of 10% or so, it's just unclear when that's going to happen, and also where mortgage rates will be at that time. And with rents expensive too, it's not an ideal situation for anyone to just sit around and wait. But at some point, something's got to give.