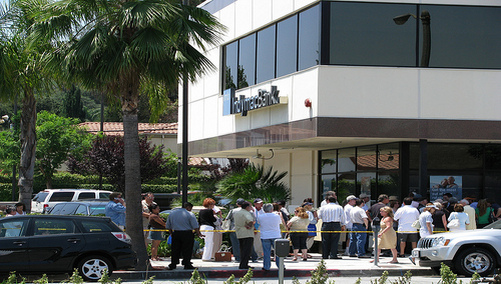 The FDIC completed its sale of Indymac Federal Bank yesterday to OneWest Bank Group LLC, a newly formed federal savings bank headquartered in Pasadena, CA.
Beginning today, 33 branches of Indymac Federal will reopen as OneWest bank branches, and depositors of Indymac will automatically be a part of the new, privately-held thrift.
In a press release, the regional bank said it will offer deposits, along with conforming loans and jumbo mortgages via its retail platform to its Southern California customers.
OneWest also acquired the profitable reverse mortgage unit Freedom Financial, along with its $21.3 billion loan portfolio, and $150 billion in forward mortgage servicing rights.
As part of a loss share agreement with the FDIC, OneWest will continue to modify mortgages in the single family residential portfolio under the original loan modification model established during the takeover.
The FDIC said Indymac lost $2.6 billion in the fourth quarter thanks to continued deterioration in the real estate market, with the total estimated loss to the Deposit Insurance Fund (DIF) a staggering $10.7 billion.
"As of January 31, 2009, IndyMac Federal had total assets of $23.5 billion and total deposits of $6.4 billion. OneWest has agreed to purchase all deposits and approximately $20.7 billion in assets at a discount of $4.7 billion. The FDIC will retain the remaining assets for later disposition," the agency said in a release.
Indymac was seized by the FDIC back in mid-July after a spectacular run on the bank's deposits sunk the once profitable mortgage lending giant.
At the time, it was the second largest OTS-regulated thrift to fail.  It was estimated that $600 million in uninsured deposits were held at the bank when it collapsed.
Update: In August 2015, CIT Group acquired OneWest Bank, but the two still operate under separate names.