Necessity is the mother of innovation, and with that comes the so-called "Livestream Open House," which has just been launched by Realtor.com in the face of COVID-19.
To combat the ill effects of the coronavirus on the housing market, companies have been stepping up efforts to introduce new tech that allows consumers to continue pursuing the American Dream.
A few weeks back, Clear Capital announced the release of OwnerInsight, a new tool that lets homeowners take interior pictures of their home like an appraiser normally would.
This allows for social distancing to be adhered to, even while the home buying and selling process goes on.
What Is a Livestream Open House?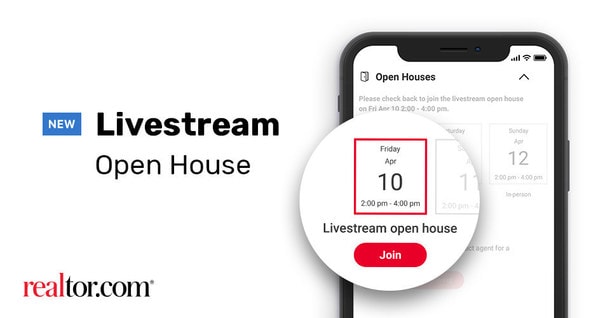 An open house that is broadcasted online in real-time via a video platform
Allows listing agents to show multiple home shoppers around the property
Buyers can ask the agent questions and request to see specific home features up-close
It is scheduled in advance just like a normal open house
Now we've got the Livestream Open House, which as the name denotes, allows real estate agents to continue showing property listings while maintaining proper distance.
There had been reports of open houses still going on in some areas of the country, but with social distancing measures in place and probably a lot of nervous people in masks.
Redfin CEO Glenn Kelman wrote about one in Hoboken, New Jersey, where six groups of potential home buyers were being staggered like a Disneyland ride.
But in today's day and age, that's simply not good enough anymore.
The Livestream Open House provides a better solution by allowing serious home buyers and lookie-loos to get an all-encompassing view of a home without undue risk.
And unlike a virtual home tour, which has been around for a while, it's an interactive experience.
Home shoppers can interact with the agent, ask questions, and have the agent show them a specific home feature or area of the property.
Not sure about something or need clarification? You can ask the agent to move you into the kitchen or the upstairs bathroom to get a closer look. Or have them take you outside and explore the backyard.
Ultimately, a pre-recorded virtual tour might not show you all the details. Perhaps more dangerous, it might leave important things out if the seller/agent curate the video too much.
These Livestream Open Houses are now available on Realtor.com's web and smartphone/app in certain geographic areas.
Once you find a property you like, check the listing page to see if Livestream Open House is supported, then select the time that works best for you.
Then simply join via the Open House section of the for sale property listing page. You can also search for properties with upcoming open houses.
At the moment, Livestream Open Houses are supported by several leading video platforms including Google Hangouts, Zoom, join.me and Zoho. Others are expected to be added over time.
Nearly a Quarter Would Buy a Home Without Seeing It in Person
24% of people would be willing to buy a home without seeing it in person
30% would be willing to rent a home sight unseen
Numbers are even higher for younger age groups at 29%/34 respectively
21% believe COVID-19 has made them more likely to move into a home sight unseen
A separate but related study by Realtor.com and Toluna found that more prospective home buyers and renters are open to the idea of moving into a home sight unseen.
Some 24% would buy a house without actually seeing it in the flesh, which is pretty shocking given the major expense involved.
This supports a similar survey from Redfin back in 2018 that claimed a third of home buyers made offers without visiting the property.
Additionally, 30% of renters would move into a property without physically entering it first.
However, nearly half of prospective buyers (47%) still prefer to see a home in person with their buyer's agent.
In terms of how technology could help, these are the top five solutions in order of popularity:
– Virtual tour of the home (61%)
– Accurate and detailed listing information (58%)
– Accurate and detailed neighborhood information (53%)
– High quality listing photos (51%)
– Agent or landlord walk-through via video chat (39%)
Like buyers, home sellers are also wary of letting people into their homes during this pandemic, but are open to solutions as well.
Some alternatives include allowing their agent into the home to take photos, virtual tours, and video chat.
But when push comes to shove, most will probably still let serious home buyers in the door.
It'll be interesting to see how COVID-19 affects open houses moving forward. Not everyone holds them for one reason or another, and fewer will probably take place as a result.
For me, the virtual open house makes sense, and if you like what you see, then you can ask to see the home in person. This could be both safer and more efficient.
Safer for homeowners who have valuables in their homes, safer for listing agents that are often alone, and safer in terms of lessening the spread of illnesses in general.
Read more: Open Houses Result in Faster, More Expensive Home Sales