We're now getting more information on just how many Americans might be receiving mortgage relief due to the crippling effects of coronavirus.
It's only been a couple weeks since mortgage forbearance programs were officially launched, including the relief that's part of the CARES Act, which allows homeowners to pause six to 12 mortgage payments.
And so far, it appears a lot of homeowners are reaching out to their loan servicers to get assistance.
Part of that might have to do with the fact that you only need so much as a mortgage forbearance letter to take part.
2.9+ Million Borrowers in Mortgage Forbearance Plans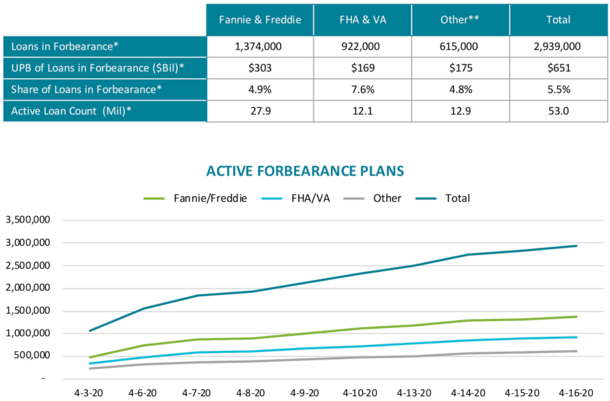 5.5% of outstanding mortgages are in a forbearance plan
This is well above FHFA director's predictions earlier this month
If numbers keep rising it could be devastating for loan servicers
Higher percentage of FHA/VA loans affected than Fannie/Freddie loans
Data analytics company Black Knight has launched its own mortgage forbearance data report known as the "McDash Flash Forbearance Report" in light of the unprecedented crisis.
As of April 16th, more than 2.9 million homeowners "have entered into COVID-19 mortgage forbearance plans," which represents 5.5% of all outstanding mortgages.
This is a lot higher than what FHFA director Mark Calabria predicted back in early April, when he said there'd only be 700,000 missed payments for the overall market in April.
We are already at over four times that if the extrapolated data from Black Knight's sample set of loans is accurate.
And it's probably just going to get worse as the month moves along and more homeowners either realize they can forbear mortgage payments, or finally get through to their loan servicers.
What Calabria was right about was the mix of forbearance requests, which have slanted toward government home loans such as FHA loans and VA loans.
These three million odd borrowers cover 4.9% of all GSE-backed loans and 7.6% of FHA/VA loans.
Collectively, this population of homeowners in forbearance represents $651 billion in unpaid principal.
It would take mortgage servicers a whopping $2.3 billion of principal and interest payments per month to make good with their investors.
This has sparked fears of some big-name failures if servicers don't get access to some sort of liquidity backstop other than the one rolled out by Ginnie Mae.
Regarding private-label mortgages that are portfolio-held or securitized, loan servicers or banks will lose $1.1 billion per month due to loans in forbearance.
Altogether, it's a $3.6 billion monthly price tag to hand out forbearance.
Fannie Mae and Freddie Mac Have the Most Loans in Forbearance

Nearly 1.4 million Fannie/Freddie loans in mortgage forbearance
Over 900k FHA/VA loans in forbearance plans
615,000 private-label or portfolio loans receiving forbearance
Expect all these numbers to continue rising in coming weeks/months
While the highest percentage of loans in forbearance belongs to Ginnie Mae (FHA/VA loans), Fannie Mae and Freddie Mac have the most loans in forbearance.
And that matters because unlike Ginnie Mae, there is nothing in place (yet) to advance funds to companies that service Fannie/Freddie-backed home loans.
Through mid-April, some 1,374,000 home loans backed by the pair were in mortgage forbearance plans related to COVID-19.
When you take the aggregate missed PITI payment into account, these servicers, some of which are nonbanks, are on the hook for $1.5 billion a month.
This number is only expected to rise over time, as noted.
Meanwhile, estimated monthly advances for FHA/VA loans are roughly $800 million, and also rising. But as I said, they've got a system in place to assist servicers.
As for the portfolio-held home loans and private-label securities, that's another $1.1 billion servicers/banks will need to come up with monthly.
In other words, mortgage forbearance is very, very expensive, especially if it lasts a full 12 months.
And for those who are already taking part, I don't see why most would stop short of the full relief period voluntarily, especially if the economy doesn't return to normal anytime soon.
Update: As of April 23rd, more than 3.4 million homeowners, or 6.4% of all mortgages, were in a COVID-19 mortgage forbearance plan.
That's 5.6% of all Fannie/Freddie loans and 8.9% of all FHA/VA loans.
Read more: How is mortgage forbearance repaid?