I feel like I've been going on and on about mortgage rates lately, but for good reason.
After hovering at or near record lows for such a long period of time (it seemed indefinite), the party finally came to a sudden halt, and now we're seeing extraordinary rate increases.
This sudden reversal of fortune has created a media frenzy, with some wondering if higher mortgage rates will derail the housing recovery, and others thinking they may actually be a call to action.
I mentioned last week that everyone I know wants to refinance now, just weeks after rates were near their lowest point in history.
In that post, I noted that rates were still a relative bargain, compared to their historical path.
And I argued that rates could see some near-term easing, seeing that the market seemed to grossly overreact to the news of the Fed ending its mortgage-backed securities purchase program (QE3).
Mortgage Rates Are Significantly Lower This Week
The good news is rates did indeed come down from their recent highs, by a pretty sizable margin too.
Using Wells Fargo's rates as a yardstick, we saw a high of 4.875% last week on the 30-year fixed, which has since fallen to 4.375%.
It's not the 4% flat seen two weeks, or anywhere close to the mid-3% range we saw a few weeks before that, but it's a meaningful improvement.
[Mortgage rates would need to be 7% to be unaffordable.]
So for those who didn't panic and lock their rate on the way up, you could get a mortgage rate about a half-a-percentage-point lower.
Of course, now you have to question the decision to keep floating your rate, seeing that rates could shoot back up again if the market gets anxious for any silly little reason.
Still, that brings us to the history of mortgage rates, which remain on the low-end of the scale.
Rates Were Nearly Four Times Higher in the Early 1980s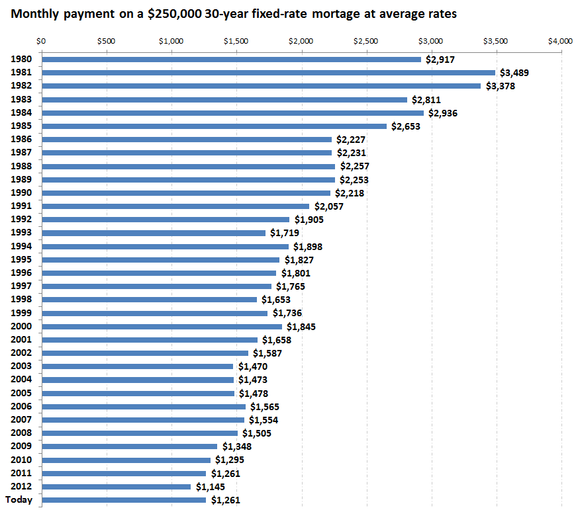 Back in January of 1982, you could have been unlucky enough to get your hands on a 30-year fixed at a staggering 17.48%, per Freddie Mac data.
Sure, that rate didn't last long before beginning its descent to where we are today, but rates did linger in the double-digits for a good decade.
In fact, it wasn't until the early 1990s that the 30-year saw 6%, only to climb back up above 7% for much of that decade.
In the 2000s, rates finally got a good taste of 6%, and brief spells in the 5% range.
A decade later, long-term fixed rates in the 4% range were an absolute norm. And it wasn't long before lucky homeowners were getting their hands on 30-year fixed mortgages at just above 3%.
So if you look at the big picture, mortgage rates are still incredibly cheap. And the best way to illustrate that is via the chart from the Motley Fool (pictured above), which details monthly mortgage payment amounts on the 30-year fixed for a $250,000 loan amount since 1980.
As you can see, we are still pretty darn close to the lowest payment in recent history (and all-time), and nowhere close to those dark days in the 1980s.
Of course, home prices are a lot more expensive than they were back then, but the relative affordability is still pretty fantastic.
So don't compare your mortgage rate to those on offer a month ago, compare them to rates seen five years ago, 10 years ago, and 30 years ago.
Read more: Check out my mortgage payment charts for a more comprehensive look at the effect of rising interest rates at various loan amounts.