While your neighbor's home loan may be none of your business, how they choose to finance their property can affect your home's value.
A new Home Value Forecast Update from Teck Valuation Services revealed that areas where homeowners took out high loan-to-value (LTV) loans experienced larger home price declines.
Zero Down Palmdale
For example, in Palmdale, California, a city about 60 miles (by car) north of Los Angeles, the average LTV was approximately 94% from 2000 to 2012. And since home prices peaked there around 2006, they've fallen by more than 60%.
Put simply, in areas where homeowners took out high LTV loans, there was much less incentive to stick around once home prices began to fall.
Additionally, homeowners may have had difficulty keeping up with payments, as many of the high-LTV loans carried expensive second mortgages with interest rates in the double-digits.
This led to a downward spiral as more and more homeowners missed payments and/or walked away, with little or no home equity to keep them invested.
Established Arcadia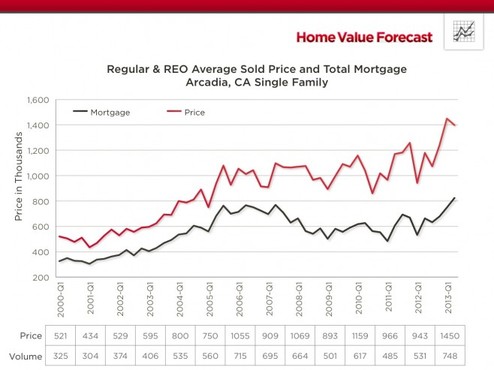 Conversely, in areas where LTVs were lower, home price declines tended to be much more muted, as was the case with Arcadia, CA, which is closer to the urban center of Los Angeles.
There, the average LTV was below 70% for the same period, and home prices only experienced a "very shallow decline" in 2008-2009 before bouncing back to all-time highs.
As you can see, the spread between mortgage amount and average sold price was a lot wider in Arcadia, and seemed to have peaked in the first quarter of 2013.
In other words, the chances of these homeowners walking away were pretty slim, even if home prices declined by a sizable amount. At worst, they could still sell if they couldn't keep up with payments anymore.
Where Are the Good Homeowners?
While it's not necessarily easy to tell where homeowners take out higher-risk mortgages, there are some clues.
Many of the newly-built neighborhoods offered up by the big publicly traded home builders tend to tout all types of creative financing to get prospective homeowners in the door.
So if you're getting a great deal on financing with very little or nothing down and all kinds of tax breaks, your neighbor probably is too.
And if the entire neighborhood is relying on that type of financing, a sudden reversal in home prices could wreak havoc on everyone involved.
However, if you purchase a home in an established neighborhood with mostly older residents that appear to have lived there for a long time, chances are the LTVs are a lot lower, assuming they didn't go nuts cashing out over the years.
Unfortunately, these neighborhoods tend to be in desirable parts of town, which are often priced much higher than surrounding areas.
Clearly there's no guarantee to what your neighbors might do when it comes to financing, but finding a home in an older and more affluent neighborhood could provide a buffer if the economy tanks again and home prices get hit.
Sure, the potential upside might be more limited in an area that's already established, but do you really want to gamble on a home purchase?