I've got more Millennial mortgage data for you, courtesy of the monthly Ellie Mae Millennial Tracker.
This is a heavily watched group because they're expected to carry the housing market to the next stage, hopefully higher.
While the word Millennial gets thrown around a lot, Ellie Mae defines it as an individual born between 1980 and 1999. Some have wider date ranges, and other shorter.
Anyway, we already know that Millennials favor adjustable-rate mortgages, but it turns out they're also pretty keen on conventional loans too.
63% of Millennial Mortgages Were Conventional
Most young home buyers are using conventional financing
Such as loans backed by Fannie Mae and Freddie Mac
As opposed to government loans backed by the FHA
One reason might be because the down payment requirement is just 3%
In June, nearly two-thirds (63%) of mortgages made to Millennial borrowers were conventional home loans, aka non-government loans.
The overwhelming remainder (32%) were FHA loans, which require just a 3.5% down payment, and for that reason, are favorable to young cash-strapped borrowers.
The rest were probably a combination of VA and USDA loans, which allow for zero down payment, but aren't as widely issued.
The share of FHA loans peaked in February and March of this year at 36%, but has since fallen steadily. Meanwhile, the conventional share rose from 60% to 63% during that time.
Ellie Mae executive vice president of corporate strategy Joe Tyrrell said this either means Millennials can afford more house without a government guarantee, or they lack the education on loan options like the FHA.
[See FHA vs. conventional differences here.]
90% of Millennial Mortgages Were Purchase Loans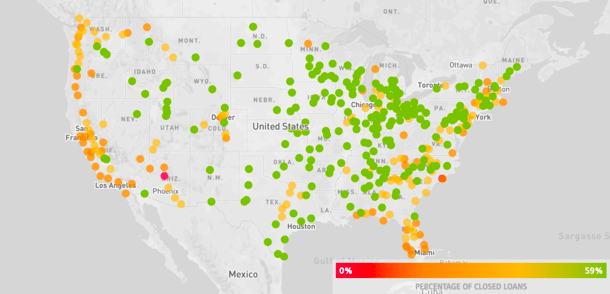 The lion's share of mortgages taken out by Millennials
Were home purchase mortgages
Which makes a lot of sense because a lot of them are first-time buyers
So a mortgage refinance wouldn't come into play
As expected, a very large share of Millennial mortgages were for home purchases, seeing that this group is relatively young and could include a lot of first-time home buyers.
In June, 90% of all closed loans to this age cohort were purchases, with the remaining 10% refinances.
Among FHA loans only, 96% were purchases and 4% were mortgage refinances, which again makes sense because they're often utilized to buy a home with little down, but the costly mortgage insurance makes them less desirable to hold onto.
Once these young buyers build some equity, they can refinance their FHA loan to a conventional loan to drop the expensive MI and maybe even get a lower mortgage rate.
The transaction mix for conventional loans was still purchase heavy at 87%, but refis made up a more sizable 12%.
If you're wondering how the kidos (sorry, young adults) stack up against the overall market, the conventional share for all borrowers in June was 64%, while FHA loans accounted for 22% of volume. VA took 9%.
Meanwhile, the refi share was 32% and the purchase share was 68%.
Millennials continue to target affordable cities in the Midwest, with Muscatine, Iowa, (average loan amount: $143,988) Watertown, South Dakota, ($138,492) Frankfort, Indiana, ($125,069) Oshkosh-Neenah, Wisconsin, ($150,751) and Quincy Illinois/Missouri ($107,589) the top housing markets nationwide.
As you can see from the map above, Millennials are having a tougher time getting loans along the West Coast and East Coast compared to the Midwest and South. Price has a lot to do with that.
Are Bachelor Parties a Problem?

Maybe skip the bachelor/bachelorette party
And save that money for your eventual down payment instead
Apparently all those parties can add up
Taken together the costs could amount to a down payment on a median-priced home
A new, odd analysis from Zillow claims young prospective buyers might be spending too much of their money on bachelor and bachelorette parties.
Apparently these gatherings can cost up to $14,000 during peak wedding attending years, which amounts to 34% of a down payment on a median home.
The math is nine soirées at $1,532 a piece for $13,788 in total cost.
I'm sure Millennials are sick and tired of hearing about all the things they should be spending their money on…and frankly I don't blame them. Have fun, party now, and buy a house eventually.
Other Millennial Mortgage Datapoints (from March – May 2017)
Gender: 64% of borrowers male
Marital status: 51% married
Average age: 29.5
Average loan amount: $181,593
Average appraised value: $216,116
Average LTV: 88%
Average DTI: 24/37
Average note rate: 4.304%
Average FICO score: 721
Average days to close: 42