While many expected the mortgage market to cool off this year thanks to both rising home prices and higher mortgage rates, the complete opposite seems to have happened.
Today, Freddie Mac released its latest monthly outlook report, noting that 2016 mortgage origination volume is now forecast to exceed $2 trillion for the first time since 2012.
In case you don't remember, mortgage rates hit an all-time record low in late 2012, which would explain why origination volume was so robust back then.
It led to a massive refinancing wave as the 30-year fixed fell to a staggering 3.31%.
Total 1-4 Family Mortgage Originations (in Billions)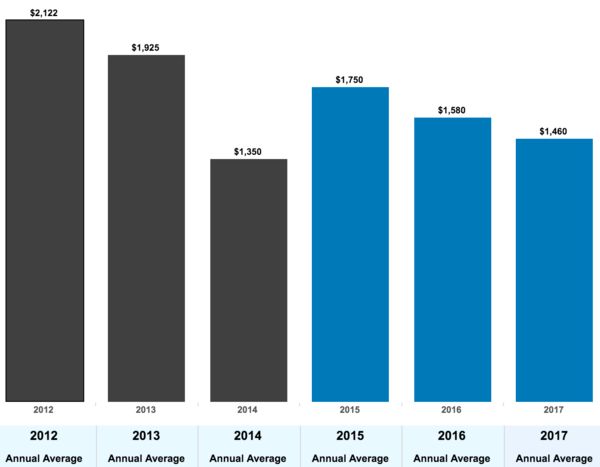 Total residential mortgage volume four years ago was $2.12 trillion, according to data from Freddie Mac. It wasn't far off in 2013 either, at $1.93 trillion, though it dropped off significantly in 2014 when volume totaled just $1.35 trillion (thanks in part to higher mortgage rates).
Last year, annual mortgage volume was slated to come in at $1.75 trillion, and was expected to fall to $1.58 trillion in 2016 and $1.46 trillion in 2017. But no one expected mortgage rates to sink again as they have.
Why Mortgage Volume Is Being Upwardly Revised
That led the brains at Freddie to raise the origination forecast by $175 million over the previous month's forecast, pushing it above $2 trillion.
We aren't too far from those record level rates now, and that's one of the reasons why mortgage volume continues to be stronger than anticipated.
Freddie seems to think originations will top $2 trillion this year, though just barely, as indicated by the 2,000 on the nose figure (represented in billions) below.
The difference this year is that purchase mortgages are contributing a lot more than they were during past origination booms, which is better for the economy. Instead of just interest rate churn, new home buyers should give the economy a real boost.
Freddie Mac Chief Economist Sean Becketti said the purchase-to-refinance mix is "nearly 50-50," though the Mortgage Bankers Association still pins it at around 62-38 in favor of refis.
Still, purchases are holding their own and are expected to grab more market share as housing inventory improves and fewer borrowers see a benefit to refinancing.
Well, cash out refinancing may gain ground as home prices march higher, so the increase might be offset.
Homes Sales Highest in a Decade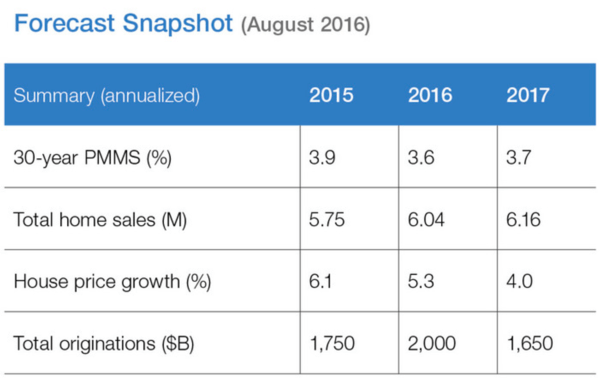 While refis remain strong, Freddie expects home sales to total 6.04 million this year, the highest total in a decade. That's up from the 5.96 million estimate a month earlier.
The number should rise to 6.16 million in 2017 as new housing starts climb from 1.2 million this year to 1.4 million next year.
Becketti added that the two major problems in the housing market are limited inventory and rising home prices, which tend to go hand in hand.
Without ultra-low mortgage rates and the introduction of a bevy of low-down payment mortgage programs, it might be difficult to qualify new homeowners going forward.
Fortunately, Freddie Mac sees mortgage rates going nowhere fast. The 30-year fixed is expected to average 3.6% this year and just 3.7% in 2017. In other words, there's no rush to purchase a home based on interest rates alone.
But if home prices stay on trend and keep rising, it could become more and more difficult to afford a desirable property, even with an insanely low rate.