How Real Estate Once Was
Buying and selling real estate used to be really hard
And very time consuming
I remember driving around with a real estate agent
It felt like a grueling process back then and hasn't really changed a whole lot
Back in the 1980s, I vividly remember a day when my father took me along with him to a real estate agent's office. He was looking to buy a new home and this was how the process began – by getting into a vehicle.
We showed up to an office replete with ornate furniture and classic paintings (probably of old timey ships) to meet with an English expat wearing a smart suit and tie. It made sense that he had an accent because back then a real estate agent was meant to exude style and sophistication.
After a brief chat, he grabbed some paperwork, we climbed in his car (probably a diesel Mercedes), and proceeded to drive around a neighborhood to look at potential properties to buy.
This was how you purchased a home back then. The agent compiled a list of homes in a target neighborhood yet to be seen and invited the client to do a ride-along.
Assuming you found one you liked, you'd make an offer and eventually the seller would counter or accept your offer. A few weeks after that you'd get your mortgage from a local thrift or savings and loan (while putting at least 20% down) and the home would be yours.
Oh, the bank would actually hold onto your mortgage, instead of turning around and selling it on the secondary market. And you could make your mortgage payments in person at the local bank while taking care of your other banking needs.
Has the Process Really Changed?
Real estate is different to some degree
The fact that you can find your own listings and view properties online
Certainly makes things a lot easier
But the transaction itself is still mostly the same
Today, it's different, but not too much different. You'll probably still drive around with a real estate agent looking at homes. The only difference is that you can choose which homes you'd like to view beforehand online (or on your phone) thanks to websites like Zillow and Redfin.
Other than that, the process appears to be the same. You go and tour properties with your agent and make a bid. Once accepted, you apply for a mortgage with a lender, either locally, online, via a broker, or through some national chain.
Once the loan closes, there's a very good chance your loan will be sold off to a different company. And you probably didn't put down 20%. Instead, maybe just 3% down (or even less). In any case, it's pretty much business as usual.
The only real difference is all those pretty pictures on websites, and the ability to check out homes before viewing them in person. Still, we all know pictures often fall short, and without seeing a property in person it's nearly impossible to make a decision.
Real Estate Is on the Cusp of Disruption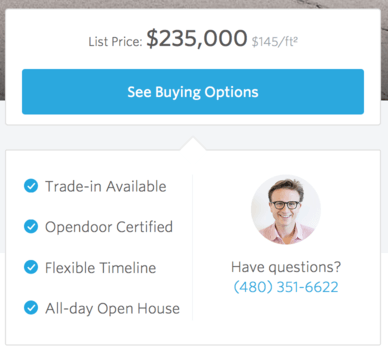 All the tech players know real estate is ripe for disruption
And that's why we're beginning to see a ton of newcomers in the space
One major player that is emerging is Opendoor
Which buys, sells, and now even finances properties
So we know there's a new way to search for real estate, but the process seems to be the quite the same otherwise.
However, it does appear as if we're inching closer to a point where you you might be able to ditch your real estate agent, or forego the typical lengthy timeline to buy and sell a home.
Though the businesses attempting to effect change are facing some headwinds, it's becoming increasingly common to find companies looking to challenge the status quo.
Late last year, a company called Faira launched with the promise of selling homes for free. Instead of paying a 6% commission, you pay nothing. But this company has yet to make waves.
Then there's Skupit, which allows individuals to make an offer on a home online using a single agent to make their bid more competitive. Again, early goings here but the potential to disrupt is clear.
Opendoor Trade-in Program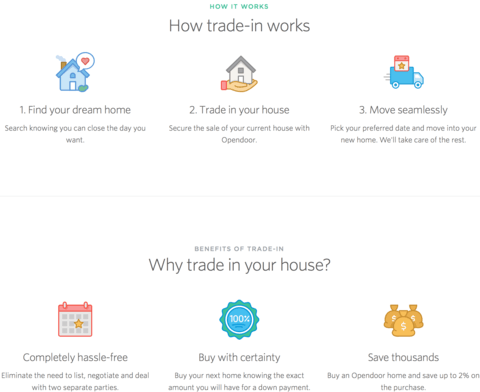 While you could already buy/sell homes with Opendoor
They recently launched a home trade-in program
Where you can actually find a new home
Then simply sell them your old home to them, concurrently
That brings us to a new service from Opendoor, the folks who want to sell homes in three days, which now aims to transform the process of buying and selling a home concurrently.
Put simply, they want to make it easier to buy a new home without worrying about what you'll do with your old one, an issue many Americans face, especially with inventory as light as it is.
Instead of fretting about your existing home, you can shop for a new home as you would a first-time home buyer, then make an offer without it being contingent on the old home being sold.
All you have to do is make an offer and tell Opendoor the closing date. From there they'll buy your old home at "market price" and handle the funding of the new purchase so you can get both sales done in a single transaction.
You won't have to worry about making two mortgage payments, or the complications involved with supporting two mortgages. Or the issue that arises when your offer isn't competitive because it relies upon your old home selling.
Buy and Sell with Opendoor at the Same Time

While the trade-in program allows you to buy any home on the MLS
It's also possible to sell your home to Opendoor
And buy an Opendoor home at the same time
Thereby making the entire transaction really fly
There's also the opportunity to buy your new home from Opendoor to make the process super streamlined and fast.
For example, you can buy and sell in a matter of days (literally) if you find the new home in Opendoor's for-sale inventory. I believe they provide a 2% discount if you do this.
This would really change the real estate process, though it should be noted that the standard 6% commission structure remains.
If you're curious what Opendoor will offer for your old pad, you can get a trade-in price on their website so you can determine the amount you will have for a down payment and closing costs.
The clear downside here is that Opendoor may offer you significantly less than what you'd fetch on the open market, with the upside being one less roadblock to snagging a new home, and much less legwork.
There's also a "market risk charge" of 0-6% that may come into play if values drop while they own your old home and attempt to resell it. And potential repair costs that Opendoor will split with you to make the home marketable.
This new service is available in the Phoenix and Dallas housing markets. At first glance, there were some 116 listings in Phoenix currently available for purchase. But I'm sure inventory will grow over time.
Whether this will finally change real estate as we know it remains to be seen, but pressure to evolve is clearly mounting. The question remains if it's actually in the best interests of homeowners, or simply a play on convenience like many other new startups.