A new company called Faira, founded by a guy who designed business models for eBay and Microsoft, wants to sell your home with less stress and fewer costs.
While they're not promising to sell it in just three days, like some other companies, they are eliminating the standard 6% commission model and making the process more transparent.
However, they will still support sellers in ways real estate agents do by providing an MLS listing, syndication to listing sites such as Zillow and Redfin, professional photography, signage, open houses, and more.
Appraisal and Inspection Done First
Additionally, Faira will coordinate a home inspection, conduct an appraisal using an independent third-party, and pull a preliminary title report.
In exchange, they ask for a $500 refundable deposit from the seller to ensure they're serious about listing their home, seeing that Faira will be spending "thousands of dollars" on that inspection, appraisal, and title report.
Prospective buyers must also pony up a $500 refundable deposit if they wish to make an offer on a home listed on Faira, again, to ensure they're serious and not just wasting everyone's time.
Assuming their offer is accepted, they must pay 0.5% of the purchase price (non-refundable) within five business days to satisfy the Faira Platform fee, which is included in the price of the home.
Faira decided to get an inspection and appraisal done before listing the home to determine the right sales price of the property and also eliminate the likelihood of a buyer asking for a price cut after their inspection finds something unfavorable.
The appraisal actually isn't shared with the buyers. Instead, the seller can utilize it to set their listing price.
However, once a buyer makes an offer, there is a Faira Appraisal Guarantee that kicks in if the mortgage is denied due to a low appraisal.
How to Make Offers on Faira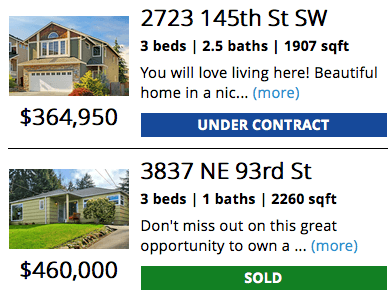 When it comes to making an offer on Faira, the buyer can set a maximum price, which is kept confidential and not shared with other potential purchasers or the seller.
Additionally, the maximum purchase amount is only used if other sellers bid it up to that amount, and there is an escalation amount of $1,000.
This is similar to how eBay works, which the founder seems to be basing this new service on.
Let's assume a home is listed on Faira for $500,000.
If one buyer sets a maximum price of $500,000 and another has a maximum price of $550,000, the sales price would actually only be $501,000.
Or if there's only one offer with a maximum bid of $550,000 and the sales price is $500,000, the offer would drop to $500,000 (the list price) by default.
This saves the top bidder from spending too much on the property, but also means the seller is potentially shortchanged in the process.
So clearly there's a bit of risk on both sides of the negotiating table, though that advance appraisal is meant to save the seller from listing too low I suppose.
Faira Wants to Sell Zillow CEO's Home
For the record, Faira still appears to be in beta mode – they are "only accepting a few homes at a time," while they fine-tune the process. However, you can still apply. I only saw a handful when I visited the site.
Interestingly, they actually offered to sell Zillow CEO Spencer Rascoff's Seattle area investment property.
As a marketing gimmick, Faira CEO Kamal Jain wrote an open letter to Rascoff, claiming his company would be able to sell the home for less commission and without additional price cuts.
The property, which has been languishing on the market since early July, has seen its listing price slashed twice, from $1,295,000 originally to $1,199,000 today.
Kamal is guaranteeing the $1,199,000 sales price if he lists it on Faira or the next $50,000 price cut will be on them.
Of course, it's all a bunch of nonsense because there's no way Rascoff would ever list his home on a competing service.
Faira Offer Assist
Recently, the company launched "Faira Offer Assist" to those who find a home without the help of a buyer's agent.
Faira will give these home buyers the full agent commission (typically 3%) at closing that would otherwise go to the agent representing the buyer.
So on a $300,000 home purchase we're talking $9,000 potentially. However, there is a 0.5% fee for participation in this program, so my assumption is you actually only receive 2.5% back at best.
Faira also seems to want to make offers without inspection contingencies, which seems a bit odd to me (and potentially risky), and also mentions the idea of waiving financing contingencies.
Generally, waiving contingencies isn't smart unless you're a very savvy buyer who knows exactly what you're getting into.
But getting the real estate agent's commission sure sounds nice.
Read more: Is Google about to replace your real estate agent?