Life has gotten a lot more convenient over the past decade thanks to our friend the Internet.
Today, we can shop for clothes, groceries, and just about anything else online, do our banking with text messages and smartphones, or hail a ride home with the touch of a button.
But one area that still needs improvement is real estate, including the notoriously chaotic mortgage world where paperwork continues to be beyond burdensome in the digital age.
Remember when MBA chief David Stevens claimed that the average mortgage file had grown to more than 500 pages?
Well, hopefully the smart guys and gals up in Silicon Valley have a solution for that as well.
Say Hello to Opendoor, the Instant Home Buyer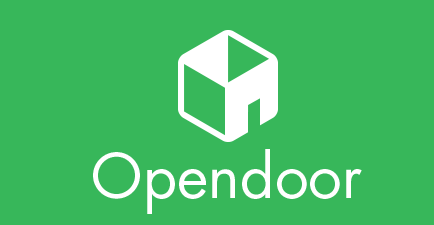 Opendoor is one of the biggest iBuyers of residential real estate
They want to help you sell your home quickly with the push of a button
Instead of having to clean it, list it, show it, and wait for the offers to come in
And make it easier to acquire a new home while getting rid of your old one
A group of San Francisco-based tech disruptors (that's the buzzword these days) have big plans to make selling your home a lot easier and faster.
Their company, called Opendoor, has one mission. To make it easy to sell your home. To quote them exactly, their tagline appears to be, "The easiest way to sell your home."
Note the word easy; nowhere on their one page website do they say highest price. Or anything to do with price for that matter. Just that you'll receive an "instant offer" online and be able to close in 3 days. Wow.
Simply put, they want to bring liquidity to real estate, similar I suppose to how stocks are bought and sold within milliseconds online.
That's the draw of buying stock. You can unload it whenever you want and get your hands on the cash for other needs with minimal delay.
One of the major downsides to real estate as an investment (or in general) is that it's extremely illiquid.
If you own a piece of property and want to dispose of it, you'll need to hire a real estate agent, create a listing, spruce up the place, let people tour the property, and hopefully land a suitable offer.
The process, if you're lucky, will only take a month. More realistically, it'll take a few months from start to finish, barring the recent home buying frenzy that has probably given every homeowner unrealistic expectations on selling timelines.
It Might Make Sense to Use Opendoor If You Must Sell Quickly


Like most convenient services there is a price that must be paid
Opendoor may make sense if you have to sell your home quickly for some reason
But there's always a cost to doing things easier
And that could mean a significantly lower offer price for your home
To be clear, Opendoor doesn't plan to replace real estate agents or reinvent the entire process. At least, not just yet.
They simply want to provide a quicker way to sell when you don't have time to go through the entire process, whether because you're relocating for a job or simply because you need capital this week, not three months from now.
Perhaps you're having trouble keeping up with mortgage payments and just want to avoid foreclosure. There are plenty of reasons why homeowners may want to sell immediately.
Apparently there's some algorithm that determines an appropriate selling price, similar to how Zillow provides you with a Zestimate.
So far they've snagged $9.95 million in funding, though the lead is from Opendoor co-founder Keith Rabois of Khosla Ventures.
Other notable individuals involved with Opendoor include PayPal co-founder Max Levchin, former YouTube and Facebook CFO Gideon Yu, Yelp CEO Jeremy Stoppelman, and Facebook vice president Dan Rose.
With that group of investors, it's certainly going to get interesting in a hurry.
How Selling a Home with Opendoor Works
You request an offer to sell your home
A "home expert" prepares an offer based on market data in 24 hours
You review the offer and sign if you accept it
They provide a free home assessment to determine repair costs
You choose a closing day and they buy your home
Opendoor basically takes the guess work and uncertainty out of selling a home by just agreeing to buy it from you for a certain market-driven price.
That makes them an iBuyer, or instant buyer, of homes, as opposed to a maybe-buyer who takes 30-45 days to close on your home, assuming they get to the finish line.
Instead of having to find a real estate agent, clean it, list it, stage it, hold open houses, and wait and hope that it sells for the price you want/need, they'll buy it for you in a matter of days.
All you need to do is request a free, no-obligation offer by entering your address and telling them about your home.
If your home qualifies, a local market expert will  prepare your offer in just 24 hours, relying on your property's unique features and market data.
The offer is good for five days, but you can proceed whenever you'd like. It can also be refreshed at any time after that period.
Assuming you accept, it will be subject to an in-person inspection to determine if repairs are necessary.
If they are, you can make them yourself or leave it up to Opendoor, in which case the costs will be deducted from your sales proceeds.
You get to choose your closing date as well, between 14 and 60 days, whether you want to unload it quickly or at a later date (and changes can be made free of charge).
That can come in handy if you need a quick sale, perhaps to avoid a contingent purchase. Or if you need cash fast from the sale of your home.
But they're happy to let you stick around a while too. This flexibility is one of the main perks of iBuying, especially if you're acquiring a new home.
Opendoor Pricing and Fees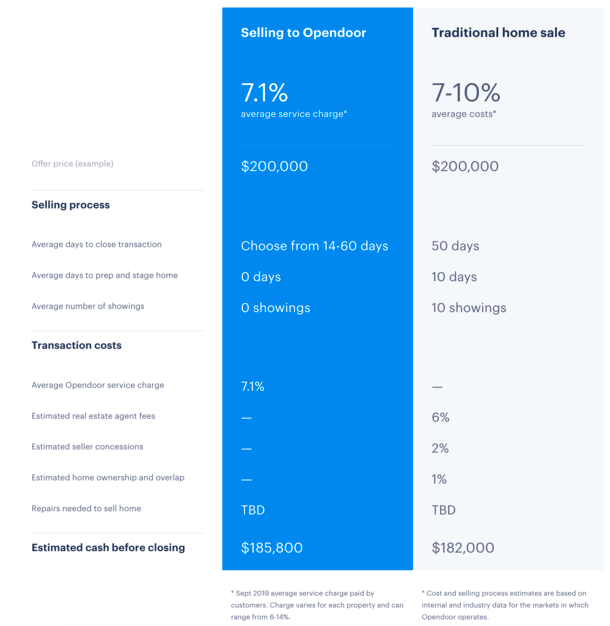 Despite the enormous convenience, Opendoor claims to save you money too, with the average service charge around 7.1% of the sales price versus a 7-10% cost if you go the traditional route.
You can see a breakdown above of what a traditional sale might cost versus selling to Opendoor.
Of course, what's the sale price in both scenarios? If they're the same, great. If the one with Opendoor is significantly lower, the math changes quickly.
These head-to-head comparisons always seem to feature the same sales price, which probably isn't a reality.
Another key factor is repair costs. Will Opendoor hold you accountable for thousands in repairs, or will they go relatively easy? I guess it depends on the property in question.
Regardless, you do have to factor in some "cost" for the time and effort saved by not having to list yourself.
And as they point out, there is a cost to owning two homes at once, assuming you're not benefiting from it.
Opendoor Versus the Competition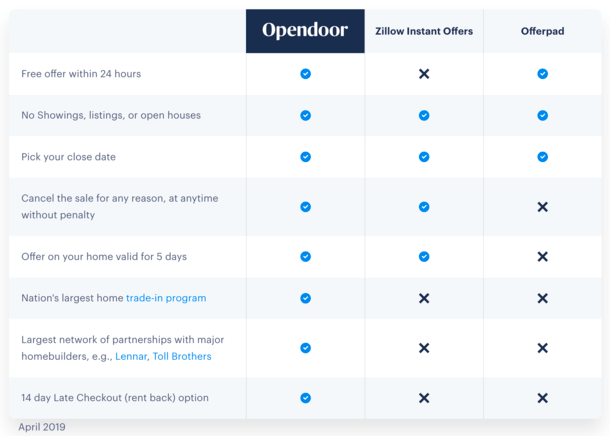 Not all iBuyers are created equal, despite there being several of them nowadays like Zillow Offers and Offerpad.
Opendoor points out the subtle, but important differences in their offerings versus the competition.
Notably, they allow you to cancel your home sale at any time for any reason, which apparently isn't the case with Offerpad.
They also allow a 14-day "Late Checkout" if you need to stay in your home a bit longer before you move into your new abode.
However, my guess is all these companies will make adjustments over time to match up with the others.
So ultimately it will probably come down to pricing if you shop different iBuyers at the same time.
Buying an Opendoor Home
Opendoor sells the homes it buys shortly after refurbishing them
So you can search their listings on their website/app
And then buy a home directly from them too
With or without your own real estate agent
If you happen to be a home buyer, you can purchase an Opendoor property.
After all, if Opendoor is buying properties from home sellers, they've got to unload them on the other side.
They provide some benefits to buyers as well, including the ability to view an Opendoor home via the Opendoor Homes mobile app.
You can actually open the door so to speak by unlocking it with the app. Or at least getting the code to the lockbox. And each home is open daily from 6am to 9pm, so there's always a convenient time to visit.
Once you're ready to make an offer, you can do so via the Opendoor app or their website, and it only takes 48 hours or so to hear back.
They say it generally takes 20-30 days to close, similar to a traditional home purchase, and they require you to be pre-approved for a mortgage before making an offer.
If you have a buying agent, you can use them and Opendoor will pay them a commission. But it might affect your sales price.
Lastly, there's a 30-day satisfaction guarantee if you don't love your home, they'll buy it back.
Update: They also recently launched a trade-in program where you can sell your home and get a new one all through their company.
Where Opendoor Is Currently Available
At the moment, Opendoor is available in the following metros/cities:
Asheville, NC
Atlanta, GA
Austin, TX
Boise, ID
Charlotte, NC
Columbia, SC
Dallas Fort-Worth, TX
Deltona, FL
Denver, CO
Greensboro, Winston-Salem and High Point, NC
Houston, TX
Jacksonville, FL
Killeen, TX
Knoxville, TN (and Chattanooga)
Lakeland, FL
Las Vegas, NV
Los Angeles, CA
Miami, FL (including Fort Lauderdale and Palm Beach)
Minneapolis-St. Paul, MN
Nashville, TN
Ogden, UT
Oklahoma City, OK
Orlando, FL
Ormond Beach, FL
Oxnard, CA
Phoenix, AZ
Portland, OR
Prescott, AZ
Provo, UT
Raleigh-Durham, NC
Reno, NV
Riverside, CA
Rochester, MN
Sacramento, CA
Salt Lake City, UT
San Antonio, TX
San Diego, CA
Sarasota, FL
Tampa, FL
Thousand Oaks, CA
Tucson, AZ
Ventura, CA
Winter Haven, FL
Their hope is to offer the service nationwide at some point in the near future, and they have plans to expand to additional metros this year.
Opendoor's Mortgage Division

You might be able to finance an Opendoor home with an Opendoor home loan
If buying in the states of Arizona or Texas
The company provides a 1% credit for closing costs
And the ability to get pre-qualified quickly
The company has since introduced a financing arm known as "Opendoor Mortgage" that provides financing for buyers of Opendoor homes. It's only available in Arizona and Texas at the moment though.
The name has since been changed to Opendoor Home Loans.
They claim to offer competitive mortgage rates and the ability to get pre-qualified in under 30 minutes. And if everything happens under one roof, they might be able to close faster.
So it seems they're trying to make it a one-stop shop, which makes sense because time is of the essence and you can't have a third-party lender slowing things down.
At the moment, they have a promotion where a buyer can get a so-called "ultimate mortgage." I'm not exactly sure what that means, but it does come with 1% off the purchase price in the way of a credit for closing costs.
This could make Opendoor Mortgage more competitive than other lenders assuming the mortgage rates and lender costs are comparable.
In mid-June 2021, the company announced that it had reached the 100,000-transaction milestone.
Opendoor Acquires Open Listings
In September 2018, Opendoor acquired Open Listings, a discount real estate brokerage that connects home buyers with local real estate agents.
It's different in that agents and their services are on-demand, as needed. So a home buyer can control as much or as little of the process as they wish.
And in exchange for that hands-off approach, home buyers who use Open Listings get up to 50% of the typical buyer agent's commission back.
So instead of the typical 2.5% commission, only 1.25% is paid via the sales price and the other 1.25% is returned to the buyer either via reduced closing costs or via check in the mail.
The company has already refunded over $8 million to homeowners whose collective purchases exceeded $1 billion.
Open Listings was launched just three years ago in Los Angeles, part of Y Combinator, with a simple goal of making buying a home easier and more affordable.
The merger aims to create an end-to-end solution for buying, selling, and trading in homes, the first of its kind in the industry.
Opendoor and Redfin Partnership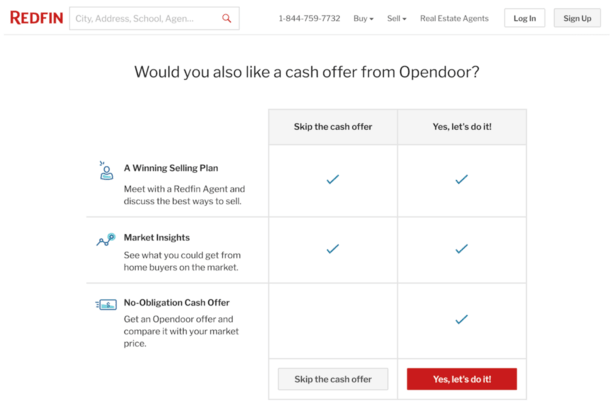 In July 2019, Opendoor announced a partnership with competitor Redfin.
While it sounds like an odd marriage, given the existence of a very similar RedfinNow product, it opens up some new markets for Redfin.
The agreement will allow home sellers in the cities of Phoenix and Atlanta to request an Opendoor offer through Redfin's website or mobile apps, as seen in the screenshot above.
Currently, RedfinNow isn't available in those markets, so perhaps it a free test-run.
Well, Redfin will actually make a profit if a customer decides to sell to Opendoor, and they'll be able to see demand for iBuying in those cities.
Opendoor's home listings will also appear on Redfin's website and mobile apps.
Opendoor/Zillow Partnership
In February 2023, Opendoor was integrated into the Zillow listing platform, allowing home sellers to simultaneously request a cash offer from Opendoor and an estimate from a local Zillow Premier Agent partner.
Initially, the program was only available to homeowners in Atlanta and Raleigh, allowing them to consider whether to sell for cash to Opendoor or sell on the open market with the help of an agent.
The program has since been expanded to Birmingham, AL, Los Angeles, CA, Richmond, VA, Riverside, CA, Sacramento, CA, San Diego, CA, San Francisco Bay Area, CA*, New York – New Jersey*, and Washington, DC.
*Opendoor is available in North and Central New Jersey; Long Island and sections of the Lower Hudson Valley in New York State, and in the San Francisco Bay Area, including some areas of Alameda, Contra Costa, San Francisco, San Mateo, Santa Clara, and Solano counties.
Opendoor and eXp Realty Partnership
In October 2023, Opendoor and eXp Realty announced a partnership where the former will provide an integrated API tool and act as the primary cash offer solution powering eXp's ExpressOffers platform.
This will allow eXp Realty's nearly 90,000 agents to request a cash offer on qualifying properties on behalf of their clients directly within their eXp dashboard.
They'll be able to present the Opendoor cash offer alongside the traditional option of listing the client's home on the open market.
Additionally, eXp Realty agents will be able to join the Opendoor for Agents rewards programs, which includes the opportunity to receive a commission for every eligible transaction that originates and closes on their portal.
In September 2023, Opendoor co-founder Eric Wu launched Roam, an assumable mortgage service.
Read more: Is Google about to replace your real estate agent?