Believe it or not, real estate in the United States is actually really cheap, assuming you compare it to what others are paying in places like Asia, Europe, Canada, and Australia.
A new report released today by Demographia compared housing affordability in 360 markets worldwide and found that the U.S. was far and away more affordable than other countries.
In its 10th Annual International Housing Affordability Survey (which relied upon data from the third quarter of 2013), the company looked at median home prices and household incomes to determine if the dream of homeownership was within reach.
They took the median home price and divided it by the median gross household income to come up with different levels of affordability.
Historically, the median multiple has been similar across the nine nations surveyed, with median home prices typically three times (or less) median household income.
[The Home Price vs. Income Rule of Thumb]
Real Estate in Hong Kong Is Reserved for the Uber Rich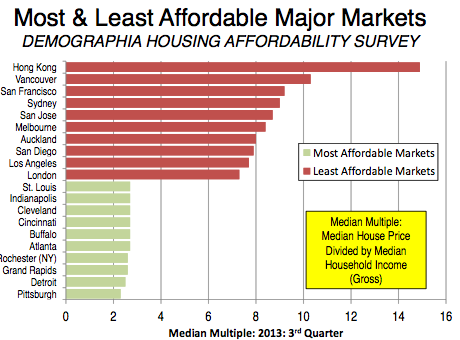 But times have changed…
Using that metric, Hong Kong was the least affordable major metropolitan area in the world with a staggering median multiple of 14.9.
In Hong Kong, which is a special administrative region of China, the median household income was $270,000 as of the third quarter.
While that sounds amazingly great, the median home price was $4,024,000. In other words, good luck.
For the record, Hong Kong was the most unaffordable major market (1,000,000+ population) in the world for the fourth year in a row.
Our neighbors to the north have a pretty expensive city of their own, with Vancouver coming in second place in terms of being largely unaffordable.
There, the median home price was only $670,300, but the median household income was just $65,000. That's a multiple of 10.3, which makes it "severely unaffordable," according to Demographia's definition.
The third place you'll never be able to afford a home is in San Francisco-Oakland, California. Hey, I didn't say everything in the U.S. was affordable…
The Bay Area had a pretty sizable multiple of 9.2, with the median home price $705,000 and median income $76,300.
The fourth spot was located down under, with Sydney boasting a multiple of 9.0 with a median $722,700 home price and $80,500 median income.
Rounding out the bottom five was San Jose, CA, with a multiple of 8.7. There, the median home price was $805,000 as of the third quarter, higher than SF. And the median income was a hefty $92,400.
Numbers six through 10 included Melbourne, Auckland, San Diego, Los Angeles, and London.  So again, lots of U.S. cities, but those are the outliers.
Unfortunately, it's a mess that will likely never get better because severely unaffordable markets are also the most attractive to buyers looking to snag short-term profits and "extraordinary returns on investment."
As a result, home prices in these sought-after regions rise further, thanks to what the report calls "urban containment," or a lack of land aka supply. Then unsustainable prices in these very cities cause mass damage to the economic system.
The report also pointed out that for young households, the "California" dream requires moving to other states, such as Texas, Indiana or Georgia…
Ireland Is the Most Affordable Nation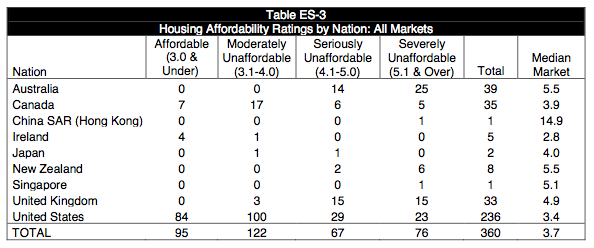 The U.S. also had 84 "affordable" markets, compared to just seven in Canada and four in Ireland. The other regions had ZERO.
Additionally, the U.S. had 100 "moderately affordable" markets, compared to just a handful in other regions of the world.
Overall, the U.S. multiple was 3.4, which is just above the affordable mark. And a lot of pricey regions like California and New York are probably skewing the data.
The only other country to beat us in terms of overall affordability was Ireland of all places. There, the multiple was a low 2.8.
The top 23 major markets were also all located in the United States, with Pittsburgh the most affordable with a 2.3 median multiple.
It was followed by Detroit with a multiple of 2.5, Grand Rapids and Rochester with multiples of 2.6, and Atlanta with a multiple of 2.7.
In all, the U.S. accounted for 40 of the 50 most affordable major markets in the world. So stop complaining! There are plenty of bargains to be had.
[Tips for First-Time Home Buyers]
Who Cares About Worldwide Home Prices?
Why should we care about housing affordability worldwide? Shouldn't we just focus on local home prices to make real estate decisions?
Sure, it's good to stay local. But knowing what's going on in the world is important too.
For example, if home prices are cheap in the U.S. relative to other regions of the world, including places as close as Canada, there's a good chance those foreigners will be looking to invest in our neighborhoods.
Assuming they do, the supply/demand picture will change, meaning home prices should get a boost. Of course, this could also make it more difficult to land that dream home too.
Read more: How much house can I afford?
(photo: eGuide Travel)