If you live in Texas or the Southeast, you've likely heard of Regions Mortgage. In fact, you might already be a banking customer with parent company Regions Financial.
The company is a banking leader in the states of Alabama and Tennessee, so if you're the type that likes to do all your business in one place, Regions Mortgage might be for you.
Aside from their strong presence in the Southeast, they also provide banking and home loan services in Indiana, Illinois, and Missouri.
Their basic pitch is that you should get your mortgage from a lender you can trust, namely a massive billion-dollar bank with a near 50-year history.
Let's learn more to see if Regions Mortgage could be a good fit for your home financing needs.
Regions Mortgage Quick Facts
Publicly traded commercial bank serving customers in the Midwest, South, and Texas
Founded in 1971, headquartered in Birmingham, Alabama
One of the largest banks in the United States (top 40)
A top-50 mortgage lender nationally by volume
Funded nearly $7 billion in homes loans via retail channel during 2019
Florida accounted for 25% of total home loan volume
Also a major mortgage lender in the states of Alabama and Tennessee
Regions Mortgage is the retail mortgage banking arm of Regions Financial, a full-scale depository bank.
The company, which is one of the largest banks in the United States, was founded in 1971 and is headquartered in Birmingham, Alabama.
Last year, they funded almost $7 billion in home loans, allowing them to just sneak into the top-50 mortgage lender list nationally.
That's actually more impressive than it sounds since they only focus on one region of the country.
They used to operate a wholesale mortgage division, which they sold to M&T Mortgage Corporation back in 2005.
Additionally, they exited their correspondent home loan lending business in 2018. So it's clear they're entirely focused on originating home loans via the retail, direct-to-consumer channel.
Interestingly, Regions also sells homes and you can search for Regions-owned properties on their website. So it might be a one-stop shop for some home buyers!
Getting a Home Loan with Regions Mortgage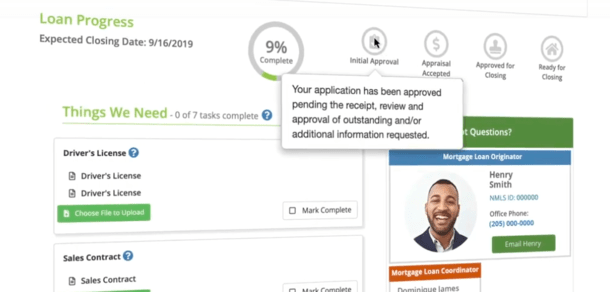 You can apply for a mortgage directly from their website or on your phone
They say it takes about seven minutes to complete the application
Their digital mortgage process is known as Regions Loan Accessway
Allow you to view loan details, check application status, and upload documents
You can start a few different ways. Obviously, you can head down to a brick-and-mortar branch if that's your thing, or simply call them up on the phone.
Or you can visit their website and search for a loan officer near you. It's also possible to inquire about a home purchase or mortgage refinance by using their online form.
Assuming you go the online route and select a specific loan officer, you can apply for a mortgage directly on their website without any human interaction.
Like other digital mortgage applications, you'll need to sign up, provide basic contact information, then provide additional financial information like your income, bank details, employment history, and so on.
They allow you to link financial accounts using Finicity, which provides automated verification of income and assets.
Once your loan is submitted, you can manage it via the borrower portal at any time. You'll be given a to-do list and the option to receive status updates to stay in the know.
All in all, it looks like a sleek and easy-to-use mortgage dashboard that should make it fairly painless to get your loan to the finish line.
If you're looking for a mortgage pre-qualification, the Regions "Purchase Power" tool will provide a general idea of how much you may be eligible to borrow.
What Types of Home Loans Does Regions Mortgage Offer?
Home purchase and refinance loans
Renovation and construction-to-perm loans
Conventional loans (Fannie Mae and Freddie Mac)
Government-backed loans (FHA, USDA, VA)
Jumbo home loans
HELOCs
Fixed-rate mortgages and adjustable-rate mortgages
Regions Mortgage offers lots of different types of mortgages, including home purchase financing, mortgage refinances, renovation loans, and construction-to-perm loans.
You can access the equity in your home via a cash out refinance or a home equity line of credit (HELOC).
And first-time home buyers can take advantage of low-down payment programs, such as the 3% down required by Fannie/Freddie, or the 3.5% down required by the FHA.
They also offer USDA home loans for those buying in rural parts of America, and VA loans for both active duty and veteran home buyers or existing homeowners.
You can get a fixed-rate mortgage such as a 30-year fixed or 15-year fixed, or an adjustable-rate mortgage such as a 5/1 or 7/1 ARM.
Those purchasing a particularly expensive home or refinancing a larger existing loan can take advantage of their jumbo loan offerings.
Finally, because they're a depository bank, they might be able to offer stuff the other guys can't since they can keep it in their loan portfolio as opposed to selling it.
Regions Mortgage Rates
Similar to many other banks and mortgage lenders, Regions does not post daily mortgage rates on their website.
But unlike other companies, they take the time to explain why, saying it's "due to the constant fluctuation of mortgage interest rates."
I tend to agree that advertised mortgage rates aren't worth a whole lot, but it's still nice to see something.
They direct customers looking for current mortgage rate information to get in touch with a Regions Mortgage loan officer.
In other words, you won't know how competitive they are until you make contact and get a free rate quote.
So they lose some points for transparency, especially since they also don't mention anything about lender fees.
This means we don't know their interest rates or fees, and they don't appear to offer any discounts to existing Regions Bank deposit customers like some other large banks do.
To summarize, be sure to shop around to ensure they offer a good mix of rate and closing costs relative to other banks and mortgage lenders.
Regions Mortgage Reviews
Their parent company, Regions Financial Corp., is accredited with the Better Business Bureau, and has been since 1956. Not sure why longer than when they were founded.
They currently enjoy an A+ BBB rating, which is based on complaints history and how a company responds to said complaints.
There are quite a few complaints against the company, but they're also a massive bank and not all of them pertain to their home lending division.
Their BBB customer review rating is just over 1 star out of 5, based on some 55 reviews.
Regions Bank has a 4.3-star rating out 5 on Trustpilot based on around 100 customer reviews, which again aren't limited to their home loans business.
They also have a 3.9-star rating out of 5 on WalletHub based on nearly 2,000 reviews. Again, you'll need to comb through them to see which actually pertain to mortgages.
Your best move might be to look up individual loan officer's reviews who work at Regions Mortgage on Zillow to see how a particular individual has fared in the past.
Since they're such a big bank, companywide reviews probably won't do you much good as experiences will vary widely.
Regions Mortgage Pros and Cons
The Good
Lots of loan programs to choose from
Can apply for a home loan online
Offer a digital mortgage experience
Regions HomeBonus program provides cash back for buying/selling a home in select states
Free mortgage calculators on site
They service their mortgages
A+ BBB rating
The Possibly Not Good
Only lend in select states mostly in the Southeast
Large bank may result in bureaucratic process with strict underwriting guidelines
Do not provide current mortgage rates on their website
No information regarding lender fees
Mixed customer reviews
(photo: Wally Argus)