If you're into football squares, there's a new game available via Rocket Mortgage by Quicken Loans related to them becoming an "official mortgage sponsor" of the NFL.
The Rocket Mortgage Super Bowl Squares Sweepstakes, which the Detroit-based lender is calling "the largest official game of Super Bowl squares in history," is free to enter.
Simply cruise over to RocketMortgageSquares.com before 11:59 p.m. EST on Thursday, January 30, 2020 to register, then select one of 100 spaces on a 10-by-10 grid.
If you don't want them to bother you, simply uncheck the many options that allow them to contact/solicit you.
From there, hope your square gets picked, and also hope you're randomly selected from what will probably be a large pool of entrants on the same square.
How the Super Bowl Squares Game Works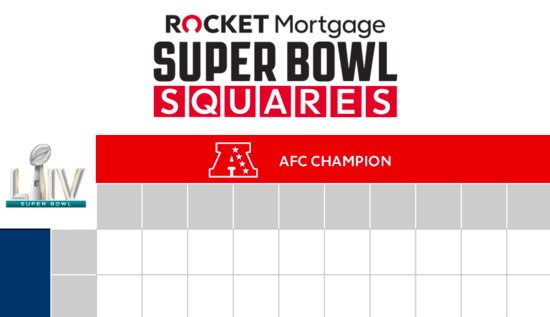 As noted, you get to pick one of 100 squares on a 10-by-10 grid.
One axis (0-9) represents the last digit of the NFC team's score, and the opposing axis (0-9) represents the last digit of the AFC team's score.
For example, if the game is 7-3 at any point, and your square shares those two digits from the corresponding teams, you'd be eligible to win a prize.
And the prize is pretty significant – $50,000 per square.
However, your square will likely be occupied by many more entrants, so it's not a win unless you get picked from that pool of potential winners.
The upside is this version of the game will award up to 30 winners, assuming the score changes that frequently, as opposed to only awarding prizes at the end of each quarter and half.
Additionally, a touchdown that is followed by either an extra point or two-point conversion will count as two separate score changes.
The mortgage lender noted that Super Bowl LII in 2018 had 19 score changes, and Super Bowl LIII in 2019 had five score changes.
Hopefully Super Bowl LIV will mirror the one from 2018 and not the one from last year, as it would be a difference of $700,000 in prize money.
You can gain additional squares if you share the sweepstakes via Facebook/Twitter, with one bonus square earned each time a friend or family member signs up using your link.
In all, you can earn 10 bonus squares.
On top of the $50,000 per square prize, Rocket Mortgage is also giving away two $500,000 grand prizes, which are randomly selected from all participants in the Rocket Mortgage Super Bowl Squares Sweepstakes.
One winner will be picked at the end of the first half, and the second winner will be picked at the end of the game.
It's possible to win both a $50,000 squares-based prize and one of the two $500,000 grand prizes. That'd be pretty sweet.
Quicken Loans Was the Second Largest Mortgage Lender in 2019
Last year, Quicken Loans was the second largest mortgage lender in the country with a whopping $145 billion in total loan volume, per The Detroit News.
But it was still beaten handily by Wells Fargo, which originated $204 billion in home loans during the year.
Ironically, its closest rival was nearby Pontiac, Michigan-based lender United Shore Financial Services, better known as United Wholesale Mortgage, which is a wholesale mortgage lender.
UWM did $107.7 billion in total volume, more than double what it originated in 2018 and slightly better than Countrywide Financial's $103.3 billion in 2005. Remember them?
Meanwhile, Quicken saw its volume rise 75% year-over-year, and easily beat its prior record of $96 billion from back in 2016, thanks in large part to super low mortgage rates.
At UWM, purchase mortgages accounted for 51% of total volume, down from 70% in 2018.
Quicken said it closed nearly half a trillion dollars in home mortgages from 2013 to 2018, helped on by its "digital mortgage experience" Rocket Mortgage that launched in 2015.
The company says 98% of all the home loans it originates today utilize Rocket Mortgage technology.
Update: I didn't win, even though my square hit once. Rocket Mortgage Super Bowl Squares winners were from 12 states, including Alabama, Arkansas, Hawaii, Idaho, Maryland, Michigan, Nevada, New Jersey, New Mexico, Pennsylvania, South Dakota and Texas.
The two $500,000 grand prize winners were from the states of Connecticut and Illinois. Lucky them.