Last week, HUD Secretary Julián Castro and NAR President Chris Polychron told a room full of realtors that it was exploring alternative credit scoring models to expand access to mortgages.
As it stands, FICO scores are the only game in town, used by pretty much every mortgage lender out there to gauge a borrower's creditworthiness.
So when you apply for a mortgage, your FICO score is pulled from each of the three main credit bureaus, including Equifax, Experian, and TransUnion.
The problem is that millions of would-be home buyers don't actually have FICO scores because their credit history is too limited. This doesn't necessarily make them high-default risks, but without a score it's impossible to gauge.
This has always been the catch-22 of credit – you need credit to get new credit, but how do you get the ball rolling?
Typically, someone without credit gains access via the authorized user route, or simply gets a chance via a credit card issued from his or her local bank or credit union.
From there it becomes easier to establish a more robust credit history and eventually qualify for a mortgage.
But not everyone wants a credit card, or credit in general, beyond a mortgage, which is often a necessity more than it is a preference.
Enter the VantageScore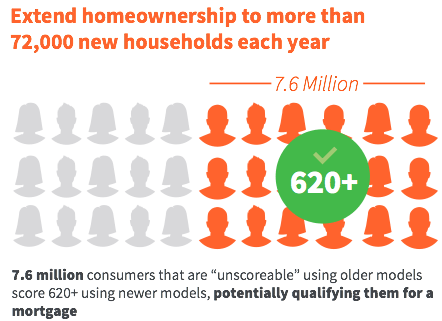 Late last year, VantageScore, an alternative to FICO that was created by the three credit bureaus in 2006, revealed that Fannie Mae and Freddie Mac were looking into updated scoring models.
And last month, VantageScore released a study that assessed the social and financial impact of new credit scoring models at Fannie and Freddie.
The company discovered that its VantageScore 3.0 model is able to generate a credit score for an overwhelming 98% of consumers with credit files at the three credit reporting bureaus.
By including an additional 30-35 million consumers who are generally not scored via conventional credit score models (like FICO), roughly 72,000 more households would be able to get a mortgage each year.
This was determined by considering that with the previously unscoreable population, 7.6 million would have credit scores of 620 or higher, the traditional cutoff for a Fannie/Freddie mortgage.
And of those 7.6 million, 72,285 creditworthy households that would want to buy as opposed to rent (and could qualify based on other factors like down payment) would be eligible.
VantageScore believes this influx of new borrowers would offset any implementation costs associated with a new credit score, and could actually lead to a revenue opportunity of $272 annually for the GSEs.
Additionally, the alternative credit scoring model could expand mortgage lending to Hispanic and African American home buyers by 16% as compared to 2013 levels.
This seems to support a NAR analysis of mortgage data from 2007 to 2013 that found the share of rejected loans due to credit score was significantly higher for groups like African Americans.
Interestingly, FICO has been working to revamp its own score lately, announcing a pilot program last week that uses alternative data to identify creditworthy borrowers who are currently without credit scores.
Call this FICO's response to other companies trying to steal market share.
For the record, a number of third-party companies now offer free VantageScores (Credit Karma, LendingTree, Quizzle, etc.), so if you want to know where you stand, it shouldn't cost you anything.
Additionally, your score should be fairly similar to your FICO score because the models use similar methodologies, so if you practice standard healthy credit habits, you should have good scores across both models.